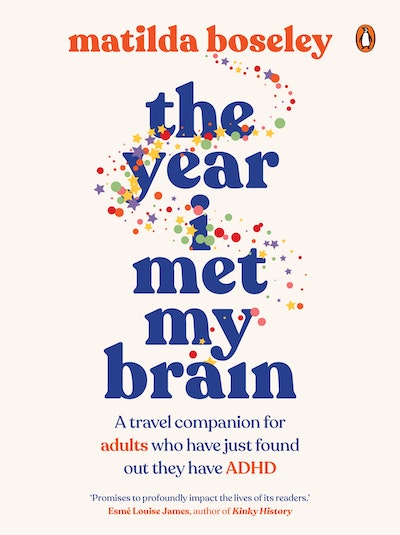 Published:

3 October 2023

ISBN:

9780143779773

Imprint:

Penguin Life

Format:

Trade Paperback

Pages:

352

RRP:

$35.00
The Year I Met My Brain
A travel companion for adults who have just found out they have ADHD
---
---
---
An essential and empowering guide for any adult living with ADHD – compassionate, funny and full of practical tips.
Matilda Boseley's adult ADHD diagnosis was a massive, earth-shattering event. She was given a prescription but had no idea what ADHD meant for her identity, her relationships or her future.

Twelve months of confusion later, journalist Matilda embarked on an epic voyage to figure out what's really happening in the stormy seas of the ADHD brain and write the guide she wished she'd had.

The Year I Met My Brain is the ultimate travel companion for navigating and enjoying life as an ADHD adult, covering:
- what adult ADHD symptoms look like
- why so many ADHDers (especially females) are missed as kids
- how the disorder impacts our relationships, careers and self-esteem
- why we unfairly treat ourselves like failures – and how to find self-forgiveness and healing
- practical tips for social and organisational wins
- and, most importantly, how to make our lives work to fit our brains rather than trying to force our brains to fit our lives.
Uplifting, empowering, deeply researched and sparkling with 'a-ha' moments, The Year I Met My Brain is an invaluable resource for ADHDers and those who love them.
Published:

3 October 2023

ISBN:

9780143779773

Imprint:

Penguin Life

Format:

Trade Paperback

Pages:

352

RRP:

$35.00
Praise for The Year I Met My Brain
Forget all the myths you've heard about ADHD. This illuminating book is easy to read, backed by facts and packed with fun. It's essential reading for anyone with ADHD and those who love them. A triumph!

Gabrielle Jackson, author of Pain and Prejudice: A call to arms for women and their bodies
The Year I Met My Brain is warm, meticulous and brutally honest, yet optimistic. I had no deficit of attention while reading it. Matilda's going to change lives.

Miles Glaspole, host of the TikTok10
Rarely does a book emerge that instantly promises to profoundly impact the lives of its readers – but Matilda Boseley's debut work is one such remarkable creation. With unparalleled insight, Boseley has crafted an invaluable and comprehensive guide, not only unravelling the complexities of ADHD but also illuminating the path to navigating a world that often misunderstands neurodivergence. Written with a truly enjoyable blend of humour, warmth and emotional resonance, this vulnerable account seamlessly integrates exceptional research on neurodivergence, offering a profound understanding of ADHD and demonstrating why such an understanding is so important today. Ultimately, Boseley's empowering manifesto serves as a testament to the criticality and liberation that arises from comprehending ADHD. A must-read for those embarking on the journey of embracing the unique intricacies of their own minds.

Esmé Louise James, author of Kinky History: The stories of our intimate lives, past and present