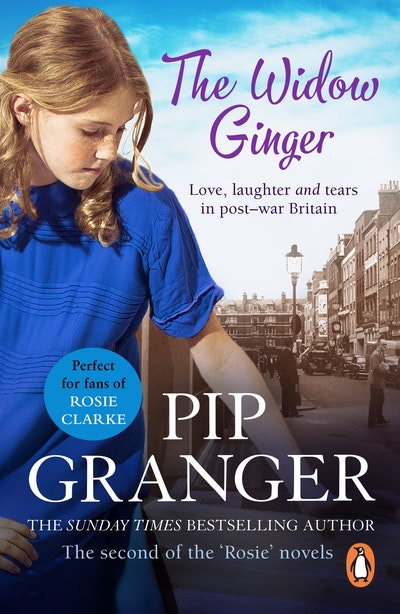 Published:

15 March 2003

ISBN:

9780552148962

Imprint:

Corgi

Format:

Paperback

Pages:

400

RRP:

$14.99
The Widow Ginger
---
---
---
Written with all of Pip Granger's warmth, humour, compassion and 1950's authenticity, a second 'Rosie' novel, and a follow-up to Not All Tarts Are Apple.
Perfect for fans of Donna Douglas and Nancy Revell, a feel-good, colourful and comic saga set in post war London from Sunday Times bestseller Pip Granger.
"Packed with sharp authentic detail, this tale told through a child's eyes brings to life a colourful world of great characters from a bygone age." -- HOME & COUNTRY
"Loved this book. Could not put it down, read it in two sittings..." -- ***** Reader review
"I enjoyed every minute of it and was sad when I finished it..." -- ***** Reader review
***********************************
ALL WAS CALM AND NORMAL...UNTIL A STRANGER CAME INTO TOWN...
1954, Soho, London. Rosie, and her beloved Auntie Maggie are opening up their café in Old Compton Street for Uncle Bert's breakfast special when the Widow Ginger comes to call.
The Widow Ginger, an ex-GI with ice-cold blue eyes, is especially scary. He has unfinished business with Uncle Bert- business that includes being cheated on his share of a 'liberated' lorry-load of guns and explosives during the War - and he intends to make sure he now gets paid in full.
And this isn't all: the lovely Luigi appears to be suffering from a severe case of unrequited lust; Bert and the local Mafioso Maltese Joe have had an acrimonious falling-out; and, most worrying of all, Rosie's best friend Jenny has begun to keel over mysteriously in the school playground....
The Widow Ginger continues Rosie's story (started in Not All Tarts Are Apples) and paints a picture of 1950s Soho so authentic you feel as though you are there...
Published:

15 March 2003

ISBN:

9780552148962

Imprint:

Corgi

Format:

Paperback

Pages:

400

RRP:

$14.99
Praise for The Widow Ginger
'Packed with sharp authentic detail, this tale told through a child's eyes brings to life a colourful world of great characters from a bygone age.'

Home & Country
'A carnival atmosphere that's tinged with a little sadness.'

Woman's Own
'Celebrates the colourful characters and atmosphere of 1950s Soho, where this queen of London saga-writers grew up.'

What's On In London
'A colourful, deeply nostalgic evocation of Soho in the Fifties, drawing heavily on the author's own childhood.'

Choice