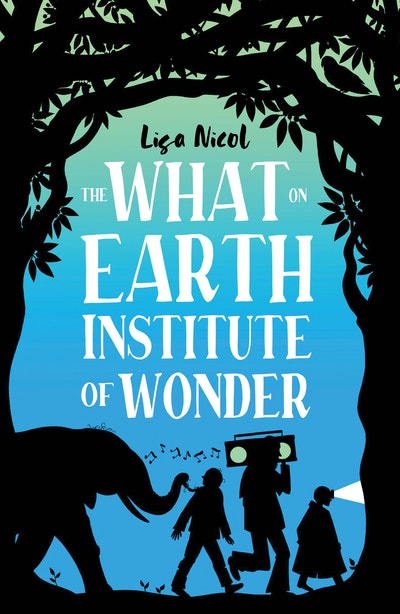 Published:

31 August 2021

ISBN:

9781761041556

Imprint:

Puffin

Format:

Paperback

Pages:

288

RRP:

$16.99
The What on Earth Institute of Wonder
---
---
---
A mind-boggling expedition into the secrets of the Animal Kingdom with only an invisible map of the human heart as a guide. (Unless, of course, you count the talking parrot.) What on Earth could possibly go wrong…?
Sal has always had an affinity with animals – especially the lost kind. But when two rare and endangered creatures appear out of nowhere, life takes a detour into strange and uncharted territory...
One elephant, one kakapo, one unlicensed teenage driver, one boy waiting for the world to end and a twelve-year-old girl with a very special gift.
Published:

31 August 2021

ISBN:

9781761041556

Imprint:

Puffin

Format:

Paperback

Pages:

288

RRP:

$16.99
Praise for The What on Earth Institute of Wonder
I could not love this book any more! @lisanicolauthor has once again blown our minds with a story so fabulously bonkers and so beautifully written that I had to just lie in a dark room for a good while and appreciate what I had just read….. definitely in the running for one of my favourite books of the year!

Rachel Robson, Children's literacy specialist,, Gleebooks
Charming and surprising and mysterious and whacky. It hooked me from the beginning… One of those books you just put down and sigh with satisfaction.

Pamela Ueckerman, Middlegrade Mavens Podcast, Episode 98
From the moment I began to read this middle grade, speculative fiction novel, I knew it was a goodie… It will make readers smile, yearn, feel sad and most of all wonder... A quirky, heartfelt, unique story of friendship, family and conviction that is sure to be eaten up by kids aged 9-13.

Renee Mihulka, CBCA's Reading time
… Her writing wraps around me like a warm doona and I slip immediately back into my childhood … I have to say, Lisa Nicol does not get nearly as many song dedications and street parades as she deserves.

Nat Amoore, One More Page Podcast, Episode 62
Lisa Nicol's whimsical way with words is becoming the stuff of legend. Her narratives are an intoxicating mix of wonderment, cheek and incredible heart; a strange combination but one that makes her middle grade novels fulfilling and memorable. The What on Earth Institute of Wonder perpetuates this premise while managing to incorporate an African forest elephant and a New Zealand Kakapo into the same sentence, never mind the same Kombi van!

Dimity Powell, Dim's Write Stuff
Speech Pathology Australia Book of the Year Awards
Shortlisted • 2022 • 8–10 Years
Article
Teachers' notes