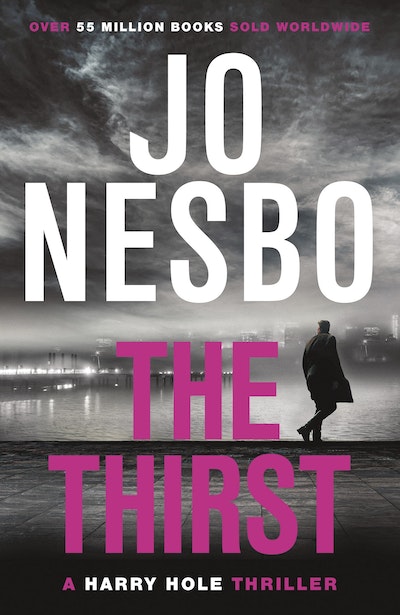 Published:

4 May 2017

ISBN:

9781473547094

Imprint:

Vintage Digital

Format:

EBook

Pages:

640
The Thirst
The compulsive eleventh Harry Hole novel from the No.1 Sunday Times bestseller
---
---
---
Harry Hole is back! The blistering Sunday Times number one bestseller
Harry Hole is back!
'The king of all crime writers' Sunday Express
There's a new killer on the streets
A woman is found murdered after an internet date. The marks left on her body show the police that they are dealing with a particularly vicious killer.
And he's out for blood
Under pressure from the media to solve the crime, the force know there's only one man for the job. But Harry Hole is reluctant to return to the place that almost took everything from him. Until he starts to suspect a connection between this killing and his one failed case...
*JO NESBO HAS SOLD 50 MILLION BOOKS WORLDWIDE*
*Watch out for The Jealousy Man, the new Jo Nesbo thriller, out now*
Published:

4 May 2017

ISBN:

9781473547094

Imprint:

Vintage Digital

Format:

EBook

Pages:

640
Other books in the series
[The Thirst is] a breath-taking reading experience... Nesbo is the master when it comes to building a long and increasingly steep dramatic curve... The pace in The Thirst is somewhat calmer than in the previous Harry Hole books, more of a waltz than a rock and roll, until we're a bit more than halfway through. But from there on, it's full on action with blood gushing and splattering until the last page is turned

Verdens Gang, Norway
Jo Nesbo is on top form... [The Thirst is] a spell-binding story about brutal crimes and ambitions gone astray

Dagbladet, Norway
One cannot but rejoice at this reunion with Jo Nesbo's Harry Hole

Krimifan.dk, Denmark
Everything that others do, Jo Nesbo can do better... When it seems as though everything is about to be resolved in [The Thirst], most other writers would be satisfied with their work. With Jo Nesbo, the ride will still go on for 150 more pages

Dagsavisen, Norway
The Thirst combines the best of American and Nordic crime fiction... Harry Hole is a criminal investigator with a steady salary and civil servant status. But he's also made of mythological hero material

Jyllands-Posten, Denmark
It's a big-boned, Technicolor epic in the current Nesbo style, starting adagio and ending accelerando, but with the kind of close psychological character readings that distinguished his early work

Guardian
An extremely gruesome journey to the darker recesses of human nature, this grisly treat will delight Nesbo's fans

Mirror
Expertly plotted with vividly drawn characters, frenetic police chases and philosophising villains [...] Expect to be thoroughly entertained

Crime Fiction Lover
Fast-moving...stunning

Sunday Times
The Thirst like its stablemates is a bulky but zippy 500-pager which never loiters in one place for long. Nesbø keeps you guessing with his usual bag of tricks, making everyone seem a little suspect (or almost everyone). His cynicism about bent coppers and unscrupulous journalists is an inexhaustible and entertaining sideshow...if you liked the other ten, you'll greedily sink your teeth into this

Jasper Rees, Arts Desk
Gripping from the get-go, deliciously dark and expertly plotted, this is Nesbo at his brilliant best

Heat
Gripping from the get-go, deliciously dark and expertly plotted, this is Nesbo at his brilliant best

Isabelle Broom, Heat
Gory, disturbing, nightmare-inducing and terrific

Marcel Berlins, The Times
Nesbo's 11th Harry Hole novel is predictably excellent. It's crime fiction as precision-tooled instrument of entertainment and on that level, it rocks

Paul Connolly, Metro
An epic tale that will delight fans of the bestselling series. There is always a risk that if you resurrect a much-loved series after a long break it will not reach its previous highs. But The Thirst is Nesbo at his glorious best with even the minor characters wonderfully drawn. This tense, nerve-shredding tale is impossible to put down as it hurtles towards a stunning finale. Nesbo is one of the best thriller writers on the planet

Charlotte Heathcote, Daily Express
What distinguishes Jo Nesbo...is his wry sense of humour. He not only provides a super-complex plot with plenty of twists...but also skillfully continues the lives of the all-too-fallible characters we have grown to love and hate

Mark Sanderson, Evening Standard
This is a tense and scary tale. If you're partial to bad dreams, don't read this just before bed

UK Press Syndication
The Thirst begins with the brutal killer sinking rusty metal teeth into a victim's neck, and with that gruesome murder, you'll want to sink your teeth into The Thirst and not let go

Mail
Nesbo does Nordic Noir like no one else and this is crime fiction at its finest. It's gory, gritty and compulsive reading, with a truly take-your-breath away ending

Nesbo, Choice
Article