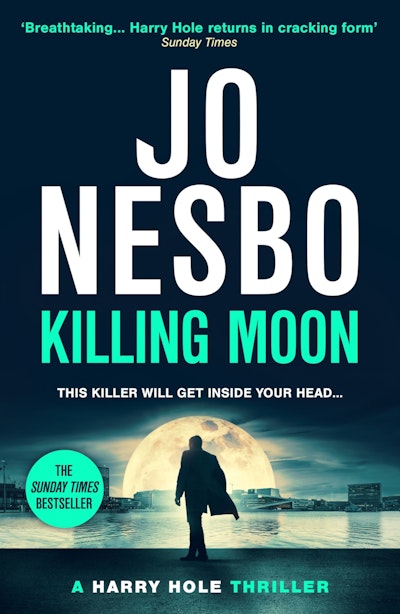 Published:

30 January 2024

ISBN:

9781529920505

Imprint:

Vintage

Format:

Paperback

Pages:

576

RRP:

$22.99
Killing Moon
The NEW Sunday Times bestselling thriller
---
---
---
THE BRAND-NEW DETECTIVE HARRY HOLE THRILLER FROM THE ICONIC SUNDAY TIMES NO.1 BESTSELLER.
'Not just an unbearably tense thriller but another of Nesbo's studies in love and loneliness... there are few greater crime writers' The Times
'Nesbø is one of today's most interesting thriller writers, a 100% buy-today-read-tonight delight' Lee Child
_________________________________
This killer will get inside your head… and there's nothing you can do to stop it
When a body is found in the forest, the police make a horrifying discovery: her scalp has been removed and sewn back on. But they have no idea why.
With a second woman reported missing, detectives fear their worst nightmare has come true.
A serial killer is stalking the streets of Oslo.
With time running out to find the woman, former detective Harry Hole is called in to think like a murderer thinks... and to track down this killer before they strike again.
But Harry has ulterior motives for wanting to solve this case and, if he fails, there could be more than one life at risk.
________________________________
'Nesbo deploys all the key ingredients of a cracking good thriller... effortless' Guardian
'The undisputed king of Scandinavian crime fiction' The Times
Published:

30 January 2024

ISBN:

9781529920505

Imprint:

Vintage

Format:

Paperback

Pages:

576

RRP:

$22.99
Nesbo deploys all the key ingredients of a cracking good thriller...the ticking clock, the tension expertly ratcheted ever upwards, the changing scenery, the constantly shifting goalposts and the effortless, triumphant outpacing of the reader's ability to guess what's going to happen

Guardian
Nesbo deploys all the key ingredients of a cracking good thriller...the ticking clock, the tension expertly ratcheted ever upwards, the changing scenery, the constantly shifting goalposts and the effortless, triumphant outpacing of the reader's ability to guess what's going to happen

Guardian
Nesbo deploys all the key ingredients of a cracking good thriller...the ticking clock, the tension expertly ratcheted ever upwards, the changing scenery, the constantly shifting goalposts and the effortless, triumphant outpacing of the reader's ability to guess what's going to happen

Guardian
Nesbo deploys all the key ingredients of a cracking good thriller...the ticking clock, the tension expertly ratcheted ever upwards, the changing scenery, the constantly shifting goalposts and the effortless, triumphant outpacing of the reader's ability to guess what's going to happen

Guardian
Nesbo deploys all the key ingredients of a cracking good thriller...the ticking clock, the tension expertly ratcheted ever upwards, the changing scenery, the constantly shifting goalposts and the effortless, triumphant outpacing of the reader's ability to guess what's going to happen

Guardian
Nesbo deploys all the key ingredients of a cracking good thriller...the ticking clock, the tension expertly ratcheted ever upwards, the changing scenery, the constantly shifting goalposts and the effortless, triumphant outpacing of the reader's ability to guess what's going to happen

Guardian
Nesbo deploys all the key ingredients of a cracking good thriller...the ticking clock, the tension expertly ratcheted ever upwards, the changing scenery, the constantly shifting goalposts and the effortless, triumphant outpacing of the reader's ability to guess what's going to happen

Guardian
Nesbo deploys all the key ingredients of a cracking good thriller...the ticking clock, the tension expertly ratcheted ever upwards, the changing scenery, the constantly shifting goalposts and the effortless, triumphant outpacing of the reader's ability to guess what's going to happen

Guardian
The undisputed king of Scandinavian crime fiction

The Times
The undisputed king of Scandinavian crime fiction

The Times
The undisputed king of Scandinavian crime fiction

The Times
The undisputed king of Scandinavian crime fiction

The Times
The undisputed king of Scandinavian crime fiction

The Times
The undisputed king of Scandinavian crime fiction

The Times
The undisputed king of Scandinavian crime fiction

The Times
The undisputed king of Scandinavian crime fiction

The Times
Nesbo deserves to be crowned the king of all crime thriller writers

Sunday Express
Nesbo deserves to be crowned the king of all crime thriller writers

Sunday Express
Nesbo deserves to be crowned the king of all crime thriller writers

Sunday Express
Nesbo deserves to be crowned the king of all crime thriller writers

Sunday Express
Nesbo deserves to be crowned the king of all crime thriller writers

Sunday Express
Nesbo deserves to be crowned the king of all crime thriller writers

Sunday Express
Nesbo deserves to be crowned the king of all crime thriller writers

Sunday Express
Nesbo deserves to be crowned the king of all crime thriller writers

Sunday Express
Jo Nesbø is one of today's most interesting thriller writers, and Harry Hole is an all-time great character - for me, a 100% buy-today-read-tonight delight.

Lee Child
Jo Nesbø is one of today's most interesting thriller writers, and Harry Hole is an all-time great character - for me, a 100% buy-today-read-tonight delight.

Lee Child
Jo Nesbø is one of today's most interesting thriller writers, and Harry Hole is an all-time great character - for me, a 100% buy-today-read-tonight delight.

Lee Child
Jo Nesbø is one of today's most interesting thriller writers, and Harry Hole is an all-time great character - for me, a 100% buy-today-read-tonight delight.

Lee Child
Jo Nesbø is one of today's most interesting thriller writers, and Harry Hole is an all-time great character - for me, a 100% buy-today-read-tonight delight.

Lee Child
Jo Nesbø is one of today's most interesting thriller writers, and Harry Hole is an all-time great character - for me, a 100% buy-today-read-tonight delight.

Lee Child
Jo Nesbø is one of today's most interesting thriller writers, and Harry Hole is an all-time great character - for me, a 100% buy-today-read-tonight delight.

Lee Child
Jo Nesbø is one of today's most interesting thriller writers, and Harry Hole is an all-time great character - for me, a 100% buy-today-read-tonight delight.

Lee Child
Nesbo is unassailably the reigning king of Nordic noir as well as a global crime-writing superstar... [in] Killing Moon...Nesbo is back on gruesome form

Financial Times
Nesbo is unassailably the reigning king of Nordic noir as well as a global crime-writing superstar... [in] Killing Moon...Nesbo is back on gruesome form

Financial Times
Nesbo is unassailably the reigning king of Nordic noir as well as a global crime-writing superstar... [in] Killing Moon...Nesbo is back on gruesome form

Financial Times
Nesbo is unassailably the reigning king of Nordic noir as well as a global crime-writing superstar... [in] Killing Moon...Nesbo is back on gruesome form

Financial Times
Nesbo is unassailably the reigning king of Nordic noir as well as a global crime-writing superstar... [in] Killing Moon...Nesbo is back on gruesome form

Financial Times
Nesbo is unassailably the reigning king of Nordic noir as well as a global crime-writing superstar... [in] Killing Moon...Nesbo is back on gruesome form

Financial Times
Nesbo is unassailably the reigning king of Nordic noir as well as a global crime-writing superstar... [in] Killing Moon...Nesbo is back on gruesome form

Financial Times
Nesbo is unassailably the reigning king of Nordic noir as well as a global crime-writing superstar... [in] Killing Moon...Nesbo is back on gruesome form

Financial Times
Jo Nesbo is back with the weirdest murder in modern fiction... compelling

Sunday Times
Jo Nesbo is back with the weirdest murder in modern fiction... compelling

Sunday Times
Jo Nesbo is back with the weirdest murder in modern fiction... compelling

Sunday Times
Jo Nesbo is back with the weirdest murder in modern fiction... compelling

Sunday Times
Jo Nesbo is back with the weirdest murder in modern fiction... compelling

Sunday Times
Jo Nesbo is back with the weirdest murder in modern fiction... compelling

Sunday Times
Jo Nesbo is back with the weirdest murder in modern fiction... compelling

Sunday Times
Jo Nesbo is back with the weirdest murder in modern fiction... compelling

Sunday Times
This is one of the darkest entries in the series, with a serial killer whose methods are inventively macabre even by Nesbo's standards. But with Harry in the unfamiliar role of private eye, assembling an eccentric team to help him, and rubbing his old police colleagues up the wrong way, it's also one of the most fun

Daily Express
This is one of the darkest entries in the series, with a serial killer whose methods are inventively macabre even by Nesbo's standards. But with Harry in the unfamiliar role of private eye, assembling an eccentric team to help him, and rubbing his old police colleagues up the wrong way, it's also one of the most fun

Daily Express
This is one of the darkest entries in the series, with a serial killer whose methods are inventively macabre even by Nesbo's standards. But with Harry in the unfamiliar role of private eye, assembling an eccentric team to help him, and rubbing his old police colleagues up the wrong way, it's also one of the most fun

Daily Express
This is one of the darkest entries in the series, with a serial killer whose methods are inventively macabre even by Nesbo's standards. But with Harry in the unfamiliar role of private eye, assembling an eccentric team to help him, and rubbing his old police colleagues up the wrong way, it's also one of the most fun

Daily Express
This is one of the darkest entries in the series, with a serial killer whose methods are inventively macabre even by Nesbo's standards. But with Harry in the unfamiliar role of private eye, assembling an eccentric team to help him, and rubbing his old police colleagues up the wrong way, it's also one of the most fun

Daily Express
This is one of the darkest entries in the series, with a serial killer whose methods are inventively macabre even by Nesbo's standards. But with Harry in the unfamiliar role of private eye, assembling an eccentric team to help him, and rubbing his old police colleagues up the wrong way, it's also one of the most fun

Daily Express
This is one of the darkest entries in the series, with a serial killer whose methods are inventively macabre even by Nesbo's standards. But with Harry in the unfamiliar role of private eye, assembling an eccentric team to help him, and rubbing his old police colleagues up the wrong way, it's also one of the most fun

Daily Express
This is one of the darkest entries in the series, with a serial killer whose methods are inventively macabre even by Nesbo's standards. But with Harry in the unfamiliar role of private eye, assembling an eccentric team to help him, and rubbing his old police colleagues up the wrong way, it's also one of the most fun

Daily Express
Killing Moon... [is] classic Nesbo but even by his standards the killer's creepy'

The Sun
Killing Moon... [is] classic Nesbo but even by his standards the killer's creepy'

The Sun
Killing Moon... [is] classic Nesbo but even by his standards the killer's creepy'

The Sun
Killing Moon... [is] classic Nesbo but even by his standards the killer's creepy'

The Sun
Killing Moon... [is] classic Nesbo but even by his standards the killer's creepy'

The Sun
Killing Moon... [is] classic Nesbo but even by his standards the killer's creepy'

The Sun
Killing Moon... [is] classic Nesbo but even by his standards the killer's creepy'

The Sun
Killing Moon... [is] classic Nesbo but even by his standards the killer's creepy'

The Sun
Breathtaking... Harry Hole returns in cracking form

Sunday Times
Breathtaking... Harry Hole returns in cracking form

Sunday Times
Breathtaking... Harry Hole returns in cracking form

Sunday Times
Breathtaking... Harry Hole returns in cracking form

Sunday Times
Breathtaking... Harry Hole returns in cracking form

Sunday Times
Breathtaking... Harry Hole returns in cracking form

Sunday Times
Breathtaking... Harry Hole returns in cracking form

Sunday Times
Breathtaking... Harry Hole returns in cracking form

Sunday Times
Not just an unbearably tense thriller but another of Nesbo's studies in love and loneliness... there are few greater crime writers

The Times, Crime Book of the Month
Not just an unbearably tense thriller but another of Nesbo's studies in love and loneliness... there are few greater crime writers

The Times, Crime Book of the Month
Not just an unbearably tense thriller but another of Nesbo's studies in love and loneliness... there are few greater crime writers

The Times, Crime Book of the Month
Not just an unbearably tense thriller but another of Nesbo's studies in love and loneliness... there are few greater crime writers

The Times, Crime Book of the Month
Not just an unbearably tense thriller but another of Nesbo's studies in love and loneliness... there are few greater crime writers

The Times, Crime Book of the Month
Not just an unbearably tense thriller but another of Nesbo's studies in love and loneliness... there are few greater crime writers

The Times, Crime Book of the Month
Not just an unbearably tense thriller but another of Nesbo's studies in love and loneliness... there are few greater crime writers

The Times, Crime Book of the Month
Not just an unbearably tense thriller but another of Nesbo's studies in love and loneliness... there are few greater crime writers

The Times, Crime Book of the Month
Like Lee Child with Jack Reacher, Nesbo has become synonymous with his fictional detective

You
Like Lee Child with Jack Reacher, Nesbo has become synonymous with his fictional detective

You
Like Lee Child with Jack Reacher, Nesbo has become synonymous with his fictional detective

You
Like Lee Child with Jack Reacher, Nesbo has become synonymous with his fictional detective

You
Like Lee Child with Jack Reacher, Nesbo has become synonymous with his fictional detective

You
Like Lee Child with Jack Reacher, Nesbo has become synonymous with his fictional detective

You
Like Lee Child with Jack Reacher, Nesbo has become synonymous with his fictional detective

You
Like Lee Child with Jack Reacher, Nesbo has become synonymous with his fictional detective

You
Harry Hole is the ultimate anti-hero

Sunday Independent
Harry Hole is the ultimate anti-hero

Sunday Independent
Harry Hole is the ultimate anti-hero

Sunday Independent
Harry Hole is the ultimate anti-hero

Sunday Independent
Harry Hole is the ultimate anti-hero

Sunday Independent
Harry Hole is the ultimate anti-hero

Sunday Independent
Harry Hole is the ultimate anti-hero

Sunday Independent
Harry Hole is the ultimate anti-hero

Sunday Independent
Jo Nesbo has always had a taste for the macabre, but it takes a breathtaking turn in Killing Moon

Sunday Times, *Summer Reads of 2023*
Jo Nesbo has always had a taste for the macabre, but it takes a breathtaking turn in Killing Moon

Sunday Times, *Summer Reads of 2023*
Jo Nesbo has always had a taste for the macabre, but it takes a breathtaking turn in Killing Moon

Sunday Times, *Summer Reads of 2023*
Jo Nesbo has always had a taste for the macabre, but it takes a breathtaking turn in Killing Moon

Sunday Times, *Summer Reads of 2023*
Jo Nesbo has always had a taste for the macabre, but it takes a breathtaking turn in Killing Moon

Sunday Times, *Summer Reads of 2023*
Jo Nesbo has always had a taste for the macabre, but it takes a breathtaking turn in Killing Moon

Sunday Times, *Summer Reads of 2023*
Jo Nesbo has always had a taste for the macabre, but it takes a breathtaking turn in Killing Moon

Sunday Times, *Summer Reads of 2023*
Jo Nesbo has always had a taste for the macabre, but it takes a breathtaking turn in Killing Moon

Sunday Times, *Summer Reads of 2023*
Unbearably tense and another of Jo Nesbo's piercing studies in love and loneliness

Daily Telegraph, *Books of the Year*
Unbearably tense and another of Jo Nesbo's piercing studies in love and loneliness

Daily Telegraph, *Books of the Year*
Unbearably tense and another of Jo Nesbo's piercing studies in love and loneliness

Daily Telegraph, *Books of the Year*
Unbearably tense and another of Jo Nesbo's piercing studies in love and loneliness

Daily Telegraph, *Books of the Year*
Unbearably tense and another of Jo Nesbo's piercing studies in love and loneliness

Daily Telegraph, *Books of the Year*
Unbearably tense and another of Jo Nesbo's piercing studies in love and loneliness

Daily Telegraph, *Books of the Year*
Unbearably tense and another of Jo Nesbo's piercing studies in love and loneliness

Daily Telegraph, *Books of the Year*