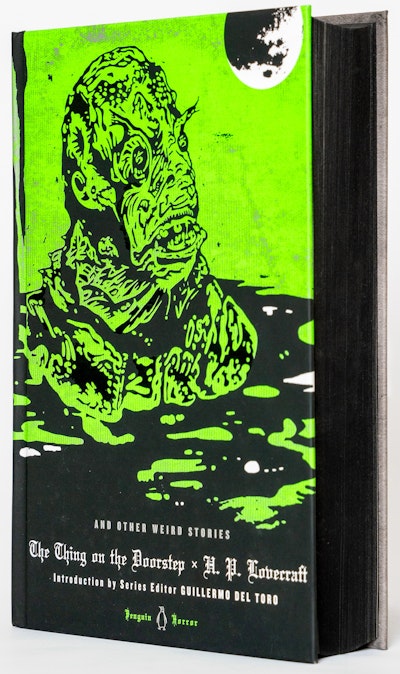 Published:

23 October 2013

ISBN:

9780143122326

Imprint:

Penguin Classics

Format:

Hardback

Pages:

544

RRP:

$45.00
The Thing On The Doorstep And Other Weird Stories
Penguin Horror Series
---
---
---
Part of a six-volume series of the best in classic horror, selected by Academy award-winning director Guillermo del Toro.
No human one had ever seen them, and as I studied the emotions convened in the carvings I prayed that none ever might.
Howard Phillips Lovecraft's unique contribution to American literature was a melding of traditional supernaturalism (derived chiefly from Edgar Allan Poe) with the genre of science fiction that emerged in the early 1920s. This Penguin Classics edition brings together a dozen of the master's tales-from his early short stories "Under the Pyramids" (originally ghostwritten for Harry Houdini) and "The Music of Erich Zann" (which Lovecraft ranked second among his own favorites) through his more fully developed works, "The Dunwich Horror," The Case of Charles Dexter Ward, and At the Mountains of Madness.
The Thing on the Doorstep and Other Weird Stories presents the definitive corrected texts of these works, along with Lovecraft critic and biographer S. T. Joshi's illuminating introduction and notes to each story.
Contains the following tales:
- The Tomb
- Beyond the Wall of Sleep
- The White Ship
- The Temple
- The Quest of Iranon
- The Music of Erich Zann
- Imprisoned with the Pharaohs aka Under the Pyramids
- Pickman's Model
- The Case of Charles Dexter Ward
- The Dunwich Horror
- At the Mountains of Madness
- The Thing on the Doorstep
Published:

23 October 2013

ISBN:

9780143122326

Imprint:

Penguin Classics

Format:

Hardback

Pages:

544

RRP:

$45.00