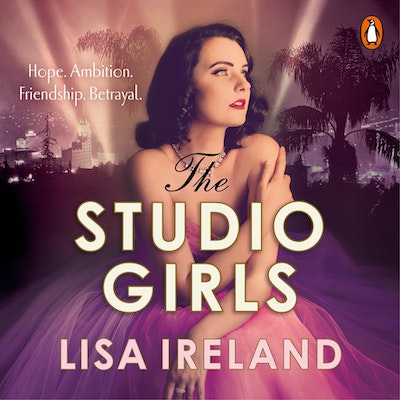 Published:

30 April 2024

ISBN:

9781761345463

Imprint:

Penguin Random House Australia Audio

Format:

Audio Download

Pages:

352

RRP:

$34.99
The Studio Girls
---
---
---
The Studio Girls is a sumptuous, nostalgic journey back to the glamorous Golden Age of cinema and the intoxicating world of Tinsel Town, where nothing is quite what it seems . . .
'Fans of The Seven Husbands of Evelyn Hugo will love Lisa Ireland's cinematic new novel. Set in the Golden Age of Hollywood, The Studio Girls is opulent and scandalous, yet ultimately uplifting. Ireland's best yet!' Sally Hepworth
'A novel about love, friendship and the Golden Age of Hollywood. What more could you want? I LOVED it.' Rachael Johns
'Inspired by fascinating real-life history, The Studio Girls is a stunning tale of love, friendship and secrets, perfect for fans of Natasha Lester and Fiona Davis. Sure to be one of the biggest books of 2024!' Kelly Rimmer
'If Sex and the City was set in 1950s Hollywood, with the perfect mix of gossip, glam and scandal! But it's the moving friendships, heartbreaks and the enduring spirit of women that made this book hard to put down. ' Kerryn Mayne
It's 1955, and four talented young women become best friends while living at the Hollywood Studio Club, the famous boarding house for movie hopefuls.

Julia Newman is a rising star. As Goldstar Studios' 'new Grace Kelly', she has been sent to the Club to keep her out of trouble, though Julia is just thrilled to finally make friends.
For Peggy Carmichael, Julia's roommate, life is not so easy. She takes classes, auditions constantly, and grabs whatever bit-part is offered. Still, her 'big break' remains stubbornly out of reach.

Meanwhile, Vivienne Lockhart, the most talented actress of them all, is constantly reduced to 'sexpot' roles. She'll do whatever it takes to succeed. But is she driven by ambition, or by a heartbreaking need to be loved?
Finally, there's aspiring scriptwriter Sadie Shore, who has little interest in the trappings of fame. Particularly when she becomes the PA of a big studio boss and her eyes are opened to the perils of her friends' dreams . . .

Published:

30 April 2024

ISBN:

9781761345463

Imprint:

Penguin Random House Australia Audio

Format:

Audio Download

Pages:

352

RRP:

$34.99
Praise for The Studio Girls
Inspired by fascinating real-life history, THE STUDIO GIRLS is a stunning tale of love, friendship and secrets, perfect for fans of Natasha Lester and Fiona Davis. Sure to be one of the biggest books of 2024!

Kelly Rimmer
Fans of The Seven Husbands of Evelyn Hugo will love Lisa Ireland's cinematic new novel. Set in the Golden Age of Hollywood, The Studio Girls is opulent and scandalous, yet ultimately uplifting. Ireland's best yet!

Sally Hepworth
If Sex and the City was set in 1950s Hollywood, with the perfect mix of gossip, glam and scandal! But it's the moving friendships, heartbreaks and the enduring spirit of women that made this book hard to put down.

Kerryn Mayne
Inspired by fascinating real-life history, The Studio Girls is a stunning tale of love, friendship and secrets, perfect for fans of Natasha Lester and Fiona Davis. Sure to be one of the biggest books of 2024!

Kelly Rimmer
Fans of The Seven Husbands of Evelyn Hugo will love Lisa Ireland's cinematic new novel. Set in the Golden Age of Hollywood, The Studio Girls is opulent and scandalous, yet ultimately uplifting. Ireland's best yet!

Sally Hepworth
As if Sex and the City was set in 1950s Hollywood, with the perfect mix of gossip, glam and scandal! But it's the moving friendships, heartbreaks and the enduring spirit of women that made this book hard to put down.

Kerryn Mayne
Inspired by fascinating real-life history, THE STUDIO GIRLS is a stunning tale of love, friendship and secrets, perfect for fans of Natasha Lester and Fiona Davis. Sure to be one of the biggest books of 2024!

Kelly Rimmer
If Sex and the City was set in 1950s Hollywood, with the perfect mix of gossip, glam and scandal! But it's the moving friendships, heartbreaks and the enduring spirit of women that made this book hard to put down.

Kerryn Mayne
Fans of The Seven Husbands of Evelyn Hugo will love Lisa Ireland's cinematic new novel. Set in the Golden Age of Hollywood, The Studio Girls is opulent and scandalous, yet ultimately uplifting. Ireland's best yet!

Sally Hepworth