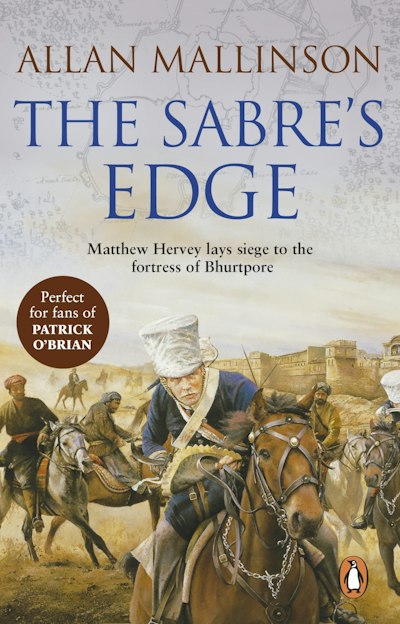 Published:

1 July 2010

ISBN:

9781407068633

Imprint:

Transworld Digital

Format:

EBook

Pages:

496
The Sabre's Edge
(The Matthew Hervey Adventures: 5):A gripping, action-packed military adventure from bestselling author Allan Mallinson
---
---
---
Matthew Hervey lays siege to the grim fortress of Bhurtpore
The Sunday Times bestselling author Allan Mallinson, brings us another enthralling Matthew Hervey adventure. If you like Patrick O'Brian, Bernard Cornwell and CS Forester, you will love this!
"What a hero! What an author! What a book! A joy for the lover of adventure and military buff alike" -- LYN MACDONALD, THE TIMES
"Splendid...the tale is as historically stimulating as it is stirringly exciting" -- ANDREW ROBERTS, SUNDAY TELEGRAPH
"Impeccably researched and rooted in both time and place" -- ***** Reader review
"A thrilling tale" -- ***** Reader review
"Allan Malinson tells an absorbing tale and gives a wonderful insight into life at that time." -- ***** Reader review
********************************************************************
India, 1824: Matthew Hervey and the 6th Light Dragoons are stationed in India, where conflagration looks set to flair.
The usurper prince, Durjan Sal, has taken refuge in the infamous fortress of Bhurtpore. A deep ditch, which can be flooded at a moment's notice, runs round it - and as its notorious Tower of Victory - built with the skulls of defeated men - bears witness, it has withstood all attacks made on it.
Until now. Hot and dangerous work lies ahead for Matthew Hervey and his courageous troop who know their fortunes will be decided by the sabre's edge.
A Sabre's Edge is the fifth book in Allan Mallinson's Matthew Hervey series. His adventures continue in Rumours of War. Have you read his previous adventures A Close Run Thing, The Nizam's Daughters, A Regimental Affair and A Call to Arms?
Published:

1 July 2010

ISBN:

9781407068633

Imprint:

Transworld Digital

Format:

EBook

Pages:

496
Praise for The Sabre's Edge
Hervey is the thinking man's Sharpe. Mallinson is the true heir to Patrick O'Brian

Daily Mirror
'Mallinson's descriptions of regimental life and of the campaigns themselves ... crackle with detail and atmosphere ... Makes for an engrossing read, full of blood and valour.'

Observer
'Splendid...the tale is as historically stimulating as it is stirringly exciting'

Sunday Telegraph
We have joined for action and to see the world and that is what we get...a novel for our time, perhaps?

Spectator
'What a hero! What an author! What a book! A joy for the lover of adventure and military buff alike'

The Times