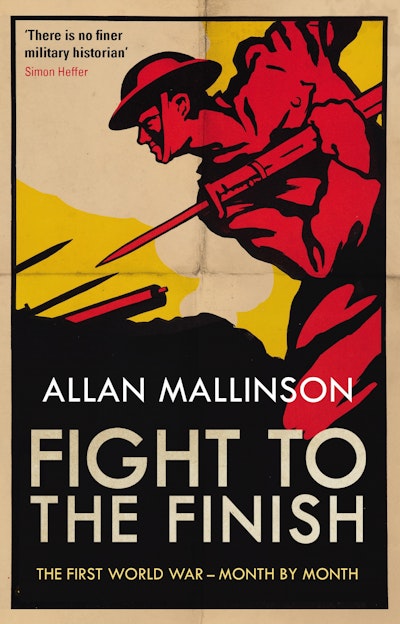 Published:

18 October 2018

ISBN:

9781473544222

Imprint:

Transworld Digital

Format:

EBook

Pages:

432
Fight to the Finish
The First World War - Month by Month
---
---
---
Based on Allan Mallinson's highly-praised series in The Times that chronicled the progress of the First World War month by month, Fight to the Finish is a unique and definitive single-volume portrait of 'The War to end War'.
'Mallinson . . . combines the authority of a soldier-turned-military historian with the imaginative touch of the historical novelist.' Lawrence James, THE TIMES
We remember months, because months have names, because they are linked to the seasons, and because they have their own character. Looking at the First World War month by month reveals its complexity while preserving a sense of time.
From the opening shots to the signing of the armistice, the First World War lasted almost 52 months. It was fought on land, sea and in the air. It became industrial, and unrestricted: poison gas, aerial bombing of cities, and the sinking without warning of merchantmen and passenger ships by submarines.
Casualties, military and civilian, probably exceeded 40 million. Four empires collapsed during the course of the war - the German, Austro-Hungarian, Russian and Ottoman.
The First World War is almost impossible to comprehend. Day-by-day narratives can be dizzying for the reader wanting to make sense of the conflict as a whole. Freer-flowing accounts, while helping to understand the broader trends and factors, can give less of a sense of the human dimension of time. The month is a more digestible gauge.
Based on the Allan Mallinson's monthly commentaries in The Times throughout the centenary, Fight to the Finish is a new and original portrait of "The War to End War."
Published:

18 October 2018

ISBN:

9781473544222

Imprint:

Transworld Digital

Format:

EBook

Pages:

432
Praise for Fight to the Finish
Excellent . . . [Mallinson] has carried off a seemingly impossible task and rather than dismissing this as yet another title on the conflict it should be considered the primer for anyone new to the era. Thoroughly enjoyable, hugely informative and very easy to read, this comes highly recommended.

SOLDIER magazine 'Best of 2018'
Notable for its clarity, and anyone requiring a digestible narrative summary of the fighting . . . would be advised to start here.

SPECTATOR
A wonderful series

PROFESSOR JOHN ROHL, on Allan Mallinson's Great War trilogy
There is no finer military historian

SIMON HEFFER
I could not believe that [there was] anything new to say . . . but how wrong I was!

PROFESSOR SIR MICHAEL HOWARD