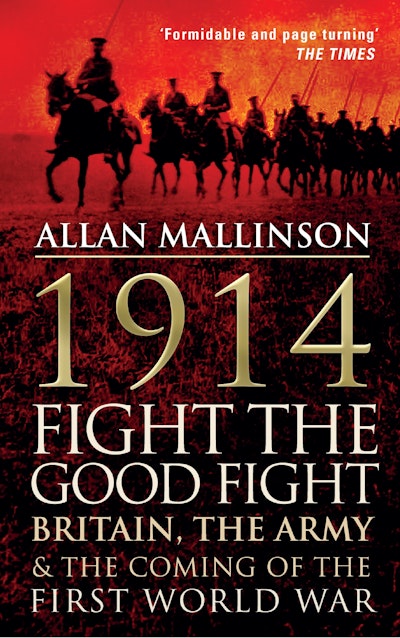 Published:

2 September 2013

ISBN:

9781446463505

Imprint:

Transworld Digital

Format:

EBook

Pages:

640
1914: Fight the Good Fight
Britain, the Army and the Coming of the First World War
---
---
---
Now in paperback, this fascinating and revelatory new history of the origins of the First World War, of those first few crucial weeks of fighting, and of how Britain and its army fared has won the 2014 British Army Military Book of the Year.
'No part of the Great War compares in interest with its opening', wrote Churchill. 'The measured, silent drawing together of gigantic forces, the uncertainty of their movements and positions, the number of unknown and unknowable facts made the first collision a drama never surpassed.in fact the War was decided in the first twenty days of fighting, and all that happened afterwards consisted in battles which, however formidable and devastating, were but desperate and vain appeals against the decision of fate.'
On of Britain's foremost military historians and defence experts tackles the origins - and the opening first few weeks of fighting - of what would become known as 'the war to end all wars'. Intensely researched and convincingly argued, Allan Mallinson explores and explains the grand strategic shift that occurred in the century before the war, the British Army's regeneration after its drubbings in its fight against the Boer in South Africa, its almost calamitous experience of the first twenty days' fighting in Flanders to the point at which the British Expeditionary Force - the 'Old Contemptibles' - took up the spade in the middle of September 1914: for it was then that the war changed from one of rapid and brutal movement into the more familiar vision of trench warfare on Western Front. In this vivid, compelling new history, Malliinson brings his experience as a professional soldier to bear on the circumstances, events, actions and individuals and speculates - tantalizingly - on what might have been...
Published:

2 September 2013

ISBN:

9781446463505

Imprint:

Transworld Digital

Format:

EBook

Pages:

640
Praise for 1914: Fight the Good Fight
Mallinson uncovers a litany of rivalry and miscalculation. With the Great War's centenary commemorations on the horizon, he has produced a must-read for anyone who wants to know how Britain practically stumbled into one of the bloodiest conflicts in history.

SUNDAY EXPRESS
Formidable and page-turning . . . Mallinson's clinical examination of the 'what ifs' is as compelling as his account of the death of a small but professional army, scarficed to the incuriosity of our politicians and disinclination of military leaders to countenance any challange to what they believed were best laid plans.

Michael Tillotson, THE TIMES
Compelling and rigorously researched...paints a vivid picture. . . this is not dry military history. He tells the story through many eyes of those on the frontline, from general to Tommy. It's recounted through regimental histories and underpinned with his deep understanding of tactics . . . offers unique insights on the planning, 'politicking' and fighting.

DAILY EXPRESS
In the deluge of books to mark the centenary of the start of the Great War, it is refreshing to find one written by a former soldier who is also an accomplished military historian . . . a vivid picture . . . with his soldier's grasp of tactics and strategy, Mallinson describes with clarity and authority the opening weeks of the war.

Simon Heffer, DAILY MAIL
Mallinson writes with an exciting pen and a cool head and he understands war.

Prof. Michael Clarke, Director General of the Royal United Services Institute, The Times
This is one of the few new books on the war to be written by a former soldier, and it benefits greatly from the author's tactical knowledge, strategic expertise and understanding of how an army really functions.

Ben Macintyre, The Times