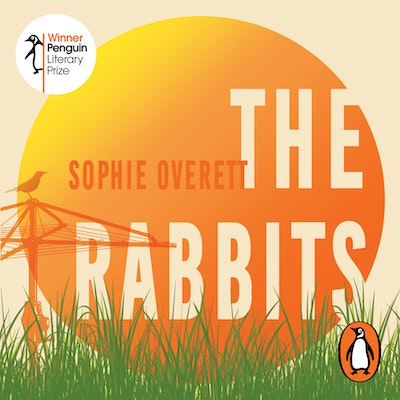 Published:

2 July 2021

ISBN:

9781761044267

Imprint:

Penguin Random House Australia Audio

Format:

Audio Download

Length:

12 hr 13 min

Narrator:

Belinda Jombwe

RRP:

$29.99
The Rabbits
---
---
---
From the winner of the Penguin Literary Prize.
A multigenerational family story with a dose of magical realism. It is about family secrets, art, very mild superpowers, loneliness and the strange connections we make in the places we least expect.
The disappearance of Bo Rabbit in 1984 left the Rabbit women crippled by grief. Bo's mother, Rosemary, and Bo's younger sister Delia, became disjointed and dysfunctional, parting ways not long after Delia turned eighteen.
Now a teacher at a Queensland college, Delia's life is dissolving. She gave up on her own art, began a relationship with a student, and is struggling to raise her three growing children, Olive, Charlie and Benjamin. And, now she must also care for her mother.
Despite it all, the Rabbits are managing, precariously. Or, they were until fifteen-year-old Charlie Rabbit disappears in the middle of a blinding heatwave. The family reels from the loss, and struggles to cope as the children's estranged father, Ed, re-enters their lives.
Only nothing is quite as it seems, and Charlie's disappearance soon proves to be just that – a disappearance, or, rather, an unexpected bout of invisibility he's unable to reverse.
With the revelation of Charlie's invisibility, the world of the Rabbit family cracks open, and they're faced with their family's untold story, and the uncanny lives of the people around them.
The Rabbits is a multigenerational family story with a dose of magical realism. It is about family secrets, art, very mild superpowers, loneliness and the strange connections we make in the places we least expect.
Published:

2 July 2021

ISBN:

9781761044267

Imprint:

Penguin Random House Australia Audio

Format:

Audio Download

Length:

12 hr 13 min

Narrator:

Belinda Jombwe

RRP:

$29.99
The Rabbits is a tense suburban drama that probes the limits of family bonds and human potential. Sophie Overett, who won the 2020 Penguin Literary Prize for the manuscript, has crafted a novel that dips comfortably into multiple genres, blending elements of magic realism and crime thrillers into a taut literary narrative. In The Rabbits Overett brings a fresh eye to the suburban novel; her debut is keenly observed and punctuated by moments of surprise.

Bec Cavanaugh, Bookseller + Publisher
This is a book that compels you to keep reading, late into the night, because you want to know what the hell is going on. It's no surprise Overett's manuscript for The Rabbits won the Penguin Literary Prize in 2020. The writing is deft and agile, the concept is original, the craftsmanship impressive. This is a writer who actually creates physical sensations inside the reader with her descriptions and her sense of doom. But it's a doom that is balanced with lightness and a sense that maybe everything will work out in the end. This is a truly original story that will keep you hooked right through to the delicious ending.

Gabrielle Williams, Readings
If you like a touch of fantasy with your realism, you'll love this novel. This multigenerational story is full of family secrets, mild superpowers, loneliness, strange connections and a dose of magic realism. It will immerse you in the blood, sweat and tears of the Rabbits. Completely captivating.

Reader's Digest
What makes the novel surprising, and different, is the magical realism that unexpectedly appears in this otherwise ordinary setting a third of the way in – and largely drives the narrative from that point forward. The result is a whirring, breathless tangle of reality and unreality, forcing the reader to question the truth, then question it again. Overett uses fantasy to reveal something grounded in reality – in this case, the unknowability of the people around us, even those we think we understand most intimately. It's an ambitious undertaking to interweave literary fiction and magic realism, but Overett executes it beautifully. The fantastical elements are never quite explained, but the plot and characterisation are so convincing and clever that they don't really need to be. "Nothing's just one thing," Banjo muses close to the end of the novel. The Rabbits can be summed up exactly so – it's a truly unique work that prises open the faultlines in a family to reveal the inexplicable, sublime magic pulsing beneath.

Giselle Au-Nhien Nguyen, The Guardian
This is a novel about the Rabbit family and all the hurdles on their track of life, some higher than others. A rewarding read with wonderful, rich characters that I guarantee will constantly surprise you.

Neale Lucas, Good Reading Magazine
When Charlie disappears, and it's not your usual missing child scenario, it's the catalyst for the Rabbits to discover themselves individually and as a family, with the three remaining members sharing their story in each chapter. Overett won the Penguin Literary Prize to get this, her debut, to the shelves, and the metaphor-rich and perfectly composed story has since won the Kathleen MItchell Award. Deservedly so.

Jason Nahrung, Herald Sun
This wonderfully detailed and perceptive novel of the human conditionAdded to this, the Rabbits' story is laced with magical, and mildly disturbing superpowers. Additionally, they face the problems of finding their place in life, true friendship, betrayal and misunderstandings between the generations. These are three generations of dysfunctional, tortured human beings who discover that others are that way too, to a greater or lesser degree. A terrific must-read for 2021!

Dee Young, Brisbanista
A lushly written family drama set in Brisbane during a summer that permeates everything. The glimpses that Overett offers of the wild city - the subtropical heat working its power on characters throughout, the air and grass teeming with the sounds and sights of insects, reptiles and birds - that are especially memorable.

Elizabeth Bryer, Australian Book Review
Article
Article
Sophie Overett Q&A
The Penguin Literary Prize winner on inspiration, advice and what's next.