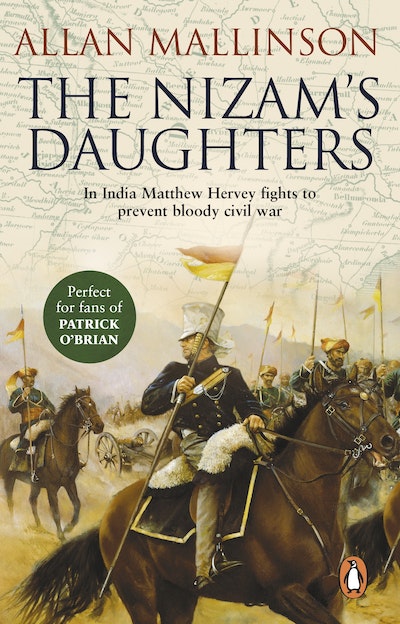 Published:

1 February 2011

ISBN:

9781407068602

Imprint:

Transworld Digital

Format:

EBook

Pages:

544
The Nizam's Daughters (The Matthew Hervey Adventures: 2)
A rip-roaring and riveting military adventure from bestselling author Allan Mallinson.
---
---
---
Sent on a secret mission to India, Matthew Hervey soon finds himself fighting to prevent bloody civil war
Another riveting Matthew Hervey adventure from the Sunday Times bestselling author Allan Mallinson, combining hero, history and drama to perfection. If you like Patrick O'Brian and Sharpe, you'll love this!
"A marvellous read, paced like a well-balanced symphony ... This is more than a ripping yarn..." - The Times
"This is an engaging work...The attention to detail is admirable" -- Daily Express
"I strongly recommend this book (and the series) to any lover of this genre. FIVE STARS" - ***** Reader review.
*************************************************************************
1816: Fresh from the field at Waterloo, and leaving behind his fiancée Lady Henrietta Lindsey, Matthew Hervey is dispatched to India on a secret mission.
The state of Chintal is threatened by both intrigue from within and military might from without. Hervey finds he is once more destined for the battlefield.
In a land at once alien, exotic and beguiling, Matthew Hervey's mettle will be tested to the limit...
Have you read A Close Run Thing - the first Matthew Hervey adventure? The Nizam's Daughters is the second book in Allan Mallinson's Matthew Hervey series. His adventures continue in A Regimental Affair.
Published:

1 February 2011

ISBN:

9781407068602

Imprint:

Transworld Digital

Format:

EBook

Pages:

544
Praise for The Nizam's Daughters (The Matthew Hervey Adventures: 2)
A marvellous read, paced like a well-balanced symphony ... This is more than a ripping yarn...I look forward enormously to hearing more of Hervey's exploits; he is as fascinating on horseback as Jack Aubrey is on the quarterdeck.

The Times
'Allan Mallinson...has already achieved a considerable priase for his brand of derring-do in his first novel, A Close Run Thing...a début of real excitement and verve. With The Nizam's Daughters, the author has overcome the second hurdle with equal aplomb...Mallinson is a genuine storyteller'

Amazon.co.uk
Allan Mallinson's grasp of the technical side of his subject is effortless and impressive...The portrayal of the men of all ranks is excellent ...This promises to be an extremely enjoyable series

Spectator
'An epic adventure...a book with a texture as rich as cut velvet, and a storyline as detailed as a Bruges tapestry. Patrick O'Brian may no longer be with us. But Mallinson has obviously taken up the historical baton'

The Birmingham Post
'O'Brian's equal in accurate knowledge of the equipment, methods, weapons and conditions of serve of the fighting men of whom he writes...An imaginative feat of high order, owning as much to thorough scholarship as it does to compassion and sensibility... Brilliantly conveyed'

Country Life
'This is an engaging work...The attention to detail is admirable'

Daily Express
Treads a middle course between the subtleties of O'Brian and the simplicities of Cornwell...An exciting, fast-moving story, full of bloody hacking with sabre and tulwar.

Evening Standard