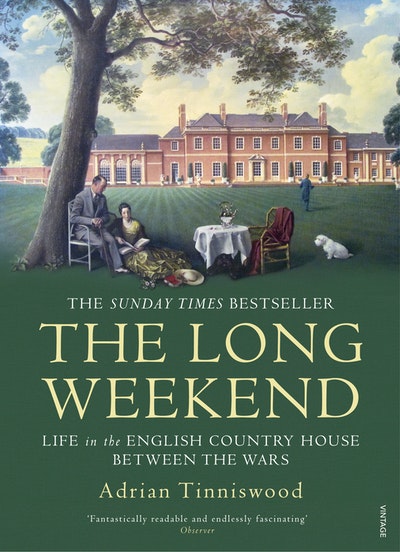 Published:

15 June 2018

ISBN:

9780099592853

Imprint:

Vintage

Format:

Paperback

Pages:

416

RRP:

$35.00
The Long Weekend
Life in the English Country House Between the Wars
---
---
---
The Sunday Times bestseller - a beautifully illustrated, evocative history of the English country house in the 20s and 30s
'A masterpiece of social history' Daily Mail
There is nothing quite as beautiful as an English country house in summer. And there has never been a summer quite like that Indian summer between the two world wars, a period of gentle decline in which the sun set slowly on the British Empire and the shadows lengthened on the lawns of a thousand stately homes.
Real life in the country house during the 1920s and 1930s was not always so sunny. By turns opulent and ordinary, noble and vicious, its shadows were darker. In The Long Weekend, Adrian Tinniswood uncovers the truth about a world half-forgotten, draped in myth and hidden behind stiff upper lips and film-star smiles.
Drawing on hundreds of memoirs, on unpublished letters and diaries, on the eye-witness testimonies of belted earls and unhappy heiresses and bullying butlers, The Long Weekend gives a voice to the people who inhabited this world and shows how the image of the country house was carefully protected by its occupants above and below stairs, and how the reality was so much more interesting than the dream.
Published:

15 June 2018

ISBN:

9780099592853

Imprint:

Vintage

Format:

Paperback

Pages:

416

RRP:

$35.00
Praise for The Long Weekend
[It] provides rich detail from all corners, uncovering plenty of angst, but also much optimism.

The Economist
[A] fantastically readable and endlessly fascinating book. Delicious, occasionally fantastical, revealing in ways that Downton Abbey never was. It is as if Tinniswood is at the biggest, wildest, most luxuriantly decadent party ever thrown, and he knows everyone.

Rachel Cooke, Observer
Tinniswood and his publishers should be congratulated for issuing this elegant, encyclopedic and entertaining history. We are in the company of a confident and skilled historian who understands the mores of his era and wears his learning lightly. This is a handsomely illustrated pick'n'mix of mansions, manors, castles and palaces.. Tinniswood expands our Sunday evening viewing with the kind of detail you can't invent. Deserves to be on every costume drama producer's bookshelf.

Virginia Nicholson, The Times
He has produced a luscious, summery book, full of amiable anecdotes and photographs of striking interiors, celebrating headstrong optimists who defied the defeatism of the times. The Long Weekend resembles a well-kept hothouse festooned with fruit ripe for the plucking.

Richard Davenport-Hines, Sunday Times
[A] masterpiece of social history.

Roger Lewis, Daily Mail
Many of Tinniswood's anecdotes are extraordinary. Painstakingly researched detail that makes The Long Weekend so entertaining. A rich, multilayered and well-illustrated account of a style of live that disappeared with the Second World War. Lovers of.Brideshead Revisited will relish it.

Charlotte Heathcote, Sunday Express
[A] deliciously jaunty and wonderfully knowledgeable book. Tinniswood displays a terrific insider's grasp of gossip, while cramming his text with the stories of sport, sex, food, royalty, design, ruination and joy that defined these mansions. Meticulous, irresistible story.

Juliet Nicolson, Spectator
Tinniswood gives us many entertaining stories about the whimsical extravagances of the new country-housers. The Long Weekend is a celebration of fantasy and yearning cunningly wrapped up in pragmatism and practicality: about ancient castles with top-notch plumbing.

Lucy Lethbridge, Financial Times
A definitive social history that combines anecdote and narrative with scholarship.

Daily Telegraph
Wonderfully opulent, richly textured. The opening chapters of The Long Weekend paint an evocative picture. In telling us how the English country house changed, he is, of course, telling us how England changed too.

Xan Brooks, Sunday Telegraph
Immaculately produced. Tinniswood is a wonderfully clear writer, lively and curious, and with a jaunty point of view.

Craig Brown, Mail on Sunday
A splendidly enjoyable summer-weekend read.

Timothy Brittain-Catlin, Tablet
Almost indecently enjoyable. Splendidly contrary book. [Tinniswood has a] sharp pen and a squirrel's eye for detail. Erudite, funny and oddly poignant.

Miranda Seymour, Literary Review
A scandal-packed glimpse into the glamourous Downton Abbey-esque world of English country houses. ****

Love it!
Brimming with both architectural detail and social insight. [A] highly enjoyable book. This is a delicious cocktail of a book, combining many ingredients and presenting an informed survey of the interwar years as seductively as that period.demands.

Giles Waterfield, Country Life
Enchanting. However, while poignant, it's also not without its robust historical points. Beautifully written.

Hallie Rubenhold, BBC History Magazine
[A] Detailed and fascinating study.

Western Morning News
[It] promises rich tales of decadence, scandal and extravagant water features.

Francesca Wade, Times Literary Supplement
The rise, fall and transformation of English country houses between the two world wars.has seldom sounded so interesting. Meticulously researched.

Choice Magazine
[A} fascinating text. The book is a great read and a window on a lost world.

Alan Titchmarsh, Sunday Telegraph
Beautifully illustrated. [It] overflows with entertaining detail.

Robbie Millen, The Times
Tinniswood uses lively local detail.

Lindsay Duguid, Times Literary Supplement
This delicious book achieves completely what it sets out to do.

Marcus Berkmann, Daily Mail
A perfect piece of escapism.but also intelligent and scholarly social history.

Guardian
[It] combines a panoramic view of life and architecture in the interwar years with pin-sharp detail and the sort of springy prose that comes with complete command of the material.

London Review of Books
This is a lively and hugely entertaining history. It's packed with very funny anecdotes. A delight.

Mail on Sunday
Tinniswood paints a vivid portrait of the period

Jonathan Wright, Catholic Herald
A detailed and appreciated look at the phenomenon [of country houses]. Tinniswood writes elegantly, in complete charge of his material. The book is a joy to hold in your hand.

Spears Wealth Management Survey
Wittily written and beautifully illustrated, Tinniswood's book recreates a world far more peculiar, but at times rather more enviable, than any fictional version.

David Horspool, Guardian, Book of the Year
[A] compelling volume of social history.

Daily Mail, Book of the Year
[A] brilliant book about life in the English country house.

Rachel Cooke, Guardian, Book of the Year