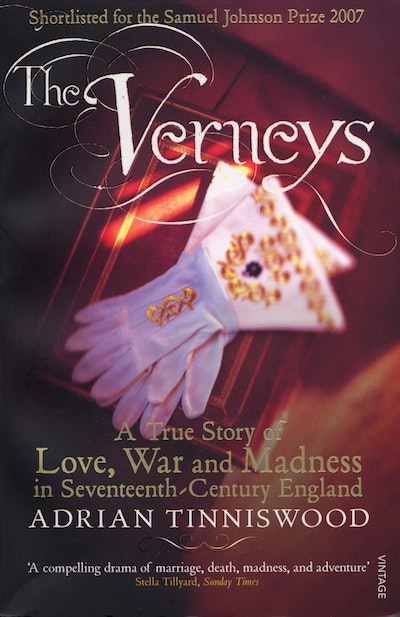 Published:

1 August 2011

ISBN:

9781446402184

Imprint:

Vintage Digital

Format:

EBook

Pages:

608
The Verneys
Love, War and Madness in Seventeenth-Century England
---
---
---
The extraordinary story of one English family in the seventeenth century: narrative social history at its best.
'To know the Verneys is to know the seventeenth century,' writes Adrian Tinniswood in his brilliant new book – and thanks to the chance survival in an attic of tens of thousands of their letters, we know the Verneys very well indeed. By drawing on their letters, he reveals the world of this family of Buckinghamshire gentry in extraordinary detail and intimacy.
Here is Edmund Verney, Charles I's standard bearer at Edgehill. He died there; all they found of him was his hand, still clutching the King's standard. Edmund left ten children, the oldest of whom, Ralph, struggled to hold the family together during the Civil War. He lost the respect of his brothers and sisters because he alone of the Verneys supported the Parliamentarian cause. Then Parliament, suspicious of royalist connections, hounded him into exile.
Ralph's brother Mun was a professional soldier who survived Cromwell's attack on Drogheda in 1649, only to be stabbed to death two days later. Their sister Mall fell pregnant out of wedlock. Bess ran off with a clergyman. Henry was obsessed with horse-racing. Cary gambled away a fortune. Tom was a devout Christian and a petty crook: packed off abroad, he kept returning to sponge off his family.
The next generation led equally exciting lives. Ralph's son Jack went to Syria and made a fortune. Cousin Pen stayed at home and slept with her sister's fiancé. Cousin Dick was hanged at Tyburn. Jack's brother Edmund married a girl who was rich, beautiful and deeply in love with him. Within months of the marriage she lost her mind.
The Verneys is narrative history at its very best – fascinating, surprising, enthralling. It is nothing short of a triumph.
Published:

1 August 2011

ISBN:

9781446402184

Imprint:

Vintage Digital

Format:

EBook

Pages:

608
A wonderful group portrait of an eccentric and ill-starred dynasty. Expertly handling the humorous words and unwise deeds of several generations of Verneys, Adrian Tinniswood breathes life into the turbulent history of an entire century

Ross King, author of "Michelangelo and the Pope's Ceiling" and "Brunelleschi's Dome"
Adrian Tinniswood's 'The Verneys' takes us on a fascinating grand tour through a world turned upside down. It is an intimate, engaging, and richly rewarding book, showing the seventeenth century in all its splendor and brutality

David King, author of "When the World Came to Town" and "Finding Atlantis"
Wonderfully engaging...Tinniswood has brought the Verneys to life in robustly vivid style

Guardian
A marvellous history. Intimate and compelling, it's an exciting tale of adventure on the high seas and a family torn apart by civil war

Daily Mail