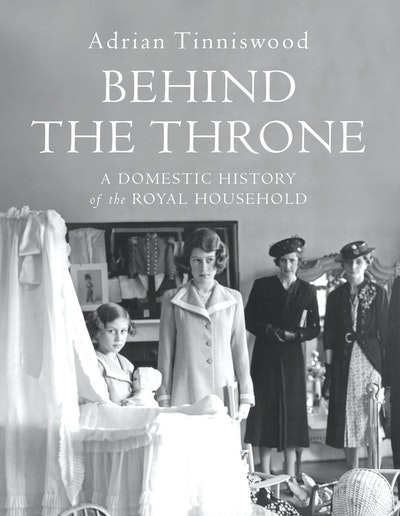 Published:

18 October 2018

ISBN:

9781910702826

Imprint:

Jonathan Cape

Format:

Hardback

Pages:

384

RRP:

$49.99
Behind the Throne
A Domestic History of the Royal Household
---
---
From the first Elizabethan age to the second, Britain's monarchs seen through the eyes of those who keep their secrets
Behind the Throne is a history of family life.
The families concerned were royal families. But they still had to get up in the morning. They ate and entertained their friends and worried about money. Henry VIII kept tripping over his dogs. George II threw his son out of the house. James I had to cut back on the drink bills.
The great difference is that royal families had more help with their lives than most. Charles I maintained a household of 2,000 people. Victoria's medical establishment alone consisted of thirty doctors, three dentists and a chiropodist. Even in today's more democratic climate, Elizabeth II keeps a full-time staff of 1,200. A royal household was a community, a vast machine. Everyone, from James I's Master of the Horse down to William IV's Assistant Table Decker, was there to smooth the sovereign's path through life while simultaneously confirming his or her status.
Behind the Throne uncovers the reality of five centuries of life at the English court, taking the reader on a remarkable journey from one Queen Elizabeth to another and exploring life as it was lived by clerks and courtiers and clowns and crowned heads: the power struggles and petty rivalries, the tension between duty and desire; the practicalities of cooking dinner for thousands, or ensuring the king always won when he played a game of tennis.
Behind the Throne is nothing less than a domestic history of the royal household, a reconstruction of life behind the throne. Readers go on progress with Elizabeth I as she takes her court and her majesty to her subjects. They dance the conga round the state rooms of Buckingham Palace with George VI.
They find out what it was like to dine with queens, and walk with kings.
Published:

18 October 2018

ISBN:

9781910702826

Imprint:

Jonathan Cape

Format:

Hardback

Pages:

384

RRP:

$49.99
Praise for Behind the Throne
An intimate and entertaining look at the private lives of monarchs from Elizabeth I to the current occupants of Buckingham Palace. Deft, zesty social history.

Kirkus
Devoted watchers of The Crown will especially enjoy the nimble analysis of both the narcissistic Edward VIII's brief reign and Princess Margaret's doomed romance. this enlightening narrative allows the royal family mystique to disappear just a little.

Publishers Weekly
If Downton Abbey showcases a well-oiled machine of domestic efficiency in an English estate, you might think the servants surrounding British monarchs would be held to an even higher standard of discretion and excellence. And, as historian Tinniswood warns, you'd be entirely wrong. The reality, as he explores in this diverting book covering the domestic life at court from Elizabeth to Elizabeth, is both much messier and incredibly interesting. This rare glimpse into royal households reveals the priorities and peculiarities of kings and queens.

Booklist
This is the most interesting and informative book on British royalty for many years.

Sarah Bradford, Literary Review
Adrian Tinniswood's handsomely produced Behind the Throne is full of such pleasing details, as it takes us on a fascinating snoop into the studies, kitchens and bedrooms of various monarchs from Elizabeth I to the present queen. Tinniswood gets [the tone] just right, never overly deferential, but humorous and distantly respectful. Behind the Throne is a wonderfully entertaining account of life through five centuries of royal households.

Christopher Hart, Sunday Times
Adrian Tinniswood's juicy new domestic history of the royal household. [is] delicious - as piquant as the green salad with which Edward VIII liked to eat his cold grouse.

Rachel Cooke, Observer
Behind the Throne, erudite and amusing, bulges with colourful scenes. glorious. a fun, elegant narrative.

Melanie Reid, The Times
Tinniswood retells some of the best-known and best-loved episodes in British royal history. with elegance and wit. [and] based on extensive research.

Linda Porter, BBC History Magazine
Tinniswood tells us. What is revealed by this history of regal domesticity is that, in many respects, nothing has altered.

UK Press Syndication
This book is a cracking read, packed full of stories which Tinniswood relates with verve and wit. Buy this book for Christmas and give it to all your non-republican friends.

Jane Ridley, Spectator
This book will be greatly enjoyed. [Behind the Throne] has plenty.splendid nuggets.

Hugo Vickers, The Tablet
Entertaining. superb. history needs anecdote to make us relate to it, something Tinniswood [does] brilliantly.

Daily Telegraph, Books of the Year
Entertaining. Behind the Throne.contains gems

Simon Heffer, **Books of the Year**, Daily Telegraph
Tinniswood is one of our finest historians and he brings to life the reality of royal life behind the scenes in stunning detail. If you want to know about the private lives of monarchs, this brilliant, beautifully illustrated account will more than satisfy.

Alison Weir, BBC History Magazine, **Books of the Year**
Penetrating and enjoyable. It is very fluently written, spiced with wit, and always judicious.

Clarissa Campbell, Times Literary Supplement