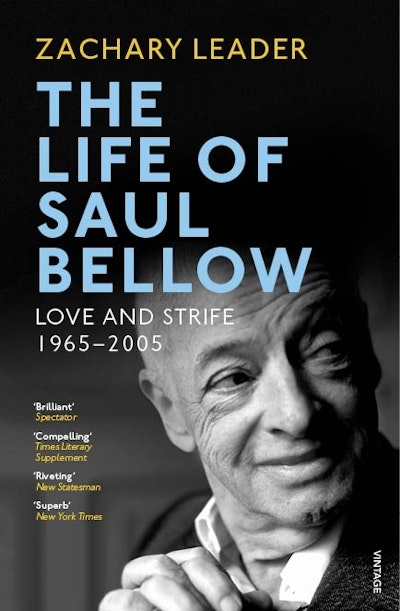 Published:

8 November 2018

ISBN:

9781473511880

Imprint:

Vintage Digital

Format:

EBook

Pages:

784
The Life of Saul Bellow
Love and Strife, 1965-2005
---
---
---
The second volume of Zachary Leader's definitive authorised biography of one of the greatest American writers

The final volume of the definitive authorised biography of one of the greatest American writers.
'A moving testament to one of the last century's greatest writers' Sunday Times
At forty-nine, Saul Bellow was at the pinnacle of American letters – he was rich, famous and critically acclaimed, with the best yet to come: Mr Sammler's Planet, Humboldt's Gift, all his best stories. He went on to win two more National Book Awards, a Pulitzer Prize, and the Nobel Prize. However, away from his desk, Bellow's life was set to become embroiled in controversy: over foreign affairs, race, religion, education, social policy, the state of culture, the fate of the novel.
From the women he pursued and his turbulent family relations, to his struggles with cultural relativism and the perceived excesses of civil rights movements, this second and final volume of Zachary Leader's monumental Life of Saul Bellow charts Bellow's heroic energy and will throughout his life, right to the end - where his immense achievements and their costs, to himself and others, became ever more apparent.
'Brilliant' Spectator
'Compelling' Times Literary Supplement
'Riveting' New Statesman
'Superb' New York Times
Published:

8 November 2018

ISBN:

9781473511880

Imprint:

Vintage Digital

Format:

EBook

Pages:

784
Praise for The Life of Saul Bellow
Leader is our hyper-sensitive ammeter, charting the myriad effects of all this fame on his difficult, brilliant subject. A great feat of scholarship and, at the end, a moving testament to one of the last century's greatest writers.

Claire Lowdon, Sunday Times, **Literary Book of the Year**
This will stand as the definitive account. Leader talked to the surviving three wives and drew on the memories of Bellow's three sons, as well as more than 100 friends (and one or two enemies) and devout literary progeny including Martin Amis and the critic James Wood.

Tim Adams, Observer
This second volume of biography perfectly captures the spirit of a complex genius… Bellow calls for a sensitive balance between censure and understanding, to avoid overshadowing his genius, and it is hard to imagine anyone doing it better [than Zachary Leader].

George Walden, Evening Standard *Book of the Week*
Zachary Leader's monumental biography of Saul Bellow…[is] minutely researched and clear-eyed… Leader is wholly steeped in Bellow's oeuvre and able to find all the fictional equivalents of the real people who filled his life.

John Mullan, Guardian
Leader's portrait manages to be both subtle and even-handed… Leader's two-volume biography is an astonishingly detailed and thoughtful record of an important life.

Benjamin Markovits, Spectator
As a friend to Saul and as an awestruck admirer of his astonishing work, I was not always at ease reading portions of this painfully intimate biography. Nonetheless, the book's sweep and majesty – like that of its subject – are not to be denied. All the personal strife is there, the controversies and the disasters, his magical power of observation, that intellect, along with a meticulous record of how, with what labor – the peasant doggedness and the meticulous workmanship and the grinding patience and the hard won inspiration – the great novels came to be written.

Philip Roth
In the second and final volume of his meticulously objective biography… [Leader] gives us all the information from every angle, rewarding the patient reader with a multi-dimensional portrait of this contradictory, conflicted, brilliant, difficult human being [Saul Bellow]. And although this is a big book, it's actually a miracle of compression and clarity, given the size of the life. Best of all, Leader always makes time to remind us why we're here: for the work itself, which he quotes from generously and with relish.

Claire Lowdon, Spectator **Books of the Year**
Leader's biography is a monumental piece of scholarship… It is also thrilling to read… With this enthralling, massively detailed book, Leader has not laid Bellow bare so much as enriched him.

David Mikics, Literary Review
Leader's work… will almost certainly become a prism through which his subject is seen from now on… a monument to this iconic figure's legacy. Exhaustive, respectful, essential.

Stoddard Martin, Jewish Chronicle
[A] magnificently researched book... highly informative... admirable.

Roger Lewis, The Times
Leader's second volume... is very close to the naked truth about Bellow.

Herald Scotland
Leader's exhaustively researched, well-written and impressive biography does justice to the intriguing character and tormented life of a literary genius. It reveals that Saul Bellow was the most coruscating stylist, the most brilliant intellect, the most compassionate and great-souled writer in modern American literature.

Jeffrey Meyers, Standpoint
Riveting.

Leo Robson, New Statesman
Leader gives us the life in lucid, pithy prose whose fact-accumulating velocity can, at times, suggest Bellow's own expressiveness. His book is meticulous, clear-headed, and now the best possible source for anyone who wishes to understand better Bellow's grumpy genius.

Vidtan Ravinthiran, The Telegraph
This biography is worth your time.

James Marriot, The Times, **Books of the Year**
Leader chronicles the art-life relationship with a high-definition precision and amplitude. His sedimentary method lends both volumes a richly satisfying density of texture, like impacted strata of multicoloured rock. He maps the whole fractured geology of Bellow's mind and, at the bedrock layer, finds a curious hankering not for fuss but peace.

Boyd Tonkin, Financial Times
Leader captures… [Bellow's] iridescence perfectly, showing how far his life was stitched into the fabric of his work in heightened colours, and providing a running commentary of elucidation and criticism.

George Walden
Zachary Leader's The Life of Saul Bellow is that rarest of things, a towering biography that closes with a satisfying click.

James Wolcott, London Review of Books
[A] compelling account… Leader's biography brings Bellow's quirks, individuality and difficulty to life. Most importantly, though, it sends us back to what matters most: the art.

Ben Masters, Literary Review