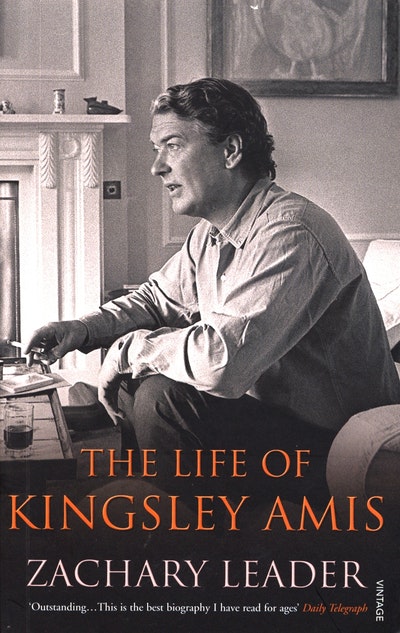 Published:

31 July 2013

ISBN:

9781446418161

Imprint:

Vintage Digital

Format:

EBook

Pages:

1008
The Life of Kingsley Amis
---
---
The eagerly-awaited authorised biography of Kingsley Amis.
In this authorised biography, Zachary Leader argues that Kingsley Amis was not only the finest comic novelist of his generation, but a dominant figure in post-war British writing, as novelist, poet, critic and polemicist.
Drawing not only on interviews with a range of Amis's friends, relatives, fellow writers, students and colleagues, many of them never before consulted, but also on hundreds of previously unpublished letters, Leader's biography will for the first time give a full picture of Amis's childhood, school days, life as a teacher, critic, political and cultural commentator, professional author, husband, father and lover.
He explores Amis's fears and phobias, and the role that drink played in his life. And of course he pays due attention to Amis's work. As the editor of The Letters of Kingsley Amis, hailed in The Sunday Telegraph as 'one of the last major monuments to the epistolary art', Leader is more than qualified to be his authorised biographer. His book will surprise, entertain and illuminate.
Published:

31 July 2013

ISBN:

9781446418161

Imprint:

Vintage Digital

Format:

EBook

Pages:

1008
Praise for The Life of Kingsley Amis
Leader has surpassed himself... he gives us not only the man, but also his milieu; he gives us not only the compelling virtues but also the staggering flaws. This is the best biography I have read for ages: deeply researched, crisply written and beautifully judged

Dominic Sandbrook, Daily Telegraph
Very thorough and very straight-talking. It's also very clear in its aims...He displays the facts of each matter plainly, allowing the reader to deliver their own praise and blame, and counterbalances them with his attention to the work. It's an impressively well-judged response

Andrew Motion, Guardian
Marvellous...It has become a fashion to denounce long biographies as telling us more than we need to know, but Leader's is a triumphant vindication of its 900-plus pages. It's a pleasure to read, and the accumulation of detail gives a real sense of a life being led

Jeremy Lewis, Independent
This is a book of true stature about a complex talent. Few literary biographies can match it for depth and intimacy

John Carey, Sunday Times
Marvellous...I ought to say that this book is 200 pages too long, but as I enjoyed almost every word of it, I can't

Ferdinand Mount, Spectator
In Zachary Leader, who has edited the letters, he has an omniscient biographer, who relentlessly truffles out parallels with Amis's life in every novel

Valerie Grove, The Times
Elegantly organised, lovingly detailed, and - how could it not be? - eruptively funny, Zachary Leader's book is hard to put down

Christopher Bray, New Statesman
Leader edited Amis's Letters, and this biography is in its way superb. Well-written, balanced... it makes sensible connections between the novels and the life

Christopher Hudson, Evening Standard
Unsurprisingly in a biography of this size, he really has left no stone unturned

Lesley McDowell, Scotsman
Leader is authoritative, erudite, steeped in his sources and balanced in his judgements

Scotland on Sunday
Mr Leader's style and approach are unfussy and effective... Exhaustively researched, it is likely to be definitive

Economist
A portrait of great complexity that is both an exhilarating and a melancholy read

Carlo Gebler, Irish Times