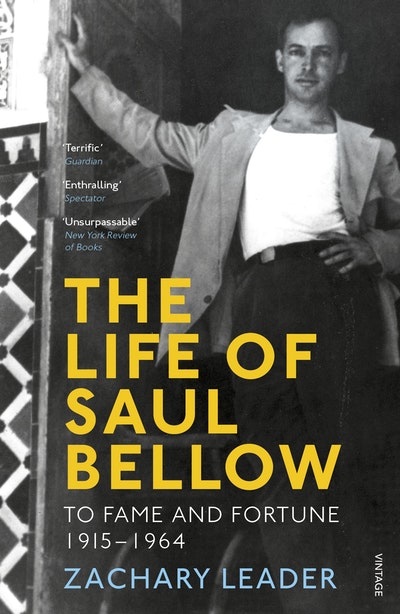 Published:

15 March 2017

ISBN:

9780099520931

Imprint:

Vintage

Format:

Paperback

Pages:

832

RRP:

$39.99
The Life of Saul Bellow
Love and Strife, 1965–2005
---
---
---
The first major biography of one of the most important writers of the twentieth century, Saul Bellow.
Literature Book of the Year, Sunday Times'Terrific' Guardian'Enthralling' Spectator'Magisterial' Daily Telegraph'Unsurpassable' New York Review of Books
By the time Herzog was published in 1964, Saul Bellow was probably the most acclaimed novelist in America, described in later years by the critic James Wood as 'the greatest writer of American prose in the twentieth century.' Zachary Leader's biography shows how this prose, with its exhilarating mixture of high culture and low, came into existence. It also traces Bellow's life away from the desk, as polemicist, teacher, husband, father and lover. Fierce in his loyalties, Bellow was no less fierce in his enmities, combative in defence of his freedoms. Spanning the period from Bellow's birth in 1915 to the publication of Herzog in 1964, volume one of this biography is the first since Saul Bellow's death, and the first to discuss his life and work in its entirety.
Published:

15 March 2017

ISBN:

9780099520931

Imprint:

Vintage

Format:

Paperback

Pages:

832

RRP:

$39.99
Praise for The Life of Saul Bellow
Zachary Leader's Life of Saul Bellow: To Fame and Fortune 1915-1964 is already the equal of Richard Ellmann's great Life of Joyce. The first instalment is scrupulous, dispassionate, morally sensitive, profoundly informative and marvellously acute in its literary judgements. It's a miracle of lucidly marshalled detail

Craig Raine, Books of the Year, Times Literary Supplement
The most purely delicious literary biography that I've come across. Leader's calm, gradual, but serenely excited prose vibrates with the joy of his thought coalescing with his subject, Saul Bellow

Richard Brody, New Yorker
It's a terrific biography. It's also a first-rate piece of literary criticism. The book doesn't really privilege the life or the fiction, or belittle the complexity of reading between them. But taken together they offer a very detailed kind of evidence, about the costs and benefits of Bellow's existential intensity

Benjamin Markovits, Guardian
Leader displays a phenomenal, line-by-line familiarity with Bellow's oeuvre. His biography is awesomely well-researched... His interweaving of life and works, letters, unpublished manuscripts and historical documents is seamless

John Walsh, Sunday Times
The first volume by Zachary Leader might be the most intelligent, fair-minded and most carefully furnished Life of a contemporary novelist I have read… It challenges both the official and the fictional versions, it upends the self-justifying letters, and offers an account that is never knowingly uncomplicated, sentimental or prejudiced, and never dull

Andrew Oâ??Hagan, London Review of Books
A triumph. If it is hard to think of a literary biography of its scope, depth and literary integrity it is as much because of Leader's mastery of his subject as of Bellow's event-filled life

George Walden, Evening Standard
As a friend to Saul and as an awestruck admirer of his astonishing work, I was not always at ease reading portions of this painfully intimate biography. Nonetheless, the book's sweep and majesty – like that of its subject – are not to be denied. All the personal strife is there, the controversies and the disasters, his magical power of observation, that intellect, along with a meticulous record of how, with what labor – the peasant doggedness and the meticulous workmanship and the grinding patience and the hard won inspiration – the great novels came to be written.

Philip Roth
A dazzling piece of work. It's shrewd and scholarly throughout; but also lavish, entertaining and frequently mischievous. The Paris chapter, with the hilarious invented meeting with Scott Fitzgerald, and then the depressed and collapsing marriage, and finally the sudden lyrical breakthrough to Augie March, is one of many absolutely outstanding sections. Young Bellow himself comes steadily surging through, getting bigger and bigger: clever, ambitious, philandering, mordant, magnificent, dominating and always furiously typing, typing, typing. In a word, this Volume One has all the makings of an American epic. I enjoyed it immensely.

Richard Holmes
A great writer has found a great biographer. Leader's achievement is to bring supreme intelligence to the relation of the art to the life - in Bellow's case formidably entwined. Along the way we are treated to a fine evocation of an entire American literary culture, its follies, feuds and daunting seriousness. Above all, Leader's is an unsurpassable portrait of the turbulent life of a brilliant man, a master of English prose and supreme chronicler of modernity and its torments.

Ian McEwan
Zachary Leader has written a multilayered book about a colossal American literary life. His research is prodigious, his curiosity about Saul Bellow's epic career limitless, and he reinvents biography as a four-dimensional narrative of time, space, perspective, and genre. Leader sets forth Bellow's life history through his interviews and letters as well as those of his huge extended family, his wives, mistresses, children, friends, enemies, neighbours, colleagues, critics, rivals, teachers, students, agents, editors and publishers, and through analyses of Bellow's books and stories about them, and their books and stories about him. On a grand scale, as enthralling as it is masterful, The Life of Saul Bellow is one of the great biographies of our time.

Elaine Showalter
Zachary Leader has read everything, interviewed everyone, and woven it all together into a biography of Saul Bellow on a grand scale. Staggering in its research, rich with insight into the relationships between his family origins, the lives he pursued, the people he knew, and the books he wrote, this account lays bare the alchemy of Bellow's imagination and the sources of his literary achievement in profuse and arresting detail.

Morris Dickstein, author of Dancing in the Dark and Why Not Say What Happened
The Life of Saul Bellow will prove definitive. Leader is respectful but unintimidated, balanced but never anodyne, and his literary criticism, like his prose, is unfailingly stylish and acute. The book is very learned and very long - the author happens to be a putter-in, not a leaver-out. But readers who enter into it will find a multitude of various fascinations: the gangland machine of Chicago, for instance; the tremors and prepercussions of the sexual revolution; Bellow's Romantic lineage (the affinities with Blake and Wordsworth); and the currents and commotions of the American cultural terrain, with its factions and rivalries, its questing energies, its fierce loyalties, and its fiercer hatreds.

Martin Amis, Vanity Fair
A monumental book that makes us see the greatest of American novelists in a fresh and generally attractive light

Andrew Marr, New Statesman
Seven hundred pages in and still 40 years of life and writing to cover, Leader has already outstripped previous biographers.

Brian Morton, Herald
Exemplary, scrupulous, dispassionate, detailed, well-read, enthralling...

Craig Raine, Spectator
Bellow's authorised biographer has approached the task of doing justice to the life of "the most decorated writer in American history" with indefatigable rigour'

Tim Adams, Observer
[An] ample and perceptive new biography.

Adam Kirsch, Standpoint
Leader draws deeply on newly uncovered letters and journals to piece together this richly detailed life.

Gerard Woodward, Independent
[A] brilliant book.

Craig Raine, Spectator
It is destined to become the standard work on Bellow for decades… [A] splendid biography.

Michael Kimmage, Literary Review
This is a fascinating, beautifully observant book.

Jenny McCartney, 4 stars, Mail on Sunday
This volume crackles with quotation from his writings, accompanied by bold, persuasive analysis. Essential, addictive reading or anyone interested in Bellow.

Claire Lowdon, Sunday Times
As a piece of research and writing, the book is worthy in multiple ways. The best thing about it is that Leader understands literature…so he's interested in Bellow for the right reasons, and his critical assessments are informed and disinterested.

Louis Menand, New Yorker
When Leader's second volume is published, the completed biography is likely to be hailed as definitive – and rightly so.

Adam Begley, The Times Literary Supplement
The amount of detail here is staggering… But the details never become too dense or overwhelming, thanks largely to Leader's clear, brisk style… [Is] what will surely become the standard biography of Bellow for years to come.

Steven Moore, Washington Post
A meticulous and masterful first-part biography… Leaves readers hungry for the next instalment.

The Economist
Leader's exhaustive work refreshes our interest in the works themselves, as any great literary biography should.

Kate Whiting, Herald
Comprehensive and meticulous.

Dan Brotzel, 4 stars, UK Press Syndication
The big literary biography of the year.

David Sexton, Evening Standard
Definitely a biography which had left me wanting to read more Bellow novels but now with a greater understanding of the man behind the writing.

Kathy Jesson, Nudge
full of illuminating critical insights, and his research is formidable

David Herman, Jewish Quarterly
A monumental book that makes us see this greatest of American novelists in a fresh and generally attractive light.

Andrew Marr, New Statesman
Impeccably researched... a magisterial portrait of a writer who was ruthless in his determination to "become great".

Gaby Wood, Daily Telegraph