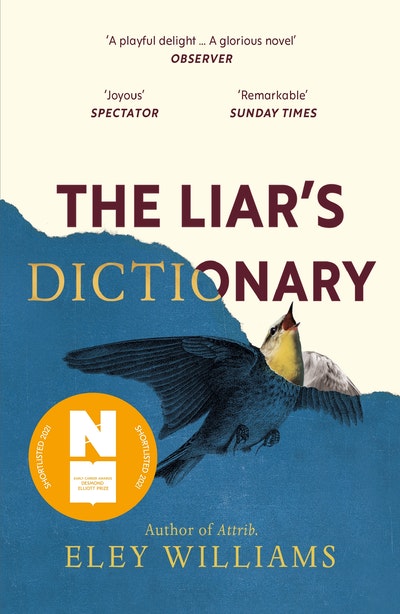 Published:

13 April 2021

ISBN:

9781786090591

Imprint:

Windmill Books

Format:

Paperback

Pages:

288

RRP:

$22.99
The Liar's Dictionary
A winner of the 2021 Betty Trask Awards
---
---
---
The eagerly anticipated, playful, and profound debut novel from an utterly original, award-winning writer.
BETTY TRASK AWARD WINNER 2021
SHORTLISTED FOR THE DESMOND ELLIOTT PRIZE 2021
__________________________
'Joyous' SPECTATOR
'Remarkable' SUNDAY TIMES
'A playful delight... A glorious novel' OBSERVER
Swansby's New Encyclopaedic Dictionary is riddled with fictitious entries known as mountweazels penned by Peter Winceworth, a man wishing to make his lasting mark back in 1899. It's up to young intern Mallory to uncover these mountweazels before the dictionary can be digitised for modern readers.
Lost in Winceworth's imagination - a world full of meaningless words - will Mallory finally discover the secret to living a meaningful life?
Published:

13 April 2021

ISBN:

9781786090591

Imprint:

Windmill Books

Format:

Paperback

Pages:

288

RRP:

$22.99
Praise for The Liar's Dictionary
I have just read Eley Williams's forthcoming novel The Liar's Dictionary, a singular, hilarious, word-drunk novel, which I suspect will be seen in the future as a classic comic novel.

David Hayden, Irish Times
This tale of lexical intrigues is an absolute joy to read! It's gloriously inventive and playful, but with just the right amount of heart.

Lucy Scholes
Eley Williams is enraptured by the metaphysical intimations of language ... A novel that, in addition to everything else it manages to achieve and to be, stands in some ways as an embodiment of, and an affectionate reproach to, Samuel Johnson's definition of the form as "a small tale, generally of love" ...A delight. Williams handles their respective stories with a gripping command of the development of her plot...dazzling clarity of thought and vision, an extraordinarily fecund capacity for imaginative compassion. Some of these qualities lie in the freshness, elegance and lyricism of Williams's prose ... Yet her book is also gloriously full of gently sardonic asides; charmingly deadpan divagations; and an aptitude for the choreography of cartoon and slapstick that is as funny and vivid as Dickens, as moving and memorable as Nabokov ... For all its exuberance, however, this is ultimately a gentle and reflective book whose great preoccupations - the power of language to realise, shape, and deny our natures; the attributes, boundaries and meanings of human connection - are addressed with a care, intelligence and sensitivity that is suffused with an atmosphere of fellow-feeling, shared endeavour, friendship ... By attending so assiduously to the circumstances that propel them to this point, The Liar's Dictionary stands as an extraordinarily large-hearted work of obeisance to the lexicographical belief in the "transformative power of proper attention paid to small things", and as an ennoblingly expansive guide to the plangent lineaments of love.

Matthew Adams, The Critic
There are a couple of first novels that I've been intrigued enough by their publicists to set on my personal hope-to-read pile: Eley Williams's The Liar's Dictionary

Sam Leith, Times Literary Supplement
The Liar's Dictionary ... made me almost tearful with gratitude that a book as clever as this could give such uncomplicated pleasure ... Williams's triumph in The Liar's Dictionary is to bring together two people a century apart with a unifying comic vision. In each setting she creates a completed world full of sticky details ... There are pleasingly silly jokes (a series of cats called Tits), delight taken in names (Winceworth's nemesis is Frasham, a man who would now be described as a jock) and brilliant set pieces involving parties and pelicans, all in the service of an inquiry into language and words ... Language is what enables Winceworth and Mallory to communicate indirectly through the entries in Swansby's dictionary, and back to back on the pages of this novel ... Look: it's possible that I am the perfect reader for this book and that no one else will get as much out of it as I do. But it gave me the same joie de livre that I got from the likes of Italo Calvino, Nicholson Baker and Andrew Crumey when I first started reading fancy grown-up novels twenty-odd years ago. And when you find a book like this, you grab it, and you hold it close.

John Self, The Critic
The Liar's Dictionary is deft and clever, refreshing and rewarding ... Words and meaning are of paramount importance in this novel. Williams's naming conventions are Dickensian in their symbolism ... Williams is an assured and satisfying writer, her language rich and intricate and her characters rounded enough to be sympathetic and lampoonist enough to be terribly funny. Her writing owes something to Wodehouse but more to Waugh in his most amusing of disgruntled humours. In both storylines, there is a mystery to be uncovered and a dramatic - and violent - event to be endured. In neither are these the main focus. Rather, it is the connection between Mallory and Winceworth, as we watch each struggle with love, life and speaking their mind, that makes the book so delightful.

Literary Review
An improbably enchanting, rollicking novel about two generations of put-upon London lexicographers, The Liar's Dictionary is positively intoxicated with the joy and wonder of language, both authentic and, often hilariously, counterfeit, and I can assure you that it's quite the contact high. Eley Williams brings erudition and playfulness-and lovely sweetness-to every page.

Benjamin Dreyer, New York Times bestselling author of Dreyer's English
[The] most exciting of young British writers ... [A] playful word wrangler ... Williams luxuriates in words and wordplay, in definition and precision and invention ... Both main characters are a joy ... Winceworth in particular could have wandered from the pen of Kingsley Amis ... The Liar's Dictionary is a public joy, and Eley Williams a free-spirited literary kook with bags of potential.

Big Issue
a lexicographical delight

The Observer
A playful delight ... The success of Attrib. had readers keenly awaiting this first novel, and it doesn't disappoint. A virtuoso performance full of charm ... There's great skill in how the novel remains compact and focused while delivering satisfaction on multiple levels. It's simultaneously a love story, an office comedy, a sleuth mystery and a slice of gaslit late Victoriana ... Recalls the early stories of Ali Smith, whose intellectually curious, free-range spirit Williams shares ... Williams keeps in sight big questions about language and identity. But as in Attrib. there's nothing arid about these investigations: this is a novel full of fun. Williams writes with fine comic timing, in prose glinting with goodies ... Throughout, you feel in the safe hands of a storyteller dedicating their talent to our pleasure. The Liar's Dictionary is a glorious novel - a perfectly crafted investigation of our ability to define words and their power to define us.

Observer
We are [...] surrounded by Williams's playful prose, with wordplay and portmanteaus aplenty [...] An inventive, comic novel, which has already drawn comparisons to Wodehouse and Waugh

Radio Times
Eley Williams's fiction is all about love, but its style is shy and abashed ... The whydunit strand is nifty: there's a twist I didn't expect. But the pleasures are linguistic. There are numerous digressions into words and their afterlives ... It's fascinating ... The emotional weft is exquisite. Echoes in language, both verbal and body, pass between eras with subtlety. The Liar's Dictionary is a dextrous handling of two mysteries at once: a malfeasance, which ends up solved, and the problem of love, which does not.

Sunday Telegraph
Sparkling first lines are things to cherish, and Eley Williams's opener to The Liar's Dictionary is a doozy. "David spoke to me for three minutes without realising I had a whole egg in my mouth". If, like me, that's a sentence that immediately makes you smile, then this is a book for you ... The Liar's Dictionary is a wondrous, multi-faceted novel. It's an absurdist flight of fancy full of funny lines and set pieces that put me in the mind of the films of Wes Anderson. It's also a joyous celebration of language and a touching human story about how people try to leave their mark on the world. Highly recommended.

Will Gore, Spectator
The Liar's Dictionary takes evident delight in his coinages, and is littered with similar misalignments that don't fully fit the lying label [...] Characteristically nimble and rippling and alert to the uneasiness of "tying things up", despite being a book about books that order and categorise, The Liar's Dictionary lets its characters stray off the page at its close.

Splice
Her first novel offers further adventures in love and language, taking us deep into the world of lexicography ...Invented words are her way into those ever-fertile debates about how far language should be fixed or constantly remade ... In Williams's writing, the simple words and actions don't invalidate or override the hesitant, sidelong or circumlocutory ones: she is keen to make room for them all ... A warm, intricate novel shaped by a powerfully humane and uncoercive intelligence. It's a book of big ideas in a minor key. Sceptical about grand visions, it is also resistant to conclusion.

Alexandra Harris, Guardian
Eley Williams burst on to the literary scene in 2017 with her beguilingly imaginative collection of tales ... The Liar's Dictionary became one of the hotly anticipated debuts of 2020 ... It does not disappoint ... Really compelling ... Where Williams really excels - other than in the assiduity with which she tests the power of language to articulate the world - is, on the one hand, in affectingly light-touched descriptions of tenderness and love, and, on the other, in the surreal rendering of comic scenes ... A comic tour de force ... Choreographed to perfection ... The intensity of Eley Williams's imaginative vision - her capacity to tease the extraordinary from the ordinary - and her characteristically playful...always warm prose single her out as one of the most promising young British writers to emerge in the last few years.

Financial Times
An unimboxable cheeriosity

Saga Magazine
A remarkable novel ... Original and often very funny, The Liar's Dictionary is an offbeat exploration of both the delights of language and its limitations.

Sunday Times
"A dictionary as an unreliable narrator" is a device used here in clever ways ... Those familiar with Williams's writing won't be surprised to find that her characters are also in love with words ... Williams's sentences rarely stall; they move between conventional and innovative forms, and her novel is no less original for that.

Times Literary Supplement
[I]t's a sunny, breezy smile of a book [...] it's a lovely, lovely book which we read in a single sitting. If you liked The Surgeon of Crowthorne or even Leonard and Hungry Paul we think you'll get an almighty kick out of this. Max Porter described Williams' debut Attrib, thus "I love it in a way I usually reserve for people" - we feel the same way about The Liar's Dictionary.

Bookmunch
With its historical and contemporary settings, rounded relatable characters, and a plot to which one could even give spoilers, [...] The Liar's Dictionary is recognisably a Proper Novel. [...] The tricky courtship of word and world, and how a book might hold a world, is essentially the theme of all dictionary fiction. The Liar's Dictionary, an invaluable additionto that odd canon, ends up - I think - being all about one word, one that James Joyce (an encyclopaediac himself) called "the word known to all," the word love.

The Quietus
[A] wry, charming debut novel ... Ruminating on and revelling in the English language, this warm-hearted novel is a thoughtful, funny delight.

Tatler
If searching for the answers to human uncertainties by crystallising them in definitions is 'like trapping butterflies under glass,' the beating of Williams' words against the pages is anything but: these words are playfully free.

Totally Dublin
Filled with humour and sparkling moments of insight, it's a book that celebrates the delights of language whilst the characters struggle to find their place in the world that exists beyond word definitions.

Citizen Femme
The Liar's Dictionary by Eley Williams (William Heinemann), which continues the lexicographical playfulness of her short stories, is a singularly charming jeu d'esprit about two people a century apart doing the difficult, essential work of defining words and defining themselves.

The Guardian
Article
Read between the lies
In Eley Williams' The Liar's Dictionary, we're forced to interrogate the very foundations of 'truth'.