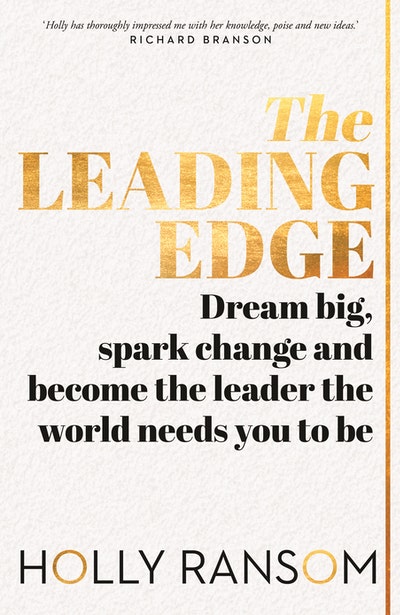 Published:

20 July 2021

ISBN:

9780143791522

Imprint:

Viking

Format:

Trade Paperback

Pages:

400

RRP:

$34.99
The Leading Edge
Dream big, spark change and become the leader the world needs you to be
---
---
---
Leadership is within everyone's reach, everyone's ability and everyone's power. It's time to step up, and Holly Ransom will show you how.
What does it mean to 'be a leader'?
What does true leadership look like in the 2020s, when we're facing complexity and challenges in every direction – from climate disaster to political division, and inequality to consumer mistrust?
And how can we be part of the solution, while crafting a meaningful and satisfying career?
The answers aren't simple, but Holly Ransom is closer to finding them than most. Barely into her thirties, since chairing the G20 Youth Summit in 2014, Holly has been working with and learning from the heads of countries, companies and charities to help them disrupt what they do and change the world for the better.
In her fearless and widely-researched manifesto, this innovative young thinker shows how it is within everyone's reach, everyone's ability and everyone's power to be an effective leader – in business and beyond.
Through three principles – mindset, method and mastery – you'll discover how to first lead yourself, then others. And you'll benefit from the wisdom of the luminaries Holly has interviewed, from Susan Cain and Condoleezza Rice to Barack Obama and Malcolm Gladwell.
This is the path to the leading edge – and becoming the leader the world needs you to be.
Published:

20 July 2021

ISBN:

9780143791522

Imprint:

Viking

Format:

Trade Paperback

Pages:

400

RRP:

$34.99
Praise for The Leading Edge
Holly has thoroughly impressed me with her knowledge, poise and new ideas.

Richard Branson
Articulate, bold and compassionate, Holly is one of Australia's most inspiring and authentic young leaders. She has done the work, and now shares her impactful insights and life lessons to ignite the leader within us. The Leading Edge is essential reading for anyone who is willing to own their truth, master their mindset and change the world.

Layne Beachley AO, world champion surfer
Big changes usually don't start as big undertakings. They start with small steps and with big, bold ideas. This book, The Leading Edge, shows us how everyone, everywhere, has the capability to trigger a massive change. All it needs is a determined first step.

Professor Muhammad Yunus, winner of the 2006 Nobel Peace Prize
Holly's book is for the optimists, a call to action for those tenacious souls who want to go out and create the world they want to live in. It's an inspiring and rollicking roadmap for those willing to work hard, a practical guide for turning thinkers into doers, and a handbook for emerging leaders to roll up their sleeves and make the change they've always known was possible.

Matthew O. Brimer, Founder of General Assembly, serial entrepreneur, community builder, venture investor and cultural instigator
Article
Be four again
The Leading Edge author on embracing the art of play and leading with curiosity.