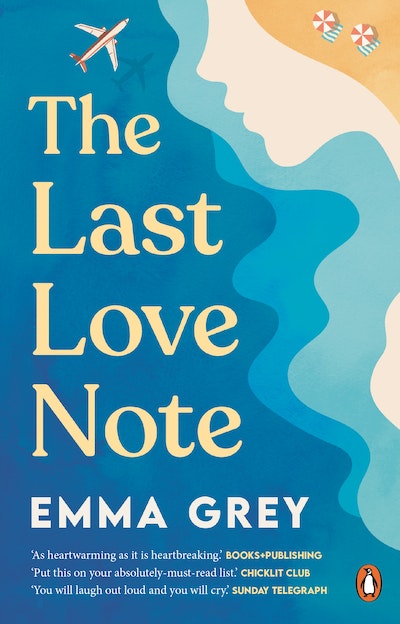 Published:

24 January 2023

ISBN:

9781761047633

Imprint:

Penguin eBooks

Format:

EBook

Pages:

352
The Last Love Note
---
---
---
A sparkling Australian romantic comedy with a heart-breaking twist.

'At its core, The Last Love Note is as heartwarming as it is heartbreaking. With vulnerability and honesty, Grey takes us through the entire spectrum of love.' Books + Publishing
In the aftermath of crushing grief, sole parent Kate Whittaker must learn to live and love again. It's been tough raising her young son and wrangling a university fundraising job, an overbearing mother and a best friend intent on matchmaking her with someone new.
When Kate and her boss, Hugh, become stranded in a sleepy hamlet north of Byron Bay, she finally has a chance to process all that she's been through and all that the future might hold. Caught in an impossible tangle of loss, love and unexpected longing, Kate wonders if she can risk her heart again.
But when it becomes clear that Hugh is hiding a secret from her past, all she has to guide her is the trail of scribbled notes she once used to hold her life together. The first note captured her heart. Will the last note set it free?
A sparkling Australian romantic comedy that will break your heart into a thousand shards and piece it back together again.
'funny, heart-breaking and life-affirming' Woman's Day
'Several people told me I was going to love #thelastlovenote but I have to admit – I did not expect to become obsessed with it in the way I have! It's somehow simultaneously unputdownable, heartbreaking AND funny. That's a difficult combination to master but Emma's writing is just incredible.' Kelly Rimmer
'From the opening scene I knew this book would be amazing ...Put this on your absolutely-must-read list.' Chicklit Club
Published:

24 January 2023

ISBN:

9781761047633

Imprint:

Penguin eBooks

Format:

EBook

Pages:

352
Praise for The Last Love Note
At its core, The Last Love Note is as heartwarming as it is heartbreaking. With vulnerability and honesty, Grey takes us through the entire spectrum of love. The novel is passionate and soulful, terrifying and devastating. The Last Love Note serves as a reminder that it really is better to have loved and lost than never loved at all.'

Bodhi Byles, Books + Publishing
I was not prepared for this book. I shouldn't have been fooled by the brightly coloured cover with cartoon drawings, or the association with Emily Henry. Yes, this is a romcom, but it's so much more. It made me cry several times before the halfway mark and I almost had to put it down at one stage, it was so raw and confronting. If I was younger and cooler, I would have filmed my reaction on TikTok. To put it simply, this book was heartbreakingly beautiful and unexpectedly funny all at once and such a fantastic surprise. The book looks and sounds like a typical romcom, and for the first 100 pages or so, it is. But then it takes an unexpected left turn that elevates it to another level. Grey does a fantastic job of telling a heartbreaking story with a blend of warmth and humour that is difficult to nail. Just be warned, you will laugh out loud and you will cry.

Mercedes Maguire, Merc's Book Nook
A moving portrait of love, loss and the messy emotions that live in between. And while Emma captures heart-wrenching scenes, the intimate prose is relatable, revealing and simply human. Yes, you will need tissues on hand—as well as a cuppa!

Elaine Obran, Her Canberra
Funny, heart-breaking and life-affirming

Woman's Day
Molly is worried about the tears that are streaming down my face after finishing The Last Love Note by Emma Grey. I'm not sure how to explain to her that they're tears of joy and relief at the absolutely perfect ending to this heart-achingly brilliant book. Having lost my sister just over a year ago, reading this book was like going on my own redemptive journey. Emma Grey understands grief at a visceral level in a way no woman her age should have to – but so many of us do. She's given us a story that will help us understand the intensity and insanity of loss along with hints and tips to support friends and loved ones through grief. But most important of all, she's given us a RomCom rollercoaster ride that had me laughing as hard as I was crying – and look at Molly's face. I was DEFINITELY crying. If you've lost someone, or know someone who has, grab a copy and walk with an emotional healer, as she picks her way through the minefield of grief back to a meaningful, love-filled life. 10 stars out of 5! Or maybe 100 out of 5. Or maybe just every star in the night sky out of 5!

Nina D Campbell, Nina D Campbell
It is a romcom, even though there's darkness and sadness. It's a lovely, wonderful read, with an incredible resolve. I was unable to put it down.

Lish Fejer, ABC radio Canberra
This is one I'm going to rave about...It destroyed me and completed me at the same time...It's a romcom but it has a really deep layer that I just found beautiful. It is just gorgeous. I was looking for excuses to go driving so I could listen to it in audio.

Sandie Docker
I'm gripped by The Last Love Note – such a powerful story. … heart-wrenching, hopeful and deeply romantic.. In other words – it's everything that I love. …Grey delivers and extraordinary depth of authentic emotion.

Barbara Hannay
I am absolutely loving this book. Emma's voice is fabulous. Laughing-out-loud and misty-eyed at the same time.

Fiona McArthur
Words fail me as I sit here in tears. I have not been so emotionally touched by a book since I read Prince of Tides 25 years ago.

Annie Seaton
'Several people told me I was going to love #thelastlovenote but I have to admit – I did not expect to become obsessed with it in the way I have! It's somehow simultaneously unputdownable, heartbreaking AND funny. That's a difficult combination to master but Emma's writing is just incredible.'

Kelly Rimmer
For readers who love their romance with some serious heartache! The Last Love Note is simultaneously a heartbreaker and a heartwarmer. This is not your standard romcom (and it's Aussie too!), through there are laughs to be had throughout. This tale about sole parent Kate emerging from devastating loss and grief and wrestling with the possibility of a second chance at love had me giggling, hoping, hurting, CRYING and just loving this book. …The Last Love Note feels like one of those perfect nights you have with a bunch of girlfriends where you alternate between shedding tears and laughing yourself silly all night long. This book left my heart feeling just as full.

BiblioBliss
The Last Love Note is both a heart-warming romantic comedy and a heart-breaking tale of love lost in tragic circumstances. Thought-provoking and tender, this is one of those books that make you want to tear through to the end while never wanting the story to end. Simply put, it is an absolute joy of a read.

Meredith Jaffe
The Last Love Note is a heart-warming (and at times heartbreaking) journey of a single mother learning to love again. As characters battle the challenges of life, Emma's masterful prose makes for a deeply-felt tale of holding onto your sense of self even in the most adverse of circumstances. Intelligent and emotional reading all in one.

Her Canberra
'From the opening scene I knew this book would be amazing ...Put this on your absolutely-must-read list.'

Chicklit Club
If you are ready to open up your heart to a fragile tale of love lost and found, The Last Love Note will undoubtedly hit the spot.

Mrs B's Book Reviews
The Last Love Note – OMGGGGG!!! I freaking LOVED it! Honestly, I think I messaged like 15 friends separately while I was reading it screaming at them to buy it. Emma is doing something that nobody else is doing in Australia right now – she has the vibe that I usually have to look to my fave UK or Irish writers for – that high stakes super emotional romance with SO MUCH HUMOUR. God I loved, loved, loved it!

Tess Woods
a beautiful, tragic, moving and at times funny story written by someone who not only understands grief but can write bloody well. If you don't find yourself at least close to tears at some point in this book, then Emma's acknowledgments will tip you over. This is not just a romance, nor is it a book with just one love story. It depicts love on different levels, at different times and in different ways, and how every act of kindness can be something so much more.

Kerryn Mayne
An exquisitely heartbreaking emotional love story, packed with light, tender touches. I will be recommending this to everyone.

Paige Toon