Debut author Emma Grey shares the advice she'd give her past self, how she met her agent through a random email and the way that her own grief helped inspired her novel, 'The Last Love Note'.
What was your writing process like for The Last Love Note? Did you have a writing routine or any regular rituals?
I'm a 'binge writer', so the skeleton draft fell onto the page in about five weeks, mainly very late at night. I don't plot, so that first draft is a breathless attempt to capture the story as if watching it unfold on a movie screen. Characters appear unexpectedly and shake the story up from within. I never know what's going to come out of their mouths or where it's heading until quite close to the end…
The real work comes in re-writing and editing. It's a process of deepening the story. Colouring it in. Hair-raising though it is to admit, I performed a major, eleventh-hour re-structure on the book the day before I submitted the re-write (while feverish with Covid!) based on last-minute instinct.
How did you first come up with the idea for the book? 
The book is about a midlife widow coming to terms with her loss and finding love again. Sadly, I wrote it from first-hand experience (at least the part about coming to terms with loss). When my husband, Jeff, died in 2016, I knew I would write about grief in some form. I contemplated a grief memoir, or a non-fiction book, but settled on a novel. 
It was healing, pouring my experience into a story that wasn't my own. Having distance between my own life and the fictional world meant I could write deeply about how it feels, without replicating my exact story – and that felt safe.
A 'grief novel' could be quite heavy reading, and I didn't want that. The Last Love Note is blissfully romantic and light and escapist, though it doesn't shy away from the dark stuff. It's a hopeful story about second chances, with a big happy ending. By the final page, I wanted readers to feel as though they'd just emerged from a Richard Curtis RomCom – all loved up, with mascara running down their cheeks, smiling and sobbing (in a good way).
What was your big break into publishing?
My first book, a memoir of working motherhood, was published in 2005, and I've also co-written a non-fiction title about productivity with Audrey Thomas. But fiction was always the dream.
In 2014, I self-published a teen novel, Unrequited for my daughter, who hated reading but loved Harry Styles. I wanted to show her reading could be fun. My now-agent, Anjanette Fennell reviewed the book on Amazon. I reached out to thank her and we struck up a friendship, which led to her representing me and selling the book and its sequel, Tilly Maguire and the Royal Wedding Mess to HarperCollins.
My school friend Sally Whitwell (an ARIA-winning composer) proposed we co-write a musical based on Unrequited, which we did. Staging the show (complete with disco ball and glitter cannon) at a Canberra high school in the year following my husband's death was the most joyous and healing experience of my life.
Stepping up from YA to write fiction for adults felt like a new, exciting (somewhat intimidating) adventure. Anjanette knew from the start that my publisher, Ali Watts, was going to fall in love with this story, and I'll be forever grateful that she believed in it and allowed me to debut some contemporary adult fiction.
How long have you been working on this book?
The Last Love Note took longer than others I've written – about 3 years. As it's based on lived experience, I think I needed that time to experience things my character also experienced – almost as though we were going through some of the processes of loss in real time together. Some of the scenes I added later in my own grief made the darker shades of the story more compelling. Similarly, I was able to see the funny side of things as I went along, which lightened it.  
What was the publishing process like?
Stumbling over my agent, Anjanette via a random 'thank you' email felt like fate. For our first book together, the teen novel, we had seventeen rejections before a two-book deal. The first rejection was the hardest, but over time Anjanette helped me see this as a normal part of the publishing experience. 
Counter-intuitively, I now actively seek rejection and even have a '100 rejections' chart on my kitchen wall so I can tally them up. Rejection means you're actively putting things out into the world instead of endlessly perfecting manuscripts or keeping them safe from criticism or rejection in the bottom drawer of your desk.
What most excites you about your book being published in 2023? 
After the experiences we've all been through collectively, I'm excited to contribute a sparkly romantic story for some uplifting escapism.
Deeper than that, the book is generating important conversation around loss and hope, which is something I searched for and couldn't find when Jeff died. 
We don't tend to handle death and grief as well in Australia as people do in other places. It's still reasonably taboo. So when you lose someone, you struggle to find your way through it. If The Last Love Note can help bring these topics into the open, that will be rewarding.
On a personal level, writing this book has been cathartic. As I wrote to Jeff in the acknowledgements, 'You said to go out into the world and get on with life. You could never have known how hard that would be without you, and how fervently I wish I didn't have the experience to have written this novel, but I hope, wherever you are, it makes you proud. You are in every word.'
Do you have a favourite book or author?
I can't go past the influence of Anne of Green Gables as a teenager. It's not so much the writing but the story and characterisation – the ambition Anne had to write, and the high expectations she held for friendship and romance. She's a character who'd had a very rough start, but never lost hope or lost sight of the beauty in the world. I think that's a brilliant message well over a century later when life is difficult in new ways.  
What inspired you to become a writer?
It was never really a decision - more of a knowing. When I was fourteen, I noticed my sister didn't spend her summer holidays carrying a notebook and pen everywhere we went, as I did. I wondered if insufficient though my words felt, perhaps constantly dreaming of stories and fictional scenarios was what made you a writer. I loved nothing more than escaping into an imaginary world. 
At school, I was never that standout student who had things published in magazines or competitions. I did pretty well in English, but I don't think the teachers would have looked at our class and picked me as the one who'd go on to be published. That took decades of hard work and persistence long after school and uni.
I think when you choose to spend your evenings, weekends and holidays writing fiction, you know you're a writer even if those words never see the light of day.
What did you want to be when you grew up and why?
I wanted to be a teacher for years and do have teaching qualifications, but writing was always the dream. Along the way, I've worked at a bakery, been a nanny, a public servant, owned my own business and I'm currently flirting with photography.
If you could go back in time and give your past self one piece of advice, what would it be and why?
My sister has told me for years to 'keep the faith' in myself as a writer and in this dream. I'd tell myself all the late nights, bad drafts, rejections and persistence would be worth it one day if I just stay the course…
I'd also tell myself to urge my husband to have a heart check. If I had, this book wouldn't exist…
What is the best writing lesson/ tip you ever received? 
'Enter a scene late and leave early.'
We're hit with a barrage of distractions when we're reading. It's getting harder to hold readers' attention in the face of social media, video streaming and all the other pulls on our focus. The blank page is precious real estate. Don't waste it with an unnecessary preamble. Don't labour the point.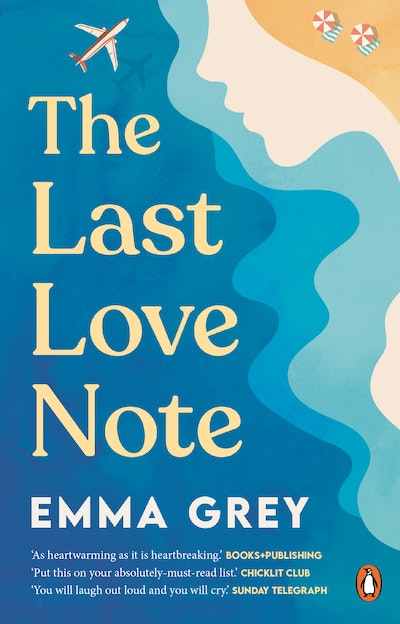 The Last Love Note
A new paperback edition of the sparkling Australian romantic comedy that has captured the world's heart. SELECTED AS A BOOK OF THE MONTH BOOK CLUB PICK IN THE US.
Read more