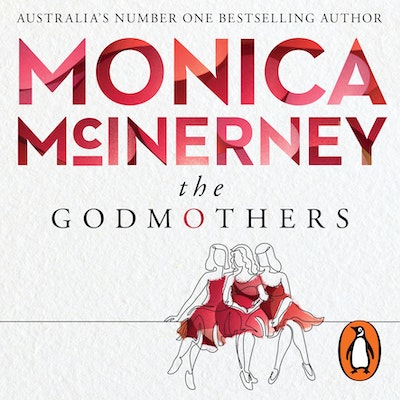 Published:

29 September 2020

ISBN:

9781760899738

Imprint:

Penguin Random House Australia Audio

Format:

Audio Download

Length:

10 hr 34 min

Narrators:

Nikki Shiels, Ella Scott Lynch, Annie Maynard

RRP:

$32.99
The Godmothers
---
---
---
The highly anticipated new family drama from one of Australia's most beloved authors.
'I don't want two wishy-washy godmothers,' Jeannie had said that afternoon in the country hospital when Eliza was only a day old. 'No dolls. No pink dresses. Just lots of adventures. Lots of spoiling. The pair of you like two mighty warriors protecting her at every step.'

Eliza Miller grew up in Australia as the only daughter of a troubled young mother, but with the constant support of two watchful godmothers, Olivia and Maxie. Despite her tricky childhood, she always felt loved and secure. Until, just before her eighteenth birthday, a tragic event changed her life.
Thirteen years on, Eliza is deliberately living as safely as possible, avoiding close relationships and devoting herself to her job. Out of the blue, an enticing invitation from one of her godmothers prompts a leap into the unknown.
Within a fortnight, Eliza finds herself in the middle of a complicated family in Edinburgh. There's no such thing as an ordinary day any more. Yet, amidst the chaos, Eliza begins to blossom. She finds herself not only hopeful about the future, but ready to explore her past, including the biggest mystery of all – who is her father?
Set in Australia, Scotland, Ireland and England, THE GODMOTHERS is a great big hug of a book that will fill your heart to bursting. It is a moving and perceptive story about love, lies, hope and sorrow, about the families we are born into and the families we make for ourselves.
Published:

29 September 2020

ISBN:

9781760899738

Imprint:

Penguin Random House Australia Audio

Format:

Audio Download

Length:

10 hr 34 min

Narrators:

Nikki Shiels, Ella Scott Lynch, Annie Maynard

RRP:

$32.99
ABIA
Longlisted • 2021 • General Fiction