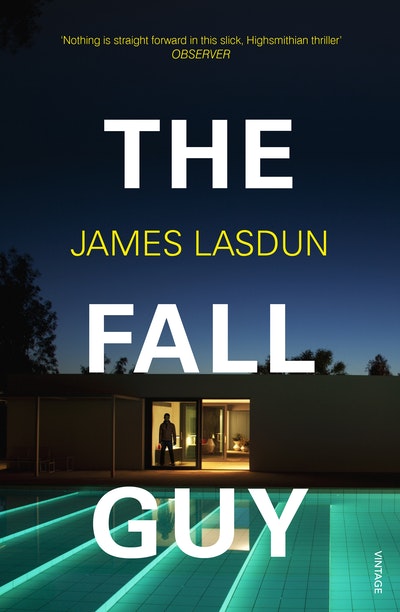 Published:

18 June 2018

ISBN:

9781784703981

Imprint:

Vintage

Format:

Paperback

Pages:

272

RRP:

$19.99
The Fall Guy
---
---
---
An idyllic summer retreat becomes a stage for lies, lust and revenge in this psychological thriller.
Charlie, a wealthy banker with an uneasy conscience, invites his troubled cousin Matthew to visit him and his wife in their idyllic mountain-top house over the summer. As the days grow hotter, the friendship between the three begins to reveal its fault lines.
When a fourth person arrives, the household finds itself suddenly in the grip of uncontrollable passions. Who is the real victim? Who is the perpetrator? And who, ultimately, is the fall guy?
Published:

18 June 2018

ISBN:

9781784703981

Imprint:

Vintage

Format:

Paperback

Pages:

272

RRP:

$19.99
Engaging, effortlessly readable… Lasdun's writing style is clean and straightforward. All the complexity resides in character and detail. This is masterfully controlled 2am noir.

Lionel Shriver, Financial Times
Nothing is straightforward in this slick, Highsmithian thriller, and while the damaged Matthew's capacity for self-deception is flagged early, Lasdun's skill lies not least in letting us think that we might therefore have his number. Wrong – and yet the novel's denouement feels fated even as it smoothly steals the breath.

Stephanie Cross, Observer
Impossible to put down.

Daily Mail
Exceptionally entertaining…The Fall Guy reads like early Ian McEwan or late Patricia Highsmith… Lasdun is masterly in his story's construction… This is exactly what a literary thriller should be: intelligent, careful, swift, unsettling.

New York Times Book Review
Already drawing comparisons to Gone Girl and The Girl on the Train — but more aptly described as the literary descendant of Dostoyevsky and Patricia Highsmith in an alluring contemporary setting — The Fall Guy is a twisty, chilly, exquisitely written, and tautly suspenseful exploration of big ideas in the guise of a psychological thriller.

Boston Globe
A deftly constructed narratives of guilt and buried resentment

M. Harrison, Guardian
James Lasdun seems to be one of the secret gardens of English writing…when we read him we know what language is for … In sentence after sentence, the reader feels Lasdun's words shaping and then freely donating a world to us, with great flexible artistry.

James Wood
The early pages crackle with a gut-level sense of menace… [There is] a brilliantly unbearable pivotal scene… The artistry in this morally complex, coolly seductive portrait of an imploding psyche means that there is plenty to admire on a repeat visit.

Anthony Cummins, Literary Review, 2017 Books of the Year
James Lasdun has written an elegantly suspenseful novel set in a brilliantly realised affluent upstate New York community not unlike Woodstock – his characters are achingly real, and the self-deceptions that drive them so insightfully depicted, we might almost mistake them for our own. Truly a "page-turner" – propelled toward just the right ending.

Joyce Carol Oates
What a sinister and searching novel this is – and what a delight. James Lasdun is one of our great writers.

Joseph O'Neill
In The Fall Guy, James Lasdun brings the signature gifts to contemporary noir that he's displayed in other literary venues – wit, style, an attractive gravitas. And the tale itself is sharp, acute in its observations, and absorbing. It's a rich read.

Norman Rush
Elegant and disturbing…This simple-seeming novel, so graceful in its unfolding, proves dense with psychological detail and sly social observations.

Wall Street Journal
Lasdun serves up another complex psychological thriller. . . A gripping, often unnerving page-turner perfect for fans of Thomas H. Cook, Ian McEwan, and Joyce Carol Oates.

Booklist
Lasdun's controlled, devious storytelling style infuses every tick of the clock with tension.

Kirkus Reviews
[A] terrific novel… Lasdun presents the inexorable turnings of fate in a subtle and disconcerting way.

Publishers Weekly
This sleek, sexy, expertly constructed thriller oozes with a malign, overheated atmosphere.

Metro
Lasdun has produced a fascinating study of how friendship can sometimes become obligation.

Scotsman
Irresistibly devious.

Mail on Sunday
Lasdun is a renowned writer.

Western Mail
Expertly playing the noir card, Lasdun dissects the mercurial relationships among a wealthy financier, his photographer wife and an aimless cousin during a long hot summer in upstate New York. There are plenty of lies and betrayals in this stylish thriller, but it's the slow burn of obsession that makes it sing.

People
The Man Booker-nominated author's critically praised new novel is a Trump Age thriller: A rich banker and his cousin, an unemployed chef, both covet the banker's wife, who is having an affair with a fourth person. Things end badly.

Hollywood Reporter
This is a one-sitting read, a whitewater ride to hell in which Lasdun hurls headlong into the psyche of his stalker, in this instance a thirty-something former chef called Matthew… In fearlessly observing sentences, Lasdun – who has an architectural imagination – unlocks room after room of Matthew's psyche… Brilliant.

Frances Wilson, Oldie
We all wish we could erase, obscure, or even simply accept the past. Perhaps the message of The Fall Guy is that, however extreme our mistakes, we will still regard them as aberrations, bizarre swerves away from our true selves, rather than what they really are: the purest expressions of our prejudices, fears and desires.

J. Robert Lennon, London Review of Books
Superbly engaging and intelligent psychological thriller… A compulsively readable tale of money, power and betrayal.

Rebecca Rose, Financial Times
A creepy little satire.

Harriet Lane, Observer
A riveting psychological thriller.

Guardian, Books of the Year
The story becomes very intense as Lasdun masterfully turns the screw.

William Leith, Evening Standard