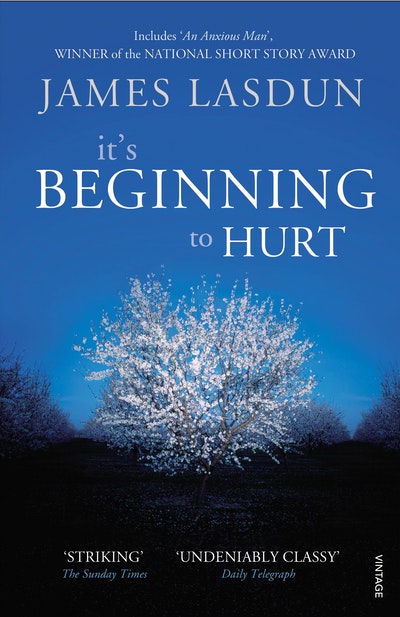 Published:

4 January 2011

ISBN:

9781446418260

Imprint:

Vintage Digital

Format:

EBook

Pages:

272
It's Beginning To Hurt
---
---
---
A brilliant new collection from one of our finest story writers
The stories in this remarkable collection are vibrant, gripping and intricately worked, but they are more than simply small masterpieces of narrative art. James Lasdun's other great gift is his unfailing psychological instinct for the vertiginous moments when the essence of a life discloses itself. With forensic skill he exposes his characters' hidden desires and fears, drawing back the folds of their familiar self-delusions, their images of themselves, their habits and routines, to reveal them to themselves – and us – with brilliant clarity.
In sharply evoked settings that range from the wilds of Northern Greece to the beaches of Cape Cod, these intensely dramatic tales chart the metamorphoses of their characters as they fall prey to the gamut of human passions. The lives in them seethe with love, hate, desire, fear, tender corruption and cruel idealism. They rise to unexpected heights of decency, stumble into comic or tragic folly, they throw themselves open to lust, longing, paranoia – but they are always recognisably, illuminatingly, our lives.
As James Wood, the celebrated critic, has noted, 'James Lasdun seems to me to be one of the secret gardens of English writing…when we read him we know what language is for.' This collection of haunting, richly humane pieces – including the first winner of the National Short Story Award, 'An Anxious Man' – is further proof of the powers of enormously inventive writer.
Published:

4 January 2011

ISBN:

9781446418260

Imprint:

Vintage Digital

Format:

EBook

Pages:

272
Praise for It's Beginning To Hurt
James Lasdun writes the best sort of English prose. It relaxes you, assuring you you're in good hands, while its sensitivity keeps you alert

Colin Greenland, Guardian
Lasdun is a good poet; his prose here is marked by a fine, thoughtful, humane exactness

Tom Deveson, The Sunday Times
Many writers aim to create work that is unsettling, or perhaps even painful - though not, usually, too painful to bear, at least during the actual reading of the tale. Few, however, do it so well as James Lasdun

John Burnside, The Times
A sobering study of how humans cope when under pressure. Lasdun's prose is undeniably sound. Ingenious sentences are strung together with ease

Theresa Munoz, Sunday Herald
Lasdun's novels succeed as efficient entertainment, narrowly focused, linguistically dextrous, coolly presenting their characters' foibles... His short stories relinquish none of this gamesmanship, yet they seem to expand where the novels contract... Their characters have a complexity and confusion that override the unfolding plot. And the narratives seem opened up to the entire history of fiction... touching...revelatory...devastating

Mark Kamine, Times Literary Supplement
short stories from a master prose miniaturist

New Stateman
These stories have been well made and have been carefully fitted together... undeniably classy

Sameer Rahim, Daily Telegraph
A wonderful writer

Irish Independent
Inhabits his characters with the seemingly effortless sympathy of the gifted realist writer... Deserves all the honours it is able to accrue: a better book of short stories will not be published this year

Kevin Power, The Irish Times
a collection whose seemingly ordinary surfaces conceal precipitous depths

Claire Allree, Metro
Highly intelligent, elegantly composed, darkly haunting and greatly moving, few writers could even hope to compare with Lasdun's literary brilliance

Scotsman
A good collection of short stories ought to be as enticing as a gift of fruit or flowers, even if the apple conceals a poison, the rose a canker. Few exponents of the short form offer such tempting, disturbing pleasures as James Lasdun.

Richard T Kelly, Financial Times
Striking collection of humane short stories.

Must reads, The Sunday Times
Reading Lasdun is like reading a sly collaboration between Kafka and Updike: elegant, acutely observed and utterly unflinching.

John Burnside, The Times
dark, exact and bitterly funny collection... sharp, thought-provoking and fiercely readable

Stuart Evers, Time Out
James Lasdun is probably the closest in recent years this country has come to a genuinely great practitioner of the short story

guardian.co.uk
James Lasdun seems to me to be one of the secret gardens of English writing...when we read him we know what language is for

James Wood
A marvellous, masterful collection

LA Times
Lasdun specialises in capturing, with unnerving insight, the split seconds in which moods and emotions turn on triggers so fine and subtle that they're barely perceptible. He nails these moments perfectly, spiking the core of the microgram of fly in the ointment and thus catching the infinitesimal moment with startling perception

Leyla Sanai, www.rocksbackpagesblogs.com
Dealing with fear, love, hatred, insecurity, lust, guilt and shame, each story is linked by the author's incredibly incisive prose

Sunderland Echo
James Lasdun is one of those gifted writers who seems to have avoided the attention he deserves....It's Beginning to Hurt is, in places, the best story collection I have read since Tobias Wolff's Our Story Begins.

http://theasylum.wordpress.com
Lasdun's third collection of short stories is nothing short of a revelation... each story is raised to amazing heights by the author's incredibly incisive prose

Oldham Evening Chronicle
James Lasdun, poet, novelist, short story writer and Englishman turned American émigré, offers up permutations of suppressed inner turmoil

The List
There is something so rich and gripping in his prose that it simply elicits your attention... It's Beginning to Hurt is a collection to jump-start your imagination

Aesthetica
A master of the form with the enthralling psychological subtleties

Guardian, Geoff Dyer
Precisely observed and chilling

Scotsman
Lasdun is a smart writer with an excellent sense of pace

Peter Scot, Daily Telegraph
Lasdun's prose is marked by a fine, thoughtful, humane exactness

Tom Deveson, The Sunday Times
Lasdun bravely identifies a profoundly anti-human aspect to environmental moralising to provide a study in embarrassment that made this reader wince

Chris Ross, Guardian
Superb... punchy, exhilarating collection

James Urquhart, Financial Times
Deft precise language, strong narratives and great emotional insight

Frances O'Rourke, Irish Times
Lasdun's characters from New York and the Sussex countryside create a world of objects and feelings that are rich, recognisable and yet elusive, marked by the thoughtful, and humane exactness of his prose

Sunday Times Summer Reading