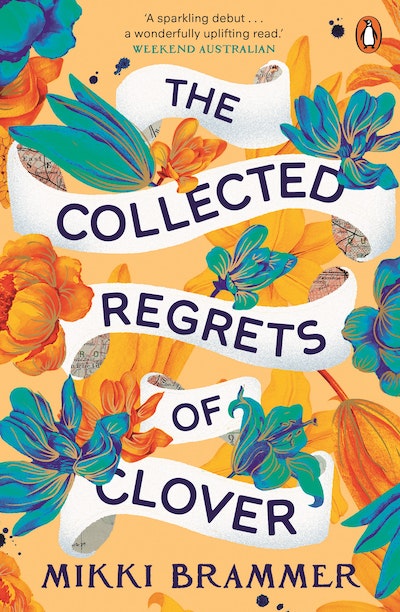 Published:

30 April 2024

ISBN:

9780143779018

Imprint:

Penguin

Format:

Paperback

Pages:

320

RRP:

$22.99
The Collected Regrets of Clover
An uplifting story about living a full, beautiful life
---
---
---
The Collected Regrets of Clover is the burst of hopefulness we need right now. A sparkling debut novel from Australian Mikki Brammer, which reminds us all to live our best life with fewer regrets.
'Warm, profound, and expertly told . . . This is one of those special books that will leave a handprint on your heart.' Emma Brodie, author of Songs in Ursa Major
'This lovely and sweetly satisfying novel [is] engaging and accessible . . . Brammer's take on death and grieving is profound enough to feel genuinely instructional.' New York Times
'A sparkling debut . . . This is a wonderfully uplifting read.' Weekend Australian
---------------------------------
In her work as a 'death doula', Clover Brooks ushers people peacefully through their last days, collecting their final words into three notebooks: ADVICE, CONFESSIONS and REGRETS.
But Clover spends so much time with the dying that she's forgotten how to live . . .
Can her clients' hard-won wisdom – and the inspiring love story of a spirited old woman named Claudia – show Clover the way to a happy ending?
After all, what's the point of giving someone a beautiful death if you can't give yourself a beautiful life?
---------------------------------
'What a beautiful story . . . This book will be one that I remember for a long time, and it's a story that we can all learn something from.' Ruth Hogan, author of The Keeper of Lost Things
'A beautiful, uplifting novel about unexpected friendship, a decades-old love story, and finding the courage to live your best life.' Lucy Diamond, author of An Almost Perfect Holiday
'A heart-warming tale that offers a poignant message about the meaning of life, and death.' Sunday Age
'The suspense keeps the pages turning in a deliciously original story.' Daily Telegraph
'I couldn't put this book down . . . a tender, charming delight, perfect for anyone who loves The Authenticity Project or Eleanor Oliphant is Completely Fine.' K J Dell'Antonia, author of The Chicken Sisters
Published:

30 April 2024

ISBN:

9780143779018

Imprint:

Penguin

Format:

Paperback

Pages:

320

RRP:

$22.99
Praise for The Collected Regrets of Clover
Charming, delightful and quietly powerful . . . this will warm your heart and change your life

Veronica Henry, author of Thirty Days in Paris
Charming, delightful and quietly powerful . . . this will warm your heart and change your life

Veronica Henry, author of Thirty Days in Paris
A beautiful, uplifting novel about unexpected friendship, a decades-old love story, and finding the courage to live your best life

Lucy Diamond, author of The Beach Cafe
A beautiful, uplifting novel about unexpected friendship, a decades-old love story, and finding the courage to live your best life

Lucy Diamond, author of The Beach Cafe
I fell in love with Clover and cheered when she finally realised that comfort zones are designed to be stepped out of

Jill Mansell, author of Should I Tell You
I fell in love with Clover and cheered when she finally realised that comfort zones are designed to be stepped out of

Jill Mansell, author of Should I Tell You
It made me want to pack up my things and move somewhere abroad . . . Beautiful, poignant and the literary antidote to when life feels a little stationary

Jessica George
It made me want to pack up my things and move somewhere abroad . . . Beautiful, poignant and the literary antidote to when life feels a little stationary

Jessica George
Clover's story is a heartfelt and delightful deep dive into death. You will turn the last page with a fresh zest for life and absolutely no regrets.

Annabel Monaghan, author of Nora Goes Off Script
Warm, profound, and expertly told, The Collected Regrets of Clover explores how befriending death can help enrich our lives. While infinitely poised in her role as a death doula, Clover's clumsy foray into the world of the living will have you recalling the sweet awkwardness of your first kiss and the thrill of new belonging. This is one of those special books that will leave a handprint on your heart.

Emma Brodie, author of SONGS IN URSA MAJOR
A beautiful, uplifting novel about unexpected friendship, a decades-old love story, and finding the courage to live your best life.

Lucy Diamond, author of AN ALMOST PERFECT HOLIDAY