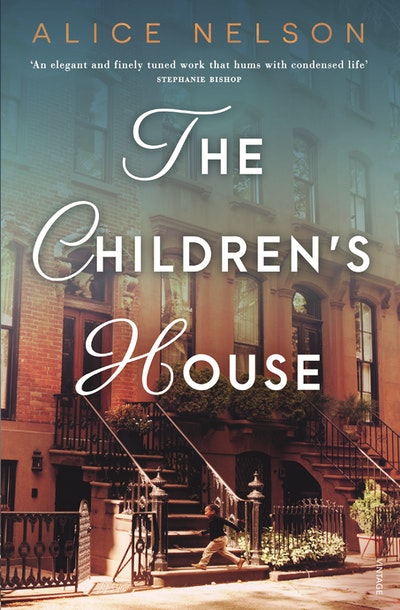 Published:

1 October 2018

ISBN:

9780143791188

Imprint:

Vintage Australia

Format:

Trade Paperback

Pages:

304

RRP:

$32.99
The Children's House
---
---
---
Reminiscent of Colm Toibin's Brooklyn, this is a breakthrough novel from a humane and perceptive writer exploring the traumas that divide families and the love and hope that creates them.
A love song to the idea of families in all their mysteries and complexities, their different configurations and the hope that creates them.
Marina and her husband, Jacob, were each born on a kibbutz in Israel. They meet years later at a university in California, when Jacob is a successful psychiatrist with a young son, Ben, from a disastrous marriage. The family moves to a brownstone in Harlem, formerly a convent inhabited by elderly nuns.
Outside the house one day Marina encounters Constance, a young refugee from Rwanda, and her toddler, Gabriel. Unmoored and devastated, Constance and Gabriel quickly come to depend on Marina; and her bond with the little boy intensifies. The pure, blinding love that it is possible to feel for children not our own is the thread that weaves through The Children's House.
When Marina learns some disturbing news about her long-disappeared mother, Gizela, she leaves New York in search of the loose ends of her life. As Christmas nears, her tight-knit, loving family, along with Constance and Gabriel, join Marina in her mother's former home, with a startling consequence, an act that will transform all of their lives forever.
Alice Nelson skilfully weaves together these shared stories about the terrible things humans are capable of into a beautifully told, hope-filled novel exploring the profound consolations that we can find in each other.
Published:

1 October 2018

ISBN:

9780143791188

Imprint:

Vintage Australia

Format:

Trade Paperback

Pages:

304

RRP:

$32.99
Praise for The Children's House
The Children's House is an outstanding novel, written with exquisite lyricism, multiple metaphorical threads, sophisticated structuring and deep empathy for the world's discarded and forgotten people. Although the book is set primarily in New York City, this talented Australian writer deserves high recognition when our literary award season dawns next year.

Mandy Sayer, The Australian
Nelson's book is a continuous reflection on what constitutes family.Every relationship is a choice, to a greater or lesser degree. Nelson contemplates, "the recklessness of this involvement in the precarious lives of others". As a meditation on the ways in which our lives are made richer by those we let in, this is a beautiful work. "It occurred to her that what she had thought of as an elegant sufficiency, a valiant sort of austerity, was actually closer to deprivation." For Nelson's characters who can find a way, despite trauma, to be open to the mess and noise, the rewards are great.

Louise Swinn, The Sydney Morning Herald
Subtle, brave and original. Spellbinding storytelling at its best and purest, it's full of intriguing questions you are left thinking about long after the final page – if you've not been mothered properly, can you learn it, like most things in life? Can you be nurtured by someone else mothering you? From every twist and turn of the characters' lives, to its well painted scenes and big, warm heart, The Children's House stands out as one of the finest and most deeply rewarding reading experiences of 2018.

Better Reading
The Children's House asks some big questions. Is it possible to be too kind? By encouraging Gabriel's dependence on her, is the childless Marina serving his needs or her own? Is she being altruistic or selfish? Lots of food for thought in this beautiful novel.

Nicole Abadee, Australian Financial Review
Alice Nelson has written that rare kind of novel that sets off sparks in the mind long after finishing. A book of unwavering intelligence that probes the most haunted parts of the psyche, Nelson circumnavigates trauma without succumbing to the temptation to dispel it. The Children's House is an elegant and finely tuned work that hums with condensed life.

Stephanie Bishop
Art at its highest. A work of subtle power, it is a brave and original exploration of human complexity and vulnerability; a tale of loss and reparation. Both fierce and tender, it is a story of melancholy beauty.

Leah Kaminsky
A full and wise creation of love and character by an expert storyteller.

Brenda Walker
Beautifully written, deeply emotional and intelligent, it is a book about the inability of some women to bond with a child for heartbreaking reasons.

Morgan Smith, Gleebooks Gleaner
What a heartbreakingly beautiful, thought-provoking novel. At its heart are two unknowable, deeply damaged mothers - Gizela and Constance; and their offspring - Marina and Gabriel, who connect in a most unexpected and complicated way. To go into detail about the plot would be to do the book a disservice. It's driven more by a meditation on that one commonality that we all share - regardless of race, sex or religion - we are all some mother's child. And we have all been shaped (for good or ill) by that simple truth. If you've never been mothered, can you learn to mother ? Can it be taught by others ? Can someone else fill that role in your life ? Can you leave your past behind ? So many ideas. So much heart. I loved this book !

Helen Atkinson
Thank you, Alice Nelson, for your contribution to the life of the mind and the imagination. The Children's House has enriched and expanded my interior world. It is a beautiful and sensitive book and one which will undoubtedly be similarly appreciated by many other readers.

Dolores Maund, The Lane Bookshop
It is a beautifully crafted, heartfelt story about the complexities of family and pure love for someone else's child.

Sarah McNeil, Subiaco Post
I particularly admired Alice Nelson's The Children's House, an excellent work of literary fiction, generous in its exploration of trauma and the different ways we make family.

Alison Huber, Readings Monthly
A wise and heartfelt novel about dislocation and the fracturing of lives, and survival, written with compassion and grace.

David Gaunt, Gleebooks Gleaner
The intimacies of marriage and the ripples of disagreement between Jacob and Marina are handled with insight and subtlety, as is Marina's grief when a piece of devastating news lobs into her mailbox. The novel is studded with poetic observations of domestic life...Nelson skillfully evokes the textures of a gentrifying Harlem, and probes Marina's presence as yet another interloper changing the face of the historically black neighbourhood.

Australian Book Review
The Children's House is an important and beautiful book to add to this writer's promising career.

Emily Paull, The AU Review
This is a novel of tragedy, love and belonging. The lives of these characters will be indelibly stamped on readers' minds.

Shelley Hadfield, The Herald Sun
This is a powerful meditation on motherhood, grief, religion and divided families. It is unflinching in its observations of the emotional lives of women and children, and yet it is never bleak.

Laura Kroetsch, The Adelaide Advertiser
ALS Gold Medal Award
Longlisted • 2019 • ALS Gold Medal Award
Indie Book Awards
Longlisted • 2019 • Indie Book Awards
Article