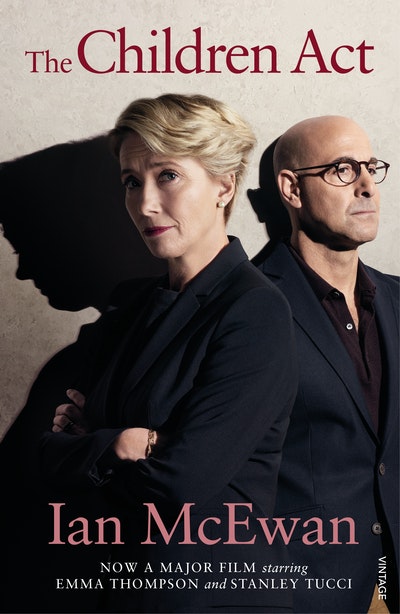 Published:

29 October 2018

ISBN:

9781784705572

Imprint:

Vintage

Format:

Paperback

Pages:

224

RRP:

$22.99
The Children Act
---
---
---
Ian McEwan's brilliant, emotionally wrenching novel, now a major film starring Emma Thompson and Stanley Tucci
Fiona Maye, a leading High Court judge, renowned for her fierce intelligence and sensitivity is called on to try an urgent case. For religious reasons, a seventeen-year-old boy is refusing the medical treatment that could save his life. Time is running out.
She visits the boy in hospital - an encounter which stirs long-buried feelings in her and powerful new emotions in the boy. But it is Fiona who must ultimately decide whether he lives or dies and her judgement will have momentous consequences for them both.
Published:

29 October 2018

ISBN:

9781784705572

Imprint:

Vintage

Format:

Paperback

Pages:

224

RRP:

$22.99
Praise for The Children Act
Emotionally wrenching and visceral.

Elle
A class act by one of our finest novelists.

Viv Groskop, Red
A svelte novel as crisp and spotless as a priest's collar.

Ron Charles, Washington Post
A dazzling tapestry. Another magnificent work by McEwan, important and meticulously crafted.

James McNair, National
Prose of uncommon clarity, unshowiness and control . Masterly

Kate Kellaway, Observer
Although thrillingly close to the child within us, McEwan nonetheless writes for, and about, the grown-ups. In a climate that breeds juvenile cynicism, we more than ever need his adult art.

Boyd Tonkin, Independent
A gripping new novel which brings into question morality, religion and the very nature of life itself.

Hunts Post
A compelling moral dilemma [with] a moving and heartfelt denouement.

Tatler
A brave and enormously interesting subject.

Amanda Craig, Independent on Sunday
Beautifully told with pared-down emotional honesty, this 13th novel from the Booker Prize-winner is fiercely clever and incredibly moving.

Hello!
Pacy and gripping, with a fascinating premise. McEwan skillfully brings complexity and depth to the characters.

Stylist
Shows McEwan as a master of fiction.

Olivia Cole
McEwan masterfully weaves a gripping personal story.

Peter Donaldson, Gazette (Colchester)
Gripping.

Mail on Sunday
A short novel of great subtlety and tenderness.

UK Human Rights
Executed in his trademark elegant prose and is evidently meticulously researched.

Carla McKay, Daily Mail
Incredibly moving, intriguing and quite perfect as piece of fiction.

Bath Chronicle
Yet another worthy addition to his canon.

EasyJet Traveller
A great writer. One of the most acute chroniclers of modern life and its discontents ... The Children Act is both gripping and highly topical.Entirely entrancing

Andrew Marr
I feel that both Fiona and the boy somehow sort of transcended naturalistic character

Mark Ravenhill, Saturday Review
McEwan brings to the analysis of justice a distinctive combination of literary skill, empathy and legal knowledge. A welcome addition to the class [of novels about judges].

David Pannick QC, The Times
The small morning scenes between husband and wife are superb.

Catholic Herald
Moving, sad and delicate.

Joanna Kavenna, Prospect
True to life [as well as] being well-written.

Catherine Taylor, family solicitor, Latest Homes
Very deft, urgent and morally plangent.

Lewis Jones, Oldie
Impeccably crafted.

Stephanie Cross, Lady
Every word counts: one has the sense of a complicated piece of music played by a master soloist.

Christina Hardyment, The Times
He offers the reader a masterful study of a mind devoted to fairness. The Children Act is also a fascinating, painstakingly researched look inside the judicial process. Conveyed in crisp prose, this attention to detail elevates the moral conundrums.beyond the sensationalism lesser authors might have pursued. It is, in all respects, a novel that is carefully judged.

Irish Examiner
If you have any unanswered letters on your desk, McEwan's latest will have you grabbing your pen pronto.

Independent
The Children Act shows McEwan as a master of fiction who strives to teach us how to live.

Olivia Cole, GQ Magazine UK
Powerful and moving.

Sir David Bell, Times Higher Education
Taut, sparing and effortless, this is another exquisitely wrought novel from the master of the novella.

Good Book Guide
It explores the tension between cool-headed secularism and ardent belief. It is at times preposterous - and yet it has a magical readability and is slender enough to read in one intense, absorbing sitting.

Jason Cowley, New Statesman
It is one most extraordinary, powerful, moving reading experiences of my life. It is an utterly remarkable novel, delicately balanced, perfectly crafted, beautifully written.

Alberto Manguel
A subtly musical arrangement of urgently topical issues.it may be read at a sitting, but resonates for much longer.

Lewis Jones, Spectator
It's absorbing and, almost a novella, it doesn't outstay its welcome.

Nick Bevan, Times Higher Education
Definitely one of the best books I have read this year.

Natalie K. Watson, Church Times
This is a wonderful read with sharp, crystalline prose and, together with a superb moral dilemma, this is a beautiful and moving story.

Bath Chronicle
Offering a window into a compelling world of life or death dilemmas, this is told in prose as polished as you'd expect.

Daily Mail
The book is bursting of beautiful writing. You'll want to read it all over again.

Kirsty Brimelow, The Times
A story of human behavior told in a raw, uncluttered, unforgiving way.

Cambridge News
Renowned author McEwan manages to surprise throughout this book, right to the last page.

Mayfair Magazine
A story of human behavior told in a raw, uncluttered, unforgiving way - and we could all have done with another couple of hundred pages.

Cambridge Magazine
McEwan writes in taut, sparing and effortless prose.

Good Book Guide
Compulsively readable... McEwan's prose keeps its cutting edge and his books are the ones the reading public still crave. A masterly balance between research and imagination. One feels an immediate pleasure in returning to prose of uncommon clarity, unshowiness and control

The Times
Classic McEwan. It's a pleasure from start to finish, one not to be interrupted

Guardian
A powerful, humane novel

Evening Standard
One of the finest writers alive

Sunday Times
McEwan writes as beautifully and elegantly as ever, his prose quintessentially English in its restraint, one meticulously chosen word hinting at depths of emotion

Washington Post
A finely written, engaging read. Poignant, challenging and lyrical

Sunday Express
Ian McEwan writes stories of exquisite precision and clarity. This one is ace.

William Leith, Evening Standard
A page-turning novel

John Koski, Mail on Sunday
As one has come to expect, McEwan sets up the moral issues with delicacy and precision.

John Sutherland, The Times
Ian McEwan is at his most compelling with the story of Fiona Maye. Awesome

Marcus Field, Independent
A wonderfully readable and thought-provoking book

Kathryn Atkins, Bristol Magazine
A short novel that will linger in your mind for a long time

Woman's Weekly
Another beautifully written masterpiece

Beyond
relevant, emotive, moving, this is beautifully written and a guaranteed page turner

Matthew Smith, H Edition
One of our best authors at his best.

Murray Neil, Hertfordshire Life
One of my favourite authors. McEwan's fascination with judicial issues, with music and poetry, and with the moral conundrum of how far you place your religious beliefs above the life of someone you love, all feature in this book which will leave you thinking long after you have finished it.

Frances Colville, Frost Magazine
It's an enjoyable and often surprising novella.

Charlotte Heathcote, Daily Express
It asks fundamental questions in a sober, intelligent way about the choices we make and our blindness when it comes to our beliefs.

Francois Ozon, film-maker, Observer
Here he is again: vulnerable, insightful, passionate and utterly in control. He's amazing.

Robert Webb, Mail on Sunday
Compulsively readable... McEwan's prose keeps its cutting edge and his books are the ones the reading public still crave… A masterly balance between research and imagination… One feels an immediate pleasure in returning to prose of uncommon clarity, unshowiness and control

The Times
Compulsively readable... McEwan's prose keeps its cutting edge and his books are the ones the reading public still crave… A masterly balance between research and imagination… One feels an immediate pleasure in returning to prose of uncommon clarity, unshowiness and control

The Times
Classic McEwan… It's a pleasure from start to finish, one not to be interrupted

Guardian
Classic McEwan… It's a pleasure from start to finish, one not to be interrupted

Guardian
A powerful, humane novel

Evening Standard
A powerful, humane novel

Evening Standard
One of the finest writers alive

Sunday Times
One of the finest writers alive

Sunday Times
McEwan writes as beautifully and elegantly as ever, his prose quintessentially English in its restraint, one meticulously chosen word hinting at depths of emotion

Washington Post
McEwan writes as beautifully and elegantly as ever, his prose quintessentially English in its restraint, one meticulously chosen word hinting at depths of emotion

Washington Post
Article