A memorable book club choice: Ian McEwan's The Children Act.
A brilliant, emotionally wrenching novel from the author of Atonement and Amsterdam, The Children Act by Ian McEwan is a book club choice to remember.
Fiona Maye, a leading High Court judge, is called on to try an urgent case. For religious reasons, a seventeen-year-old boy is refusing medical treatment that could save his life. Time is running out. She visits the boy in hospital – an encounter which stirs long-buried feelings in her and powerful new emotions in the boy. But it is Fiona who must ultimately decide whether he lives or dies and her judgement will have momentous consequences for them both.
 
Discussion points and questions:
Jack refuses to take full responsibility for his decision to have an affair, saying that in part it is due to Fiona (p.32–3). Do you think she is partly responsible for Jack's decision? To what extent do you sympathise with Fiona? To what extent do you sympathise with Jack?
The word 'cruel' occurs several times. Fiona refers to herself as 'selfish, cruel, drily ambitious' (p.45), do you agree with her? Later, she thinks of Jack: 'it didn't seem possible that the person she knew most intimately could be so cruel' (p.83). Do you think Jack is cruel?
The book is full of people set against each other in direct conflict. Consider mother vs father, State vs religion, Fiona vs Jack: do you think this emphasis on conflict is exaggerated? Can you think of any examples in the book of people working together in harmony towards a common goal?
Fiona's personal problems are constantly juxtaposed with 'larger' world issues and with the court cases that she is presiding over. Consider p.24–31, the Siamese twins case, and p.59, the litany of horrors on the world news. Do you think this sense of scale belittles her personal situation?
When Jack comes back to Fiona she responds by hiding behind her work, spreading out work documents in front of her as: '…a form of protection. Without them she would not know what to do with herself' (p.126). Do you think Fiona is totally defined by her job? What role does music play in the book?
Do you think Fiona makes the right decision in ruling in favour of the hospital and allowing them to treat Adam against his wishes?
Do you blame Fiona for what ultimately happens to Adam?
The title refers to the 1989 Children's Act, which enshrines the child's welfare as the 'paramount consideration' in any court ruling. Do you think it is an apt title? What else could the book have been called?
---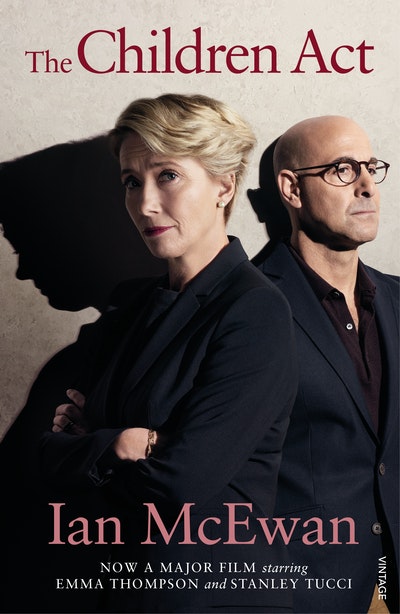 Ian McEwan's brilliant, emotionally wrenching novel, now a major film starring Emma Thompson and Stanley Tucci
Buy now
Buy now
---