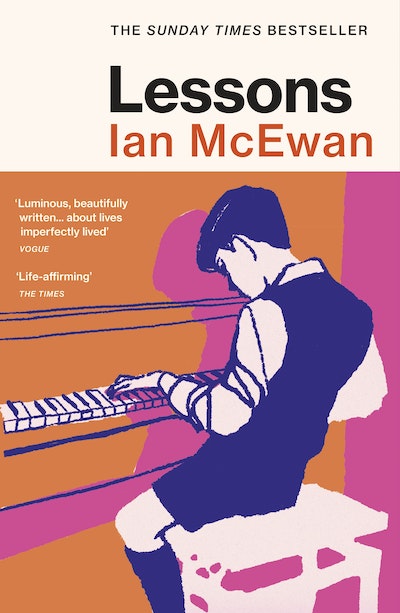 Published:

27 June 2023

ISBN:

9781529116311

Imprint:

Vintage

Format:

Paperback

Pages:

496

RRP:

$22.99
Lessons
the new novel from the author of Atonement
---
---
---
The instant Sunday Times bestseller, a mesmerising story of love, regret and a restless search for answers
While the world is still counting the cost of the Second World War and the Iron Curtain has descended, young Roland Baines's life is turned upside down. Stranded at boarding school, his vulnerability attracts his piano teacher, Miriam Cornell, leaving scars as well as a memory of love that will never fade.
Twenty-five years later Roland's wife mysteriously vanishes, and he is left alone with their baby son. Her disappearance sparks a journey of discovery that will continue for decades, as Roland confronts the reality of his rootless existence and attempts to embrace the uncertainty - and freedom - of his future.
Published:

27 June 2023

ISBN:

9781529116311

Imprint:

Vintage

Format:

Paperback

Pages:

496

RRP:

$22.99
A tour de force of breadth... McEwan writes with invigorating alertness about social and political shifts over the past 70 years.

Sunday Times
Lessons is deep and wide, ambitious and humble, wise and substantial. It is, to my mind, McEwan's best novel in 20 years because it is so alert to human texture and complexity... It marks a significant new phase in McEwan's already astonishingly productive career.

New Statesman
One of his most humane and agreeable [novels].

Scotsman
[Lessons is] an epic tale with domesticity at its centre, encompassing a swathes of history, designed to make you think of the impact of events have on you and, in turn, the impact you make on the world.

List
Superb... A wonderful author has delivered another mesmerising, memorable novel.

Independent
Lessons spans a long life and recounts each event in details... [McEwan's] skilful writing makes us keen to turn the pages.

Daily Express
Roland's journey is not easy, but the dramatic evocation of his struggles and setbacks means readers will follow him every step of the way

Economist
A literary feat of undeniable majesty.

Spectator
McEwan's prose always goes down like a cool drink, and its content is often trenchant...I'm delighted to have added this thoughtful, touching and historically grounded novel to my bookshelf.

Lionel Shriver, Financial Times
Lessons... [is] so beautifully done as to provide abundant proof of why McEwan still occupies that number-one spot.

Reader's Digest
Lessons should have made the Booker longlist (and shortlist) but no matter. It marks a significant new phase in McEwan's already astonishingly productive career - and may well be remembered as one of the finest humanist novels of its age.

New Statesman
The Booker-winning author has woven multiple versions of himself into Lessons, his 500-page masterpiece.

Andrew Billen, The Times
A moving and masterful work that captures the essence of McEwan....The book's psychological astuteness and elegant prose, is a thrill to behold.

Irish Independent
Compassionate and gentle, and so bereft of cynicism it feels almost radical....

Beejay Silcox, Guardian
McEwan's deft, descriptive prose charts the complexity of growing up and finding one's place in an ever-shifting world

Cultur Whisper
[A] big, detailed, sweep of history: starting in the aftermath of World War Two and ending in lockdown. And there's lots going on here other than history too - family drama, tales from boarding school, and a vanishing wife

You Magazine, Mail on Sunday
Lessons is easily McEwan's most accomplished novel since Atonement... he offers intelligent reflection on his novel's evergreen themes.

The Times
Lessons has the wonderful freshness that comes when an author tries something new - along with McEwan's customary wit, insight and compassion.

Sunday Express
McEwan's literary reach is equal to the task of chronicling Roland's full life. The novel moves back and forth in time, shifting confidently from a long ago past to a vivid present, offering sharp dialogue, intense description, soulful meditations.

Tablet
An expansive novel that finds the epic in domestic situations.

List
Magnificent and moving, Lessons is up there with McEwan's greatest works.

Independent
McEwan's new novel is a profound demonstration of his remarkable skill. LESSONS progresses in time the way a rising tide takes the beach: a cycle of forward surges and seeping retreats, giving us a clearer and fuller sense of Roland's life. He becomes a kind of Zelig character passing through momentous changes in the late-20th century. Indeed, even more than McEwan's previous novels, LESSONS is a story that so fully embraces its historical context that it calls into question the synthetic timelessness of much contemporary fiction.

Washington Post
Brilliant . . . a beguiling and irresistible read . . . A masterpiece of a novel that is simultaneously about the business of growing up and getting old, and the business of writing fiction. McEwan, an unparalleled master of social realism, performs a remarkable trick: He manages to create an ineffable sense of mystery out of a rather ordinary human life. How does McEwan pull it off? Through the patient accretion of closely observed detail and one beautiful, shimmering sentence after another.

USA Today [4-star review]
[Lessons] is quietly touching, as is Mr. McEwan's decision to cede his habitual narrative control to more naturalistic forces. Lessons is more formless than previous books . . . It is also wiser and closer to the bone.

The Wall Street Journal
Lessons is an achievement of language but also of ambition: A male writer charts, in consummate detail, the interior world of a male protagonist barely able to keep his chin above a tide of social change

Oprah Daily
A luminous, beautifully written, and gripping book about lives imperfectly lived. McEwan's new novel is ranging, ambitious, teasingly autobiographical, and unsettling in the manner of his best work, a story of monstrous behavior set against major tides of the last 80 years.

Vogue
Masterful . . . McEwan is a storyteller at the peak of his powers and this deserves to be near the top of the 'best books of 2022' list. One of the joys of the novel is the way it weaves history into Roland's biography as well as the lives of other characters in the book.

Associated Press
McEwan returns with his best work since the Booker- and NBCC-winning Atonement...Throughout, McEwan poignantly shows how the characters contend with major historical moments while dealing with the ravages of daily life, which is what makes this so affecting. He also employs lyrical but pared-down prose to great effect . . . Once more, the masterly McEwan delights.

Publishers Weekly [starred review]
Richly observed . . . A tale of aspiration, disappointment, and familial dysfunction spread across a vast historic panorama . . . McEwan's imagination delivers plenty of family secrets and reflects on 'so many lessons unlearned' in a world that's clearly wobbling off its axis.

Kirkus Reviews [starred review]
McEwan's wry humanity and gentle amusement at his own generation proves irresistible and a joy to read.

Antony Beevor, Spectator, *Books of the Year*
Lessons spans baby-boomer lives, minds and times with vision, insight and dexterity.

Boyd Tonkin, Spectator, *Books of the Year*
A satisfyingly full-bodied return to form... This sprawling, redemptive, thought-provoking novel does not stand by, but wades into the mess of life.

Sunday Times, *Books of the Year*
McEwan... captures youthful lust and late-age regret with equal power.

Financial Times, *Books of the Year*
Lessons is a terrifically enjoyable account of how personal and political history intersect through the life of Roland Baines.

Financial Times, *Books of the Year*
McEwan's writing is as elegant and ideas-packed as ever.

The Times, *Books of the Year*
A tale of dislocation and dissatisfaction, but also of warmth and humour.

History Revealed
As a novel which tells the story of post-war Britain, Lessons is without parallel... a wonderfully soulful and meditative book.

Herald
I loved Ian McEwan's blissfully long cradle-to-grave novel Lessons... It is life-affirming, deep and A-grade storytelling.

The Times, *Books of the Year*
McEwan's longest and most autobiographical novel is also his most richly enjoyable for many years... the messiness of life reverberate with hard-won emotional truth.

New Statesman, *Books of the Year*
His best book for years.

Scotsman
Captures youthful lust and late-age regret with equal power.

Financial Times
Superb... another mesmerising, memorable novel.

Independent
I loved Lessons... Deep, life-affirming and A-grade storytelling.

The Times
McEwan's writing is as elegant and ideas-packed as ever.

The Times
Irresistible and a joy to read.

Antony Beevor, Spectator, Books of the Year
McEwan deftly explores the interplay of will and chance, time and memory.

Washington Post
McEwan is the most elegant of stylists, shaping sentences that make you see the world anew... and is matchless in his skill at elaborating the interior lives of his characters.

Daily Telegraph
Thoughtful, tender and both universal and timeless in its depiction of the follies of the human heart... Ian McEwan is a masterful storyteller who weaves destiny and self-determination, the past and the future, youth and age, and above all, the loss and memory of love.

Elif Shafak
Setting the personal dramas of an individual life against the backdrop of great historical events, McEwan asks how we can learn from the past to live in the present with grace.

Daily Mail
Elegant and moving, it's his best work in 20 years.

Sunday Times, *Summer Reads of 2023*
A humane and highly thought-provoking novel

Week
Article
Books of the year 2022
From fantastically funny rom-coms to straightforward self-help, these are some of the best books of 2022.