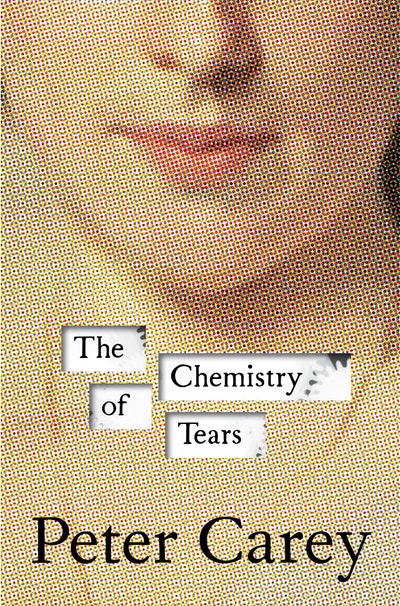 Published:

25 January 2012

ISBN:

9781926428154

Imprint:

Hamish Hamilton

Format:

Hardback

Pages:

288

RRP:

$39.95
The Chemistry of Tears
---
---
---
In The Chemistry of Tears Peter Carey delivers a heartbreakingly beautiful and archly inventive story of love, loss and the birth of the machine age.
When her lover dies suddenly, all Catherine has left is her work. In an act of compassion her manager at London's Swinburne Museum gives her a very particular project: a box of intricate clockwork parts that constitute a nineteenth-century automaton, a beautiful mechanical bird. Once Catherine discovers the diary of the man who commissioned it, one obsession merges into another.
Who was Henry Brandling? Who was the mysterious, visionary clockmaker he hired to make a gift for his ailing son? And what was the end result that now sits in pieces in Catherine's studio?
The Chemistry of Tears is a portrait of love and loss that is both wildly entertaining and profoundly moving, simultaneously delicate and anarchic. At its heart is an image only the masterful Peter Carey could breathe such life into - an object made of equal parts magic, love, madness and science, a delight that contains the seeds of our age's downfall.
'Alive with the vivid evocation of place and period that is always Carey's forte – juxtaposes love for a dead partner with love for a dying son . . . A novel by one of the present day's most unconventionally creative writers. Oddball characters are propelled along zigzagging narrative channels, connections made with whimsical aplomb. As always, too, everything is burnished with vitalisingly poetic images. The Chemistry of Tears isn't only about life and inventiveness: it overflows with them.' Peter Kemp, The Sunday Times

'Audacious yet restrained, tender yet sardonic, and filled with moments of emotional complexity . . . A beautifully elegiac hymn to lost love.' Patrick Arlington, Australian Book Review
'[A] heady blend of sex and death . . . always intriguing, sometimes transporting, never ordinary.' Janet Maslin, New York Times

'Masterly historical fiction that both talks about now, and makes the past seem immediate . . . I loved this book for its mysteries, its hinted back stories, its reserve, and its underlying complexity.' Lucy Daniel, Daily Telegraph

'A master-class of writing and human insight is to be found in Peter Carey's new novel with its thrillingly off-kilter focus . . . There is so much powerful human emotion rising from the pages.' Liam Heylin, Irish Examiner
'A unique combination of raw human passion and complicated puzzling about human ingenuity . . . Carey creates Catherine's lonely and obsessive misery so brilliantly.' A.S. Byatt, Financial Times
'A consummate storyteller, vastly and raucously entertaining.' Andrew Riemer, Sydney Morning Herald

'The Chemistry of Tears is yet another triumph for its creator, breath-catchingly beautiful and tender in places, with strange and shocking revelations slowly revealed.' Camilla Pia, The List
'A potent alchemy of life, death, yearning and loss.' Simon Mann, The Age
'[Carey] remains a writer with an unerring sense for the perverse in human affairs. The continual and guilty delight of these early sections, the funniest, most cutting and anarchic, is that they acknowledge what we know to be true but dare not say: grief gives delirious licence to all those behaviours we otherwise hold in check.' Geordie Williamson, Weekend Australian

'Peter Carey's [is an] intricately constructed narrative, with its tender, astringent reflections on the nature of love and mortality, human ingenuity and human destructiveness . . . The fine bloom on his writing, the sharp, green bite of emotion and the pellucid observation seem entirely unaffected by success and a (well-deserved) place in the modern canon.' Jane Shilling and David Sexton, London Evening Standard

'This is a comic novel . . . but it's also a serious examination of love and loss and grief and obsession and how we manage to keep going even when all clocks have stopped.' Stephen Romei, The Spectator (Australia)
'Mr Carey is one of the finest living writers in English. His best books satisfy both intellectually and emotionally; he is lyrical yet never forgets the imperative to entertain. The Economist
'Characters that beguile and convince, prose that dances or is as careful as poetry, an inventive plot that teases and makes the heart quicken or hurt, paced with masterly precision, yet with a space for the ideas to breathe and expand in dialogue with the reader, unusual settings of place and time: this tender tour de force of the imagination succeeds on all fronts.' Rebecca K. Morrison, The Independent
'Once again, Carey the alchemist takes his base materials and produces something rare and prized . . . The Chemistry of Tears is about madness in various forms: the madness of grief, of creative ambition, of expecting technology to bring salvation, of trying to find prophecy in chaos. It has a sense of hope and wonder . . . I devoured The Chemistry of Tears in a day.' J.D. Ellevson, frombooktobook.wordpress.com
'The Chemistry of Tears does not let us down. Indeed, it doesn't let us go. For a few days you will be held in its grip. You'll re-read sections in case you missed something. You'll think, you'll laugh . . . Peter Carey is a master storyteller.' Corrie Perkin, TheWeekly Review, Melbourne
'Shows the playful side of Peter Carey at full stretch . . . Replete with diversions, jokes and red herrings . . . The Chemistry of Tears is at once exuberant and chastening in its portrayal of loss.' Peter Pierce, Canberra Times
'This is a brilliant book, full of secrets, mystery, grief and love . . . impossible to put down . . . A beautiful, complex narrative.' Lizzie Stafford, Sunday Mail (Brisbane)
'Carey's latest book is just as beautifully written and entertaining as its predecessors. Written in his signature style, moving and witty at the same time, his narrative takes hold right from the beginning and maintains its pace throughout ... Profoundly moving but leavened with Carey's characteristic whimsical humour together with his refined and polished narrative style, this is a most delightful read.' Mary Ann Elliott, the chronicle.com.au
'A frisky, imaginative account of two companion souls grappling with love, grief and the possibility of magic.' Jennifer Byrne, The Monthly
'A potent examination of love, loss, obsession and the true cost of technological advancement.' Blanche Clark, Courier-Mail
Published:

25 January 2012

ISBN:

9781926428154

Imprint:

Hamish Hamilton

Format:

Hardback

Pages:

288

RRP:

$39.95
Queensland Literary Awards
Shortlisted • 2012 • Fiction
Prime Minister's Literary Award
Shortlisted • 2013 • Fiction
International IMPAC Dublin Literary Award
Longlisted • 2014 • Best Book