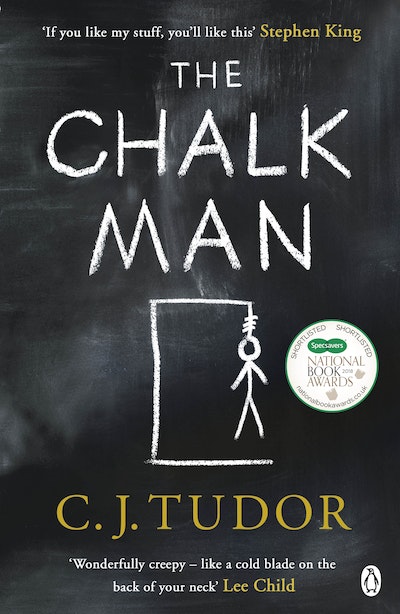 Published:

3 September 2018

ISBN:

9781405930956

Imprint:

Michael Joseph

Format:

Paperback

Pages:

368

RRP:

$19.99
The Chalk Man
The Sunday Times bestseller. The most chilling book you'll read this year
---
---
---
Children aren't always so innocent in this Stephen King-style thriller, backed by MJ's biggest marketing campaign for a debut this year
None of us ever agreed on the exact beginning.
Was it when we started drawing the chalk figures, or when they started to appear on their own?
Was it the terrible accident?
Or when they found the first body?
Published:

3 September 2018

ISBN:

9781405930956

Imprint:

Michael Joseph

Format:

Paperback

Pages:

368

RRP:

$19.99
A striking debut

Sunday Times
A tense gripper with a leave-the-lights-on shock ending

Sunday Times Crime Club
A must-read for all horror fans

Daily Express
Thriller of the Week - an intriguing puzzle with an engaging cast of characters . . . a highly promising debut

The Mail on Sunday
Deliciously creepy with a side order of Eighties nostalgia

Thrillers We Love, Good Housekeeping
There are enough twists and turns in this dark debut thriller to tie you in knots. The end is fabulously surprising and satisfying . . . creepy

The Sunday Post
[CJ Tudor] creates a winningly dark atmosphere and serves up a beautifully timed stream of intriguing new plot elements

Readers Digest
A nail-biting thriller

Inside Soap
Book of the Month

Prizes Magazine
One of the best suspense thrillers i've read. A very easy 5 big fat stars and 100% recommended

Compulsivereaders.com
Is The Chalk Man one of THE books of 2018? YES, YES YES IT REALLY IS . . . an absolute corker, a spine tingling read

Pageturnersnook
A fantastic debut novel to keep you up late at night

BookLiterati
Scare yourself silly with this brilliant chiller . . . a spine-tingling read

Best
A compelling debut

Mail Online
A nail biting thriller

Inside Soap
Genuinely creepy books don't come along very often, but this one can hold its missing head up high

Heat
The prose is punk, the pace fast and the plot sinewy. There are shades of Stephen King when the reality bends into the sinister, and a deliciously creepy finale . . .

Daily Mail
The novel is so well executed . . . Tudor is very good at deploying shocks and surprises that catch you off guard. I jumped so many times while reading I could have been sitting on a chair made of cactus

The Sunday Express
This insanely readable chiller has it all - a brilliant, nostalgic flavour, humour and heart . . . A fantastic debut from a major new talent.

The Sunday Mirror
Strong characterisation, plenty of plot twists and an evocative portrait of small-town life in the 1980s add up to a riveting read

The Guardian
It is hard to believe The Chalk Man is the debut novel from C J Tudor. The writing is sublime, and the ending is spine-tinglingly chilling

The Sun
You'll be gripped by this cracking debut novel . . . it will keep you up all night with all the lights on. This intriguing, satisfying thriller delivers a series of shocks . . . reminiscent of the master of horror Stephen King

Daily Express
It's a corker that'll give you the willies. Chalk one up to C J Tudor.

Sunday Sport
Taut, twisty and very creepy, this is a must for anyone who enjoys psycho-thrillers . . . The ending is genius

Saga
A well-constructed thriller layered with secrets, suspense, twists, turns and an outcome you may not see coming

Choice Magazine
The Chalk Man works, it's a lively and entertaining read . . . Tudor's got talent

The Times
Wonderfully creepy - like a cold blade on the back of your neck

LEE CHILD
Completely engrossing. Puts me in mind of Stephen King's The Body

JOHN BOYNE
If you like my stuff, you'll like this

STEPHEN KING
Half horror, half crime, The Chalk Man is a creepy, compulsive novel

Red Online
This assured debut is very much in the Stephen King vein - creepy with plenty of menace

The Guardian
The past rises from the chalk dust. A labyrinthine tale that kept me guessing right to the end

VAL MCDERMID, The Mail on Sunday
Started and finished in one day. Absolutely gripping, chilling, and as creepy as that house with dark windows we all knew as kids. Brilliant read and can't wait for the next one!

Luca Veste, author of the Murphy & Rossi novels
Gripping, chilling . . . brilliant. As creepy as that house with dark windows we all knew as kids. I can't wait for the next one

Luca Veste
CJ Tudor's very clever, wrong-footing debut will leave you checking that doors and windows of your holiday cottage are secure . . .

Radio Times
Hot damn C. J. Tudor's The Chalk Man is good. Very Stephen King-esque

Ruth Ware
It's a very clever story - you'll love it!

Joanna Cannon
Even Brexit impact reports made less frightening reading than C. J. Tudor's Stephen King-esque coming-of-age story cum murder mystery The Chalk Man. With tyro crime writers this dark, the future is bright

Daily Telegraph Books of the Year
There are shades of Stephen King in this very creepy timeslip, as well as an evocative portrait of small-town life in 1980s Britain

Guardian, Books of the Year
My favourite crime book of 2018 would have to be The Chalk Man. It initially brought to mind twisted tales of suburban Americana such as Stand by Me and Carrie. However, by weaving in authentic and evocative period detail C. J. Tudor manages to create a story that tells of the darkness at the heart of small-town life that is, like the rotten pastoral in a M. R. James ghost story, uniquely English. Unsettling, taut and skillfully plotted, The Chalk Man grabbed me by the throat from the very first sentence and didn't let go until the final, heart-stopping page

Nuala Ellwood, author of The Day of the Accident
[I] haven't had a sleepless night due to a book for a long time. The Chalk Man changed that. Many congrats C. J. Tudor

Fiona Barton, bestselling author of The Widow
The Chalk Man is an intricate and surprising book that will reward the reader who approaches it with the attention it deserves

Thomas Perry, New York Times bestselling author of, The Old Man
The Chalk Man is a stunning debut, a riveting thriller about the powerful grip of the past and the unbreakable bonds of childhood friendship. The ending of this smasher will completely throw you for a loop

David Bell, bestselling author, Bring Her Home
The Chalk Man is an unpredictable and engaging thriller: sinister, tragic, and with a beautifully rendered sense of time and place. That final page still haunts me

Helen Callaghan, bestselling author of, Dear Amy
The Chalk Man stole my weekend! Wow. Just wow. The tension just builds and builds. And what a final page . . .

Simon Lelic, The House
Absolutely brilliant. I was expecting a creepy horror story that I'd have to read with all the lights on but this book is so much more than that - it's witty, insightful, clever, thoughtful, mysterious, gripping, nostalgic and utterly compelling. Publishers often talk about "an exciting new voice in fiction" and I genuinely think C. J. Tudor is going to be huge. This book has bestseller written all over it and if it doesn't go to number one I will eat my crime writing hat

C. L. Taylor, author of The Missing
Absolutely loved it! Creepy, brilliant and tense, I could not put it down!

Karen Hamilton, The Perfect Girlfriend
At the heart of this accomplished debut lies a shocking crime stumbled upon by a group of teenage friends. It is a discovery that shatters their innocence and haunts the whole community. Now, twenty years later, someone is sending anonymous letters - chalk drawings of a stick figure with a noose around its neck - someone who hasn't forgotten what happened in the woods all those years ago. The past is very much alive in this book where memory is unreliable and old secrets fester, threatening to turn as odorous as a rotting corpse. Tudor's sharp eye for detail and ear for dialogue lend the childhood scenes an immediacy and authenticity that completely convince. With its driving plot and sensitive evocation of friendship and loneliness, The Chalk Man is an utterly gripping read, with an ending that will make the hairs on the back of your neck bristle

Karen Perry, bestselling author of Can You Keep a Secret?
Blasted through this beauty in one intense and thrilling sitting

S R Masters, The Killer You Know
C.J. Tudor brilliantly weaves past and present into a haunting, vividly imagined tale. Much more than a murder mystery, it is a sharp, terrifying exploration of the bonds and limitations of childhood friendships and of secrets that refuse to remain buried. I fell in love with the guiding voice of this novel, the thoughtful and solitary Eddie. Prepare to be surprised again and again, even until the final page

Michelle Richmond, author of, The Marriage Pact
Finished reading The Chalk Man by C.J Tudor last night. What a book! Enjoyed every minute of it. A total banger!

Amy Lloyd, author of The Innocent Wife
I absolutely loved The Chalk Man . . . It's a dark, mesmerising thriller with an ending that left me with goosebumps!

Nuala Elwood, author of My Sister's Bones
Impossible to put down, cleverly constructed and executed

Ragnar Jonasson, author of the bestselling Dark Iceland series
It's been a while since I've read such an impressive debut. The pace was perfectly judged, the characters superbly drawn and there's a creeping sense of unease that starts with the prologue and grows throughout the book. And then that ending! It feels so fresh and deserves to be a huge success

James Oswald, Sunday Times bestselling author of the Inspector McLean series
I've just finished The Chalk Man by C. J. Tudor. WOW! I could not put it down. If you like Stephen King, you'll LOVE this!

Hayley Barker, author of Showstopper
Just finished The Chalk Man. Dark and addictive. This page-turner is more twisty than a rollercoaster. And one hell of a ride.

Will Dean, Dark Pines
Kept me up until five in the morning. Wonderfully written. I loved it!

Kimberley Chambers, bestselling author of Backstabber
One of the best books I've read since I first read Stephen King's IT when I was 14. Go get it!

Rachel Burton, author of The Many Colours of Us
Tense, skillful storytelling

Ali Land, bestselling author of, Good Me Bad Me
The grip the past has on the present reveals itself in ever more sinister and macabre ways in this utterly original and relentlessly compelling psychological thriller. The Chalk Man kept me guessing all the way to the end

Fiona Neil, bestselling author of The Betrayals
Utterly Hypnotic. The Chalk Man is a dream novel, a book of nightmares: haunted and haunting, shot through with shadow and light - a story to quicken the pulse and freeze the blood. A dark star is born

Mr A. J. Finn
What a great book. A twisty thriller and downright creepy ending. 5 stars.

Sarah Pinborough, the number 1 bestselling author of, Behind Her Eyes
What an amazing debut! Such an ingenious, original idea. I was engrossed from the very first page. I loved how the 1986 and present day storylines weaved so skilfully together to create that unforgettable and unexpected ending. Compelling, taut and so very, very chilling. This book will haunt you!

Claire Douglas, Sunday Times bestselling author of Last Seen Alive
As well as being unputdownable, it was emotionally intelligent, touching and credible

Emma Curtis, author of One Little Mistake
Easy, gripping and enjoyable

Cecelia Ahern, bestselling author of P.S. I Love You
Video
The Chalk Man by C.J. Tudor
THE CHALK MAN is a riveting and relentlessly psychological suspense debut that weaves a mystery about a childhood game gone dangerously awry. Learn more - https://www.penguin.com.au/books/the-chalk-man-9780718187446