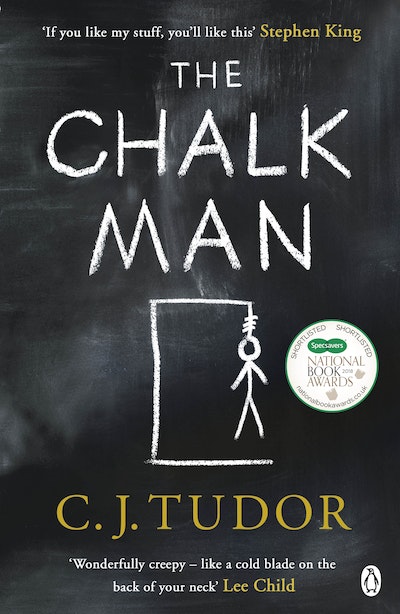 Published:

3 September 2018

ISBN:

9781405930956

Imprint:

Michael Joseph

Format:

Paperback

Pages:

368

RRP:

$19.99
The Chalk Man
The Sunday Times bestseller. The most chilling book you'll read this year
---
---
---
Children aren't always so innocent in this Stephen King-style thriller, backed by MJ's biggest marketing campaign for a debut this year
None of us ever agreed on the exact beginning.
Was it when we started drawing the chalk figures, or when they started to appear on their own?
Was it the terrible accident?
Or when they found the first body?
Published:

3 September 2018

ISBN:

9781405930956

Imprint:

Michael Joseph

Format:

Paperback

Pages:

368

RRP:

$19.99
A sharp, terrifying exploration of the bonds and limitations of childhood friendships and of secrets that refuse to remain buried. Prepare to be surprised again and again, even until the final page

Michelle Richmond, bestselling author of The Marriage Pact
Absolutely brilliant. Witty, insightful, clever, thoughtful, mysterious, gripping, nostalgic and utterly compelling. This book has bestseller written all over it

C. L. Taylor, bestselling author of The Escape
Compelling, taut and so very, very chilling. This book will haunt you

Claire Douglas, bestselling author of Last Seen Alive
The pace was perfectly judged, the characters superbly drawn and there's a creeping sense of unease that starts with the prologue and grows throughout the book. And then that ending!

James Oswald, bestselling author of the Inspector McLean series
An unpredictable and engaging thriller: sinister, tragic, and with a beautifully rendered sense of time and place. That final page still haunts me

Helen Callaghan, bestselling author of Dear Amy
Kept me up until five in the morning. Wonderfully written

Kimberley Chambers, bestselling author of Backstabber
An utterly gripping read, with an ending that will make the hairs on the back of your neck bristle

Karen Perry, bestselling author of Can You Keep a Secret?
A page-turning thriller that draws simple but terrifying lines about evil and the haunting nature of childhood. Flip open the first page and you'll curl up all night

Julia Heaberlin,bestselling author of Black-Eyed Susans
Video
The Chalk Man by C.J. Tudor
THE CHALK MAN is a riveting and relentlessly psychological suspense debut that weaves a mystery about a childhood game gone dangerously awry. Learn more - https://www.penguin.com.au/books/the-chalk-man-9780718187446