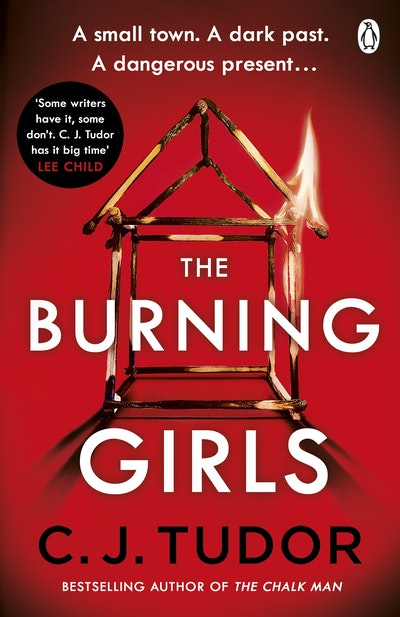 Published:

18 December 2021

ISBN:

9781405939652

Imprint:

Michael Joseph

Format:

Paperback

Pages:

416

RRP:

$22.99
The Burning Girls
Now a major Paramount+ TV series starring Samantha Morton and Ruby Stokes
---
---
---
Soon to be a Paramount+ original series. Welcome to Chapel Croft where all your worst nightmares come true . . .
Reverend Jack Brooks is looking for a fresh start.
Chapel Croft appears the perfect place, but the village has a dark and dangerous
history - and the ghosts of its past refuse to stay buried.
Decades ago, two girls disappeared. And just months ago, the last vicar
committed suicide - but not before leaving a message for Jack.
Jack must uncover the truth, or risk sacrificing the village to the evils that lie
within.
But the truth is hard to find, when everyone has something to hide. And as long buried
secrets of Jack's own resurface, faith alone will not save them . . .
Published:

18 December 2021

ISBN:

9781405939652

Imprint:

Michael Joseph

Format:

Paperback

Pages:

416

RRP:

$22.99
Praise for The Burning Girls
Hypnotic and horrifying, C. J. Tudor held me captive with another truly terrifying tale. Without doubt her best yet, The Burning Girls left me sleeping with the lights on

Chris Whitaker, bestselling author of Waterstones Thriller of the Month <i>We Begin at the End</i>
Hypnotic and horrifying, C. J. Tudor held me captive with another truly terrifying tale. Without doubt her best yet, The Burning Girls left me sleeping with the lights on

Chris Whitaker, bestselling author of Waterstones Thriller of the Month <i>We Begin at the End</i>
Hypnotic and horrifying, C. J. Tudor held me captive with another truly terrifying tale. Without doubt her best yet, The Burning Girls left me sleeping with the lights on

Chris Whitaker, bestselling author of Waterstones Thriller of the Month <i>We Begin at the End</i>
Hypnotic and horrifying, C. J. Tudor held me captive with another truly terrifying tale. Without doubt her best yet, The Burning Girls left me sleeping with the lights on

Chris Whitaker, bestselling author of Waterstones Thriller of the Month <i>We Begin at the End</i>
A gothic, spine-tingling roller-coaster of a story that expertly weaves the tale of eight martyrs from 500 years ago with a contemporary narrative about a priest coming to terms with their past, The Burning Girls adds yet more evidence to the fact that C. J. Tudor is a master of horror

C. J. Cooke
A gothic, spine-tingling roller-coaster of a story that expertly weaves the tale of eight martyrs from 500 years ago with a contemporary narrative about a priest coming to terms with their past, The Burning Girls adds yet more evidence to the fact that C. J. Tudor is a master of horror

C. J. Cooke
A gothic, spine-tingling roller-coaster of a story that expertly weaves the tale of eight martyrs from 500 years ago with a contemporary narrative about a priest coming to terms with their past, The Burning Girls adds yet more evidence to the fact that C. J. Tudor is a master of horror

C. J. Cooke
A gothic, spine-tingling roller-coaster of a story that expertly weaves the tale of eight martyrs from 500 years ago with a contemporary narrative about a priest coming to terms with their past, The Burning Girls adds yet more evidence to the fact that C. J. Tudor is a master of horror

C. J. Cooke
Pacey, spooky . . . the twists keep coming

Literary Review
Pacey, spooky . . . the twists keep coming

Literary Review
Pacey, spooky . . . the twists keep coming

Literary Review
Pacey, spooky . . . the twists keep coming

Literary Review
Combines crime fiction with elements of gothic horror . . . Tudor operates on the border between credulity and disbelief, creating an atmosphere of menace

Sunday Times
Combines crime fiction with elements of gothic horror . . . Tudor operates on the border between credulity and disbelief, creating an atmosphere of menace

Sunday Times
Combines crime fiction with elements of gothic horror . . . Tudor operates on the border between credulity and disbelief, creating an atmosphere of menace

Sunday Times
Combines crime fiction with elements of gothic horror . . . Tudor operates on the border between credulity and disbelief, creating an atmosphere of menace

Sunday Times
This creepy, tense thriller, packed with twists and turns, keeps the reader immersed until the shocking conclusion

Candis
This creepy, tense thriller, packed with twists and turns, keeps the reader immersed until the shocking conclusion

Candis
This creepy, tense thriller, packed with twists and turns, keeps the reader immersed until the shocking conclusion

Candis
This creepy, tense thriller, packed with twists and turns, keeps the reader immersed until the shocking conclusion

Candis
Best-selling author C. J. Tudor returns with another page-turner

Sunday Express
Best-selling author C. J. Tudor returns with another page-turner

Sunday Express
Best-selling author C. J. Tudor returns with another page-turner

Sunday Express
Best-selling author C. J. Tudor returns with another page-turner

Sunday Express
The best book yet from C. J. Tudor

Best
The best book yet from C. J. Tudor

Best
The best book yet from C. J. Tudor

Best
The best book yet from C. J. Tudor

Best
A brilliantly twisty read

Crime Monthly
A brilliantly twisty read

Crime Monthly
A brilliantly twisty read

Crime Monthly
A brilliantly twisty read

Crime Monthly
A mesmerising and atmospheric page-turner, with plenty of shocks and a surprise twist for a finale. Her best novel yet

Sunday Express
A mesmerising and atmospheric page-turner, with plenty of shocks and a surprise twist for a finale. Her best novel yet

Sunday Express
A mesmerising and atmospheric page-turner, with plenty of shocks and a surprise twist for a finale. Her best novel yet

Sunday Express
A mesmerising and atmospheric page-turner, with plenty of shocks and a surprise twist for a finale. Her best novel yet

Sunday Express
A real page-turner

Bella
A real page-turner

Bella
A real page-turner

Bella
A real page-turner

Bella
Creepy . . . Tudor throws everything at her reader in a complex plot

Choice Magazine
Creepy . . . Tudor throws everything at her reader in a complex plot

Choice Magazine
Creepy . . . Tudor throws everything at her reader in a complex plot

Choice Magazine
Creepy . . . Tudor throws everything at her reader in a complex plot

Choice Magazine
Chilling . . . Mixes real historical events with fictional horror and mystery

Herald
Chilling . . . Mixes real historical events with fictional horror and mystery

Herald
Chilling . . . Mixes real historical events with fictional horror and mystery

Herald
Chilling . . . Mixes real historical events with fictional horror and mystery

Herald
It's definitely the best of Tudor's books to date, which says a lot. This is one talented author and her international reputation is well-deserved . . . This is a great novel for a dark night in a snowstorm

Margaret Cannon, The Globe & Mail
It's definitely the best of Tudor's books to date, which says a lot. This is one talented author and her international reputation is well-deserved . . . This is a great novel for a dark night in a snowstorm

Margaret Cannon, The Globe & Mail
It's definitely the best of Tudor's books to date, which says a lot. This is one talented author and her international reputation is well-deserved . . . This is a great novel for a dark night in a snowstorm

Margaret Cannon, The Globe & Mail
It's definitely the best of Tudor's books to date, which says a lot. This is one talented author and her international reputation is well-deserved . . . This is a great novel for a dark night in a snowstorm

Margaret Cannon, The Globe & Mail
Mesmerising page-turner

Daily Record
Mesmerising page-turner

Daily Record
Mesmerising page-turner

Daily Record
Mesmerising page-turner

Daily Record
Chilling

Hello
Chilling

Hello
Chilling

Hello
Chilling

Hello