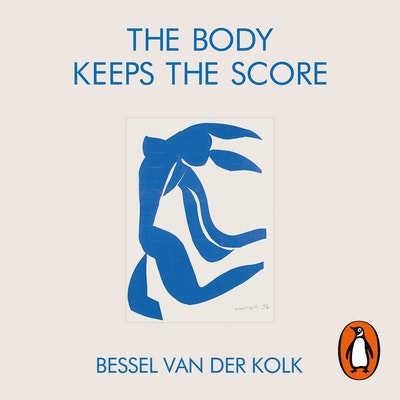 Published:

24 October 2019

ISBN:

9780141992648

Imprint:

Penguin Audio

Format:

Audio Download

RRP:

$32.99
The Body Keeps the Score
Mind, Brain and Body in the Transformation of Trauma
---
---
---
A world expert presents a sympathetic exploration of the causes of trauma and the new treatments making it possible for sufferers to reclaim their lives
Brought to you by Penguin.
What causes people to continually relive what they most want to forget, and what treatments could help restore them to a life with purpose and joy?
In this audiobook, Dr Bessel van der Kolk offers a new paradigm for effectively treating traumatic stress.
Neither talking nor drug therapies have proven entirely satisfactory. With stories of his own work and those of specialists around the globe, The Body Keeps the Score sheds new light on the routes away from trauma - which lie in the regulation and syncing of body and mind, using sport, drama, yoga, mindfulness, meditation and other routes to equilibrium.
This inspiring and timeless audiobook is read by Sean Pratt.
© Bessel van der Kolk 2014 (P) Penguin Audio 2019
Published:

24 October 2019

ISBN:

9780141992648

Imprint:

Penguin Audio

Format:

Audio Download

RRP:

$32.99
Praise for The Body Keeps the Score
Incredible

William Leith, 'Books of the Year', Evening Standard
Incredible

William Leith, 'Books of the Year', Evening Standard
Incredible

William Leith, 'Books of the Year', Evening Standard
Draws on 30 years of experience to argue powerfully that trauma is one of the West's most urgent public health issues... Packed with science and human stories ... van der Kolk has a lot to say, and the struggle and resilience of his patients is very moving

New Scientist
Draws on 30 years of experience to argue powerfully that trauma is one of the West's most urgent public health issues... Packed with science and human stories ... van der Kolk has a lot to say, and the struggle and resilience of his patients is very moving

New Scientist
Draws on 30 years of experience to argue powerfully that trauma is one of the West's most urgent public health issues... Packed with science and human stories ... van der Kolk has a lot to say, and the struggle and resilience of his patients is very moving

New Scientist
Fascinating, hard to put down, and filled with powerful case histories. . . . the most important series of breakthroughs in mental health in the last thirty years

Norman Doidge, author of The Brain That Changes Itself
Fascinating, hard to put down, and filled with powerful case histories. . . . the most important series of breakthroughs in mental health in the last thirty years

Norman Doidge, author of The Brain That Changes Itself
Fascinating, hard to put down, and filled with powerful case histories. . . . the most important series of breakthroughs in mental health in the last thirty years

Norman Doidge, author of The Brain That Changes Itself
A masterpiece of powerful understanding and brave heartedness, one of the most intelligent and helpful works on trauma I have ever read. . . a brilliant synthesis of clinical cases, neuroscience, powerful tools and caring humanity, offering a whole new level of healing

Jack Kornfied, author of A Path With Heart
A masterpiece of powerful understanding and brave heartedness, one of the most intelligent and helpful works on trauma I have ever read. . . a brilliant synthesis of clinical cases, neuroscience, powerful tools and caring humanity, offering a whole new level of healing

Jack Kornfied, author of A Path With Heart
A masterpiece of powerful understanding and brave heartedness, one of the most intelligent and helpful works on trauma I have ever read. . . a brilliant synthesis of clinical cases, neuroscience, powerful tools and caring humanity, offering a whole new level of healing

Jack Kornfied, author of A Path With Heart
Dr. van der Kolk's masterpiece combines the boundless curiosity of the scientist, the erudition of the scholar, and the passion of the truth teller

Judith Herman, M.D., author of Trauma and Recovery
Dr. van der Kolk's masterpiece combines the boundless curiosity of the scientist, the erudition of the scholar, and the passion of the truth teller

Judith Herman, M.D., author of Trauma and Recovery
Dr. van der Kolk's masterpiece combines the boundless curiosity of the scientist, the erudition of the scholar, and the passion of the truth teller

Judith Herman, M.D., author of Trauma and Recovery
A seminal book that outlines the author's pioneering work

Thea Jane May, Vogue
A seminal book that outlines the author's pioneering work

Thea Jane May, Vogue
A seminal book that outlines the author's pioneering work

Thea Jane May, Vogue
A gripping bestseller about where trauma goes, and its disastrous effects on both individuals and societies. Deeply interesting.

India Knight, Times
A gripping bestseller about where trauma goes, and its disastrous effects on both individuals and societies. Deeply interesting.

India Knight, Times
A gripping bestseller about where trauma goes, and its disastrous effects on both individuals and societies. Deeply interesting.

India Knight, Times
Everyone should read this book

Nigella Lawson
Everyone should read this book

Nigella Lawson
Everyone should read this book

Nigella Lawson
Article
Article
Video
The Body Keeps the Score by Bessel Van Der Kolk (Audiobook)
A world expert presents a sympathetic exploration of the causes of trauma and the new treatments making it possible for sufferers to reclaim their lives. Buy here: https://www.penguin.com.au/books/the-body-keeps-the-score-9780141992648