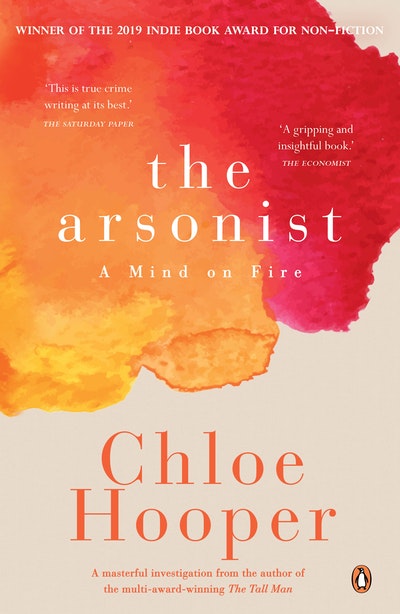 Published:

3 December 2019

ISBN:

9781760895242

Imprint:

Penguin

Format:

Paperback

Pages:

272

RRP:

$22.99
The Arsonist
A Mind on Fire
---
---
---
On the day that became known as Black Saturday, one man deliberately lit two fires near the small town of Churchill, Gippsland, then sat on the roof of his house and watched the flames. The Arsonist, by the acclaimed author of The Tall Man, is the story of that man, the fire he lit, and the people who were killed.
On the scorching February day in 2009 that became known as Black Saturday, a man lit two fires in Victoria's Latrobe Valley, then sat on the roof of his house to watch the inferno. In the Valley, where the rates of crime were the highest in the state, more than thirty people were known to police as firebugs. But the detectives soon found themselves on the trail of a man they didn't know.
The Arsonist takes readers on the hunt for this man, and inside the strange puzzle of his mind. It is also the story of fire in this country, and of a community that owed its existence to that very element. The command of fire has defined and sustained us as a species – understanding its abuse will define our future.

A powerful real-life thriller written with Hooper's trademark lyric detail and nuance, The Arsonist is a reminder that in an age of fire, all of us are gatekeepers.
Published:

3 December 2019

ISBN:

9781760895242

Imprint:

Penguin

Format:

Paperback

Pages:

272

RRP:

$22.99
Gripping, gritty and unsparing but never gratuitous in its details, this is true crime writing at its best. But Hooper goes beyond the procedurals and the scene setting to examine the greater context of the tragedy.

The Saturday Paper
A cool appraisal of a hot issue...Hooper's account of the terrible crime that traumatised a community is even-handed and nuanced - so much so that, by the end of the book, it's difficult to discern where her sympathies lie: victims or accused?

The Guardian
In The Arsonist, Hooper reignites the memories of those cataclysmic events [of Black Saturday] with relentless, devastating effect.

Australian Book Review
Chloe Hooper's The Arsonist: A Mind on Fire stokes the coals of a national tragedy almost a decade after it occurred, providing a hyper-detaile­d examination of how and why one man deliberately helped fan an inferno ... there turn out to be no easy answers.

The Australian
A stunning achievement.

Brisbane News
In Hooper's sure hands the grimmest details become exquisite imagery. Strange to report, there can even be beauty in arson's aftermath.

Robert Drewe, The Age
An extraordinary well-written and stirring account. The first half of the book is a masterclass in writing engaging true crime.

Herald Sun
Like the best historians, Hooper recognises her complex responsibilities to past and present, to her historical subjects and contemporary readers. The Arsonist is a brilliant and moving book about ecological devastation and social desolation.

Marilyn Lake, Australian Book Review
Hooper's sense of journalistic duty is as present here as it was in her acclaimed 2008 book The Tall Man.

Weekend Australian
If not handled carefully, reconstruction narratives can turn stories into unsolvable puzzles. This is because they derive their narrative coherence from atomised sources that often conflict with each other. While Hooper does allow her multiple characters many digressions, The Arsonist achieves its clarity through strict linear chronology. The characters offer myriad interpretations of Sokaluk's motivations which Hooper does not adjudicate; there remains space for the reader to decide what they believe to be true about the fires and about the arsonist.

Sydney Review of Books
If Hooper has uncovered a truth, it is how years of casual cruelty can make an individual so ambivalent to their neighbours. Excluding the 'different' might be a failing for which society pays dearly.

Daily Telegraph
Homing in on one man, one investigation, one court case and one small regional community, Hooper tells a much bigger story of fire in Australia, deftly bringing in its sociological, cultural and environmental dimensions.

Hobart Mercury
Unsettling…a gripping and insightful book.

The Economist
We will all learn something from the devastating events that scorched a community and the way in which [Hooper's] storytelling draws a reaction.

The Times
Davitt Awards
Winner • 2019 • Best non-fiction crime book
Indie Book Awards
Winner • 2019 • Non-fiction
Victorian Community History Awards
Awarded • 2019 • Judges' Special Prize
CHASS Australia Book Prize
Longlisted • 2019 • CHASS Australia Book Prize
Mark and Evette Moran Nib Literary Award 2019
Shortlisted • 2019 • Mark and Evette Moran Nib Literary Award 2019
Ned Kelly Awards
Shortlisted • 2019 • Ned Kelly Award for Best True Crime
Prime Minister's Literary Awards
Shortlisted • 2019 • Non-fiction
Stella Prize
Longlisted • 2019 • Stella Prize
Victorian Premier's Literary Awards
Shortlisted • 2019 • Victorian Premier's Literary Awards