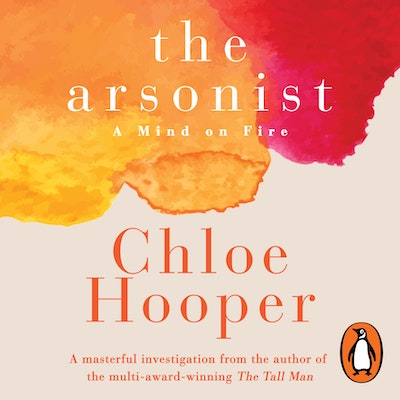 Published:

15 October 2018

ISBN:

9780143792765

Imprint:

Penguin Random House Australia Audio

Format:

Audio Download

Length:

6 hr 40 min

Narrator:

Sibylla Budd

RRP:

$27.99
The Arsonist
A Mind on Fire
---
---
---
On the day that became known as Black Saturday, one man deliberately lit two fires near the small town of Churchill, Gippsland, then sat on the roof of his house and watched the flames. The Arsonist, by the acclaimed author of The Tall Man, is the story of that man, the fire he lit, and the people who were killed.
The Arsonist takes readers inside the hunt for a fire-lighter. After Black Saturday, a February 2009 day marked by 47 degree heat and firestorms, arson squad detectives arrived at a plantation on the edge of a 26,000-hectare burn site. Eleven people had just been killed and hundreds made homeless. Here, in the Latrobe Valley, where Victoria's electricity is generated, and the rates of unemployment, crime and domestic abuse are the highest in the state, more than thirty people were known to police as firebugs. But the detectives soon found themselves on the trail of a man they didn't know.
The Arsonist tells a remarkable detective story, as the police close in on someone they believe to be a cunning offender; and a puzzling psychological story, as defence lawyers seek to understand the motives of a man who, they claimed, was a naïf that had accidentally dropped a cigarette.
It is the story not only of this fire – how it happened, the people who died, the aftermath for the community – but of fire in this country. What it has done, what it has meant, what it might yet do. Bushfire is one of Australia's deepest anxieties, never more so than when deliberately lit. Arson, wrote Henry Lawson, expresses a malice 'terrifying to those who have seen what it is capable of. You never know when you are safe.'
As she did in The Tall Man, Chloe Hooper takes us to a part of the country seldom explored, and reveals something buried but essential in our national psyche. The bush, summertime, a smouldering cigarette – none of these will feel the same again.
Published:

15 October 2018

ISBN:

9780143792765

Imprint:

Penguin Random House Australia Audio

Format:

Audio Download

Length:

6 hr 40 min

Narrator:

Sibylla Budd

RRP:

$27.99
Gripping, gritty and unsparing but never gratuitous in its details, this is true crime writing at its best. But Hooper goes beyond the procedurals and the scene setting to examine the greater context of the tragedy.

The Saturday Paper
A cool appraisal of a hot issue...Hooper's account of the terrible crime that traumatised a community is even-handed and nuanced - so much so that, by the end of the book, it's difficult to discern where her sympathies lie: victims or accused?

The Guardian
In The Arsonist, Hooper reignites the memories of those cataclysmic events [of Black Saturday] with relentless, devastating effect.

Australian Book Review
Chloe Hooper's The Arsonist: A Mind on Fire stokes the coals of a national tragedy almost a decade after it occurred, providing a hyper-detaile­d examination of how and why one man deliberately helped fan an inferno ... there turn out to be no easy answers.

The Australian
Davitt Awards
Winner • 2019 • Best non-fiction crime book
Indie Book Awards
Winner • 2019 • Non-fiction
Victorian Community History Awards
Awarded • 2019 • Judges' Special Prize
CHASS Australia Book Prize
Longlisted • 2019 • CHASS Australia Book Prize
Mark and Evette Moran Nib Literary Award 2019
Shortlisted • 2019 • Mark and Evette Moran Nib Literary Award 2019
Ned Kelly Awards
Shortlisted • 2019 • Ned Kelly Award for Best True Crime
Prime Minister's Literary Awards
Shortlisted • 2019 • Non-fiction
Stella Prize
Longlisted • 2019 • Stella Prize
Victorian Premier's Literary Awards
Shortlisted • 2019 • Victorian Premier's Literary Awards