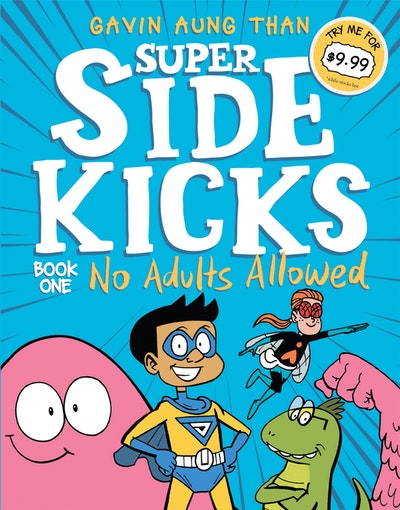 Published:

2 April 2019

ISBN:

9780143795865

Imprint:

Puffin

Format:

Trade Paperback

Pages:

144

RRP:

$9.99
Super Sidekicks 1: No Adults Allowed
Full Colour Edition
---
---
---
Get ready for superheroes, supervillains and super-hilarious adventures in this brand new series about four young sidekicks, from a New York Times bestselling Australian author!
'Everyone loves an underdog. SUPER SIDEKICKS is a winner!' Lincoln Peirce, author of BIG NATE
Superheroes have it easy. They don't have to clean their secret headquarters, wash the alien bloodstains out of their costumes or be responsible for taking Super Mutt out for a walk. No, they leave all that for their sidekicks like me, while they get all the credit!
I'm Junior Justice, but you can call me JJ, and I think it's time we made our own team.
The Super Sidekicks!
Are you with me?
Being a superhero sidekick isn't as fun as you think. You do all the work, beat the bad guys and save the planet, only for your grown-up partner to get all the credit. Junior Justice is sick of it, so he and his sidekick pals, Flygirl, Dinomite and Goo, have decided to form their own super team.
But before they can start saving the world they'll have to prove to the adult heroes that they're more than just sidekicks. And once the evil Dr Enok discovers his favourite pet Goo has left him to join a super team, the world might need saving sooner rather than later!
'Super Sidekicks delivers action, a super side-splitting good time, and proof that heroes can come from anywhere! Giving a copy to a young reader is the most heroic thing you can do.' Andrew McDonald and Ben Wood, creators of the Real Pigeons series
Published:

2 April 2019

ISBN:

9780143795865

Imprint:

Puffin

Format:

Trade Paperback

Pages:

144

RRP:

$9.99
Other books in the series
Praise for Super Sidekicks 1: No Adults Allowed
Super Sidekicks: No Adults Allowed is filled with crazy comic-book fun and adventure. The series is perfect for any young reader who loves a good baddie.

Heather Zubek, West Australian
This is the first in a new series that will appeal to those who like lots of action and adventures in their stories and a graphic novel format making it an easy read for the newly independent reader. Given the popularity of superhero movies . . . this is a series that has the protagonists at a similar age to the reader so they will be able to take on their favourite role as they immerse themselves in it.

Barbara Braxton, Teacher Librarian, thebottomshelf.edublogs.org
Cartoonist Gavin Aung Than combines his artistic talent and superhero obsession in a graphic novel sure to engage young, adventure-loving readers . . . It's super stuff.

Herald Sun
This adventure in laughter and friendship along with the comedic black and white illustrations make this graphic novel a must read.

kids-bookreview.com
An excellent, super-fun mini graphic novel (in black and white) that perfectly captures the superhero genre whilst also speaking to any reader who's ever felt unfairly undervalued just because they're a child . . . A clever story of empowerment told in a fresh new voice and wrapped up in a superhero comic package.

booktrust.org.uk
Super Sidekicks delivers action, a super side-splitting good time, and proof that heroes can come from anywhere! Giving a copy to a young reader is the most heroic thing you can do.

Andrew McDonald and Ben Wood, creators of the Real Pigeons series
Speech Pathology Australia Book of the Year Awards
Shortlisted • 2020 • Eight to 10 Years