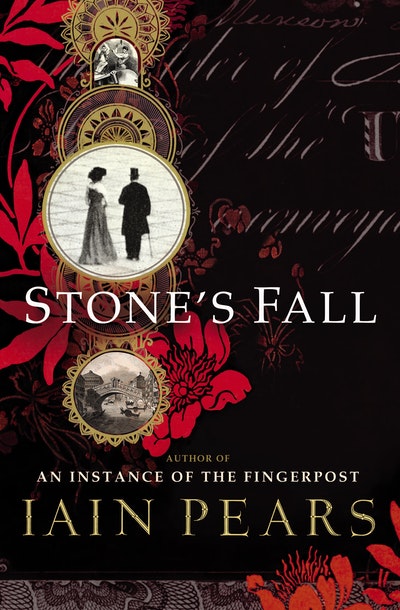 Published:

2 August 2010

ISBN:

9781409076889

Imprint:

Vintage Digital

Format:

EBook

Pages:

608
Stone's Fall
---
---
---
The long-awaited return of one of our greatest historical thriller writers. A book to rival his international bestseller An Instance of the Fingerpost.
In his most dazzling and brilliant novel since An Instance of the Fingerpost, Iain Pears tells the story of John Stone, financier and armaments manufacturer, a man so wealthy that in the years before World War One he was able to manipulate markets, industries and indeed whole countries and continents.
A panoramic novel with a riveting mystery at its heart, Stone's Fall is a quest to discover how and why John Stone dies, falling out of a window at his London home.
Chronologically, it goes backwards – London in 1909, then Paris in 1890, and finally Venice in 1867 – and Stone's character and motivation deepen as the book progresses; in the first part he is almost an abstraction, existing only in the memory of those who knew him; in the second he is a character, but only a secondary one; in the third he is the narrator of the story. A quest, then, but also a love story and a murder mystery, set against the backdrop of the evolution of high-stakes international finance, Europe's first great age of espionage and the start of the twentieth century's arms race.
Like Fingerpost, Stone's Fall is an intricate and richly satisfying puzzle, completely engaging on many levels, a triumphant return for one of the world's great storytellers.
Published:

2 August 2010

ISBN:

9781409076889

Imprint:

Vintage Digital

Format:

EBook

Pages:

608
Fireworks, inventiveness and excitement of part three and a curmudgeonly inventor of torpedoes

Philippa Stockley, Evening Standard
an indefatigably clever storyteller...witty, laconic dialogue; a galloping pace, particularly in the first and third narratives; the author's silky, fluid prose; and above all the concluding passages, which detonate a series of surprises as poignant as they are grim

Daniel Mallory, TLS
The novel is above all a romp, albeit an exceptionally intelligent and entertaining one

David Robson, Sunday Telegraph
Pears has the good journalist's knack of making high finance enthralling - he can take Robert Peston's job any day - but it is his interest in the peculiar effects that money has on human beings that makes him a good novelist.

Jake Kerridge, Daily Telegraph
absorbing and also timely

Jessica Mann, Literary Review
this thoughtful, thoroughly satisfying novel... clever storytelling to reach imaginative heights

Waterstone's Books Quarterly
Iain Pears has an uncanny historical sense ... splendid return to the grand 19th-century novel

Jane Jakeman, The Independent
Engrossing and intelligent, it's the best sort of page-turner.

Amber Pearson, Daily Mail
Pears is in a class of his own; no one else could possibly succeed in making the world of big finance so hugely entertaining.

www.thetruthaboutbooks.com
Well worth the ride

Sunday Telegraph
...a complex novel of mystery and suspense narrated by three fascinating characters...I thoroughly recommend this title.

Landers Bookshop, Independent on Sunday