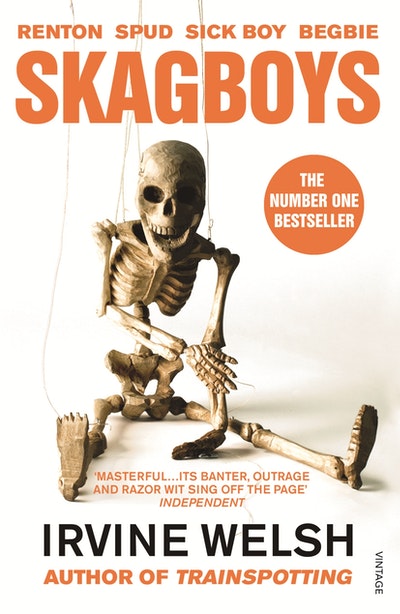 Published:

1 March 2013

ISBN:

9780099535584

Imprint:

Vintage

Format:

Paperback

Pages:

560

RRP:

$22.99
Skagboys
---
---
---
Both a prequel to the world-renowned Trainspotting, and an alternative version of it, Skagboys is Irvine Welsh's greatest work.
*Number #1 Bestseller**
BEFORE TRAINSPOTTING CAME SKAGBOYS
Mark Renton has it all: he's good-looking, young, with a pretty girlfriend and a bright future. But there's no room for him in the 1980s and when his family starts to fracture, Mark's life swings out of control. The way out is heroin.
It's no better for his friends - Spud Murphy is laid off from his job, Tommy Lawrence finds himself sucked into a life of petty crime, violence and the world of the psychotic Franco Begbie. Only Sick Boy seems to ride the current, scamming and hustling his way through it all. Exhilarating and moving, Skagboys charts their journey from likely lads to young addicts in a decade which changed Britain forever.
'Masterful... its banter, outrage and razor wit sing off the page' Independent
'Funny...visceral and true... Welsh's finest work to date' The Times
Published:

1 March 2013

ISBN:

9780099535584

Imprint:

Vintage

Format:

Paperback

Pages:

560

RRP:

$22.99
Masterful… its banter, outrage and razor wit sing off the page

Independent
Brilliant and even more thrilling than its predecessor

Mail on Sunday
Quite simply a masterpiece

Scotsman
A brilliantly funny, scary, sweeping novel with all the energy of Welsh's debut

Independent on Sunday
Funny…visceral and true… Welsh's finest work to date

The Times
Filthy, or fulthy, and hugely funny… Remarkable

Daily Telegraph
Skagboys is a compelling tale...a seriously entertaining piece of work

Irish Times
Welsh performs the mysterious feat of making you think that his characters are real

Guardian
Trainspotting may be a masterpiece but Skagboys is the reason the artist painted it, and sometimes that's the most compelling story

Stylist
A cracking read

Time Out
It was never going to be light reading, but Welsh's vigour, wit and energy still make it compulsive

Vogue
His best work in many years… An essential read

Irish Examiner
Masterful - crude, violent and poetic by turns... Its banter, outrage and razor wit sing off the page. A film, one suspects, isn't far off

Arifa Akbar, Independent
It's brilliant and even more thrilling than its predecessor

Simon Humphreys, Mail on Sunday
A brilliantly funny, scary, sweeping novel with all the energy of Welsh's debut, but imbued with a wider sense of political and social engagement

Doug Johnstone, Independent on Sunday
Welsh performs the mysterious feat of making you think that his characters are real

Theo Tait, Guardian
I'm not sure that in 2012 there will be a single novel, never mind half a dozen, with more verve or nous or life in it than Skagboys. Ye kin pure tell they Booker gadgies'll no huv the baws but...

Anthony Cummins, Literary Review
Trainspotting may be a masterpiece but Skagboys is the reason the artist painted it, and sometimes that's the most compelling story

Joanna McGarry, Stylist
A cracking read.

Time Out
Skagboys is a compelling tale...a seriously entertaining piece of work

Peter Murphy, Irish Times
Skagboys, technically, is a prequel to the Leith author's brilliant 1993 debut...the result is a longer, deeper and more affecting work, one which explains and explores the circumstances under which Renton, Sick Boy, Tommy, Spud and Begbie - a roll call as familiar as Disney's Seven Dwarves for readers of a certain age - became the characters they did... It's an undeniably funny book, funny in that three-wit way of being at once visceral and true. Welsh's knack for dialogue - both ineternal and conversational - remains virtuosic and often exhilarating. It makes for characters you can't help but care about even the psychopaths and amoral chancers like Begbie and Sick Boy... Welsh's finest work to date

Ben Machell, The Times
One of the most significant writers in Britain. He writes with style, imagination, wit and force.

Times Literary Supplement
The voice of punk, grown up, grown wiser and grown eloquent.

The Times
It was never going to be light reading, but Welsh's vigour, wit and energy still make it compulsive

Charlotte Sinclair, Vogue
While you can place him in a literary tradition which flows from Alasdair Gray and James Kelman (and maybe Joyce before that), Welsh remains a lapsed punk, hung up on the Velvets and Iggy Pop

Alastair McKay, Evening Standard
Like Trainspotting, Skagboys thrusts along with the exuberance of its episodic stories. Welsh hasn't lost his flair for comic set pieces

Robert Collins, Sunday Times
Welsh somehow manages to be both the Zola of Therese Raquin, and Dostoevsky's Underground Man, ranging between quasi-scientific perspective and a more immersed, troubling one. That he does so for the most part in a furious low Scots vernacular - filthy, or fulthy, and hugely funny at times - may seem remarkable

Keith Miller, Daily Telegraph
If you too loved the colloquial tangle of Trainspotting, you'll find a similar rhythm in Skagboys

Andrew Collins, Word Magazine
Welsh revisits his old demons to give us the Trainspotting prequel...Expect more of the same raw wit and energy.

Toni & Guy
Engaging, heartfelt and brutal.

welovethisbook.com
Quite simply a masterpiece…at least as assured and vibrant in its characterization as Trainspotting, Skagboys is even more on the money politically… this novel more than any other , (including its brilliant predecessor) stands as our spiritual and moral history.

The Scotsman
There is enough of what Welsh does well — needle-sharp dialogue, vivid characters and a certainty of place — to make Skagboys his best work in many years…an essential read.

Timothy Mo, Irish Examiner
Welsh always spins his yarns with grisly élan.

Extra Time
I ended up charmed beyond measure, if that is the right word for a novel whose odd moments of poignance are regularly booted into touch by death, disillusionment and dereliction.

D J Taylor, Spectator
Every bit as impressive as Trainspotting

Daily Telegraph
Visceral, tragic and comic, with Welsh's schlock-shock appeal

Arifa Akbar
If you enjoyed Trainspotting, you will adore this prequel... I think that Welsh has achieved the impossible and produced a prequel that betters the main text

Nudge
Filthy, furious and very funny, this is Welsh back on blistering top form

Mail on Sunday