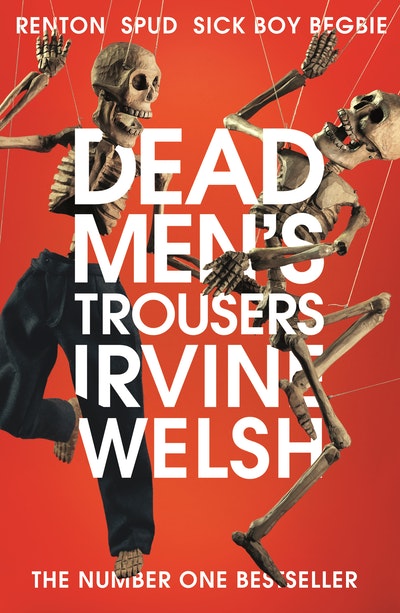 Published:

16 April 2019

ISBN:

9781784708436

Imprint:

Vintage

Format:

Paperback

Pages:

432

RRP:

$22.99
Dead Men's Trousers
---
---
---
Fast and furious, scabrously funny and weirdly moving, this is the final chapter in the Trainspotting story.
**A SUNDAY TIMES BESTSELLER**Mark Renton from Trainspotting is back – and he's finally a success
An international jet-setter, he now makes significant money managing DJs, but the constant travel, airport lounges, soulless hotel rooms and broken relationships have left him dissatisfied with his life. He's then rocked by a chance encounter with Frank Begbie, from whom he'd been hiding for years after a terrible betrayal and the resulting debt. But the psychotic Begbie appears to have reinvented himself as a celebrated artist and – much to Mark's astonishment – doesn't seem interested in revenge.
Sick Boy and Spud, who have agendas of their own, are intrigued to learn that their old friends are back in town, but when they enter the bleak world of organ-harvesting, things start to go so badly wrong. Lurching from crisis to crisis, the four men circle each other, driven by their personal histories and addictions, confused, angry – so desperate that even Hibs winning the Scottish Cup doesn't really help. One of these four will not survive to the end of this book. Which one of them is wearing Dead Men's Trousers?'Welsh is on compulsively readable, searingly funny form' The Times'No one captures the competing affections and resentments that underpin lifelong friendships like Welsh' Esquire
Published:

16 April 2019

ISBN:

9781784708436

Imprint:

Vintage

Format:

Paperback

Pages:

432

RRP:

$22.99
Praise for Dead Men's Trousers
Welsh is on compulsively readable, searingly funny form in what has been billed as the final Trainspotting novel… What I really like about Welsh's storytelling is that he makes these amoral misadventures so propulsive, so joyfully awful, that you have to go with the flow… this roués' romp is about as much fun as you can have between two book covers.

Dominic Maxwell, The Times
Dead Men's Trousers is Welsh at his scabrous, foul-mouthed best as the Trainspotting crew of Renton, Begbie, Sick Boy and Spud are reunited in a high-velocity tale of drug dealing, prostitution and the Hollywood art scene – with the odd compulsory organ donation casually tossed in with sadistic aplomb.

Stephen McGinty, Sunday Times
Some things never change. Violence lurks beneath the surface. Football still resonates. And, best of all, the Scots dialect retains its colloquial zing. Welsh fans are in for another witty, scabrous treat.

Max Davidson, Mail on Sunday **Best New Fiction**
Irresistible... No one captures the competing affections and resentments that underpin lifelong friendships like Welsh, and the original lads – Sick Boy and Spud in particular – still bring out the best in him... keeping you gripped and choking on bursts of shocked laughter.

Esquire
A vignette-like study of modern masculinity… This final book in Welsh's self-described "Harry Potter franchise" is as much character study as social commentary, and a sympathetic observation about how growing older doesn't necessarily mean growing wiser.

Zoë Apostolides, Financial Times
Blackly funny... It's ultimately a mark of Welsh's magic in having created such memorable characters.

Anthony Cummins, Observer
Renton, Begbie, Sick Boy and Spud are back in this wildly farcical story of revenge, sentimentality and psychedelic drugs... a whooping last hurrah (possibly) for the Trainspotting gang... very funny.

Sam Leith, Guardian
Crackling with energy and verve, it's all brilliant fun... But the onset of middle age, and a shocking death add poignancy to [Dead Men's Trousers].

Sunday Mirror
Fast and furious, scabrously funny and weirdly moving, this is a spectacular return of the crew from Trainspotting.

No.1