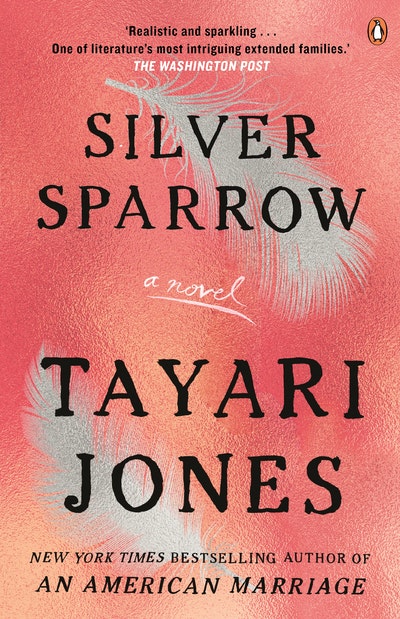 Published:

20 August 2019

ISBN:

9781760895273

Imprint:

Penguin

Format:

Paperback

Pages:

368

RRP:

$22.99
Silver Sparrow
---
---
---
My favourite of all the books I have written. Tayari Jones
From the winner of The Women's Prize winner and New York Times Bestseller An American Marriage.
With the opening line of Silver Sparrow, "My father, James Witherspoon, is a bigamist," author Tayari Jones unveils a breathtaking story about a man's deception, a family's complicity, and the two teenage girls caught in the middle.
Set in a middle-class neighborhood in Atlanta in the 1980s, the novel revolves around James Witherspoon's two families—the public one and the secret one. When the daughters from each family meet and form a friendship, only one of them knows they are sisters. It is a relationship destined to explode.
Published:

20 August 2019

ISBN:

9781760895273

Imprint:

Penguin

Format:

Paperback

Pages:

368

RRP:

$22.99
Praise for Silver Sparrow
Even better than An American Marriage.

Zoe Foster Blake
It's an amazing, amazing read.

Jennifer Weiner, NBC's Today
In Silver Sparrow—an amazing novel about a man with two families, one hidden and one public—Jones does something breathtaking and difficult: She renders a unique family dynamic with such precision and sensitivity that it becomes universal. It is amazing to watch, time and time again in this book, how Jones reveals the ways in which family both creates and destroys our identity.

Kevin Wilson, Salon
A love story . . . Full of perverse wisdom and proud joy . . . Jones's skill for wry understatement never wavers.

Oprah Magazine
Charting a vast emotional unknown is Tayari Jones's compelling third novel, Silver Sparrow, in which a teenage girl's coming of age in 1980s Atlanta is shadowed by her dawning understanding of a corrosive secret — her father's second family.

Vogue
Silver Sparrow will break your heart before you even know it. Tayari Jones has written a novel filled with characters I'll never forget. This is a book I'll read more than once.

Judy Blume
The most immersive novel I read in 2011 . . . It's one of those 'just one more chapter' kinds of books that require much last-minute changing of plans, because real life feels far less amusing, appalling, shocking, and loving than the world of its characters.

Slate
An exciting read all the way through.

Chicago Tribune
"Tayari Jones has taken Atlanta for her literary terroir, and like many of our finest novelists, she gives readers a sense of place in a deeply observed way. But more than that, Jones has created in her main characters tour guides of that region: honest, hurt, observant and compelling young women whose voices cannot be ignored . . . Impossible to put down until you find out how these sisters will discover their own versions of family."

Los Angeles Times
"Sharp as a blade, gleaming with 'sense' and humor. Her themes of legitimacy and secrets play out with symphonic, seemingly effortless resonance, and her indelible characters—one daughter a secret, discovered by the other—redefine love, loyalty, and betrayal in a New South only generations removed from slavery's fracture. Jones is a master, and Silver Sparrow is a revelation, alive with meaning, heartbreak, and hope."

Jayne Anne Phillips
A story of bigamy and secrets becomes a shrewd coming-of-age tale of two sisters

Francesca Carington, The Sunday Telegraph
How does Tayari Jones follow up the Women's Prize-winning An American Marriage? With an absolute belter, that's how. Set in Atlanta, Silver Sparrow is the story of Dana and Chaurisse, the two daughters of James Witherspoon, but Dana was born to his mistress. While Dana, knows all about Chaurisse, Chaurisse knows nothing of her father's secret life until the girls meet, with devastating consequences.

Sarra Manning, Red magazine
From the winner of last year's Women's prize, a wise and moving story about two teenagers linked by their bigamist father. And while the novel is driven by the question of whether the two sisters can ever accept the truth of one another, it is also propelled by shrewd observations about how they survive the unsteady terrain of young womanhood, that time when "a man looking at you can make you feel chopped into pieces". This book is as moving, intimate and wise as An American Marriage on the topics of marriage, family and womanhood, and deserves similar acclaim.

Sara Collins, The Guardian
A story of deceit and the wreckage it leaves is skilfully told. Jones conjures up 1980s Atlanta with conviction and has a pungently descriptive turn of phrase — when Chaurisse glumly observes a roomful of women party guests "all silver as tea sets" you can see them shining and tinkling and feel your heart sink. Best of all, you feel utterly immersed in Jones's knotty moral dilemma and as torn in your loyalties as the characters themselves

Siobhan Murphy, The Times
Article
Tayari Jones Q&A
The New York Times bestselling author on her inspiration for Silver Sparrow, setting her books in Atlanta and questions from readers.