The New York Times bestselling author on her inspiration for Silver Sparrow, setting her books in Atlanta and questions from readers.
What was your inspiration for Silver Sparrow?
I have always been intrigued by the idea of "half" sisters. I have two sisters with whom I share a father, but we each have different mothers. They were born before my father met my mother, and they grew up in another state and led completely separate lives from me and from each other. When I was a little girl, with only brothers, I used to fantasize about having two big sisters far away who would love me, dress me up, listen to me talk, et cetera.
The link between my own personal obsession and this fictional story was inspired quite accidentally. While enjoying a night out with a bunch of friends, we were discussing one of the many cases you hear about—a man dies and the other grieving widow shows up with her stair-step kids. One of my girlfriends looked up from her margarita and said, "You know, he had to have some help from the inside. You cannot get local bigamy off the ground unless one of the women is willing to work with you." It was all I could do to keep from running out of the bar to get home and start writing. The first line, "My father, James Witherspoon, is a bigamist," jumped into my head, as clearly as though someone had spoken into my ear.
When you use the expression half sister, why do you put the word half in quotation marks?
I was giving a reading, and during the Q&A I mentioned my "half sisters." My nephew in the audience said, "Don't say 'half,' Auntie. That's an ugly word. There are no half people." I always thought of it as just a description, and I didn't think it was offensive, because it's reflexive. But it hurt him to hear me describe his mother in that way. So now I use the word very self-consciously, if at all. I should probably say "my sister with whom I share a father." It's a mouthful, but I would rather say that than hurt him again.
Why did you tell this story through the perspective of the two daughters, Dana and Chaurisse? Was one of the girls easier to access than the other?
The story felt incomplete without both girls' perspectives or without their mothers'. I began the book from Dana's point of view, but her view in limited. I needed a voice from the other side of the wall. I am glad that I used Chaurisse's voice also, because as I wrote her, I came to love her as much as I love Dana.
I found the girls equally easy and equally difficult to access. I think it's because I identify so completely with both of them. Like Chaurisse, I have a close relationship with my father. I had such fun writing their scenes together, and in order to do it, I was able to tap into my own inner girl and think of life before I understood my parents as people with layers and complications. It means so much to a girl to have her father's attention. A father makes you feel special in a way that no other person can really duplicate.
At the same time, I am a daughter in a family that really values boy children. My childhood was a happy one: two parents, two brothers, caring and affection all around. Still, I lived in the space where many girls find themselves—loved, but not celebrated in the same way as a brother. I borrowed an actual room from my own childhood for Silver Sparrow. When Dana and Ronalda go into the basement and the whole place is set up to show how much Ronalda's dad "loves being a black man," this is straight from my parents' house. A picture of my brother was on the wall between Malcolm X and W. E. B. DuBois. It was clear they had very high hopes for him! So I could understand Dana in her insider/outsider role.
What roles do social class and privilege play in the novel?
Social class has always been an issue that interests me. I think Silver Sparrow complicates the question a little bit. Dana has many bourgeois affectations, but she and her mother are not as financially secure as Chaurisse and her mother. So much of class is about performance. Dana and her mother have upwardly mobile aspirations and do everything they can to transcend social class, but, of course, money limits their options. Chaurisse enjoys great privilege, but she doesn't know it, and I think this is often the case. People don't go around thinking how lucky they are that their dad claims them. She thinks of herself as just average. She has no idea that the life she enjoys is on someone else's back. Her moral litmus test is what she will do once she discovers the truth.
You delve into the idea of titles, that calling someone a "wife" doesn't really explain "the full complexity of her position" and that it "matters what you called things." Why is a title—and the firm boundaries that come with it—so important?
Actually, I think Silver Sparrow makes you wonder if titles are all that important after all. Clearly titles give people access to social standing. Laverne is the "wife," and that gives her public approval. But I feel that Gwen is his wife, too. And no matter what James chooses to say, Dana is his "daughter." When I started writing the book, I didn't understand how deep these sorts of familial relationships could be, regardless of what we choose to call them.
How did you come to the title Silver Sparrow?
This was really an eleventh-hour title. This book went through half a dozen titles before I settled on Silver Sparrow. The reference is to the gospel classic "His Eye Is on the Sparrow." When I was a girl, I took great comfort in the idea that God is taking care of everything and everyone, even a tiny sparrow. (This was especially important because I grew up in Atlanta during a very dangerous time.) The characters refer to the song, and it occurred to me that although Chaurisse thinks of Dana as her "silver girl," in many ways Dana is the tiniest sparrow in the story. She is flawed, of course, and sometimes she acts out, but she is also "the least of these."
You use the girls' voices to tell the stories of their parents, relating events that happened before they were even born. Why did you choose this unusual technique?
Again, I don't have a hard "why." It felt quite natural. I think we all tell stories about things we could not have possibly witnessed. When stories are handed down, we feel that we have the authority to tell them. We take what we were told and let our imaginations fill in the details. I often joke that our parents' courtship story is our first encounter with propaganda. I know that I, for one, can recite the fairy tale of how my parents met—at an NAACP meeting in 1962—as if I had been right there, hiding in my mother's A-frame purse.
Like your previous two books, Silver Sparrow is set in Atlanta in the 1980s. Why did you pick Atlanta for the setting, and what role does landscape play in shaping your narrative?
Sometimes I wonder if my imagination just lives in Atlanta. When the story comes to me, the characters tend to be hanging out in all my old stomping grounds. Atlanta has been such a gift to my work. The "new" and urban South is ever changing, but we still wear our history on our sleeves. This is what makes Southern literature so rich, so ultraspecific and universal at the same time.
What do you hope readers will take away from Silver Sparrow?
I hope that readers will come away from the book with a sort of tolerance for people who find themselves in complicated and messy situations. When I started writing this novel, I didn't really have empathy for Gwen, and I had nothing but sympathy for Laverne. But by the time I finished, I sort of understood the way people get trapped and try to make the best out of bad situations. Both women love their daughters with a bottomless devotion. As Dana would say, "You can't help but respect something like that."
After visiting many bookstores and book clubs, what surprised you most about readers' reactions to the book? What questions were you asked most often?
This is a hard question because different readers asked different questions. One thing that surprised me was how the conversation often started off with readers saying which of the girls they liked best. Some even divided themselves into Team Dana and Team Chaurisse. But by the end of the conversation, everyone seemed to understand that there are no real winners or losers in this story. We all ended up being open to all the characters, even James, who causes so much pain to everyone.
Even though every audience is unique, there are some questions that come up over and over. Most people want to know how much of my real life is in the story. It seems that if you write a memoir, people want to catch you telling a lie, and when you write a novel people want to catch you telling the truth. It's a hard question to answer. Some of the story is taken from my real life, but all of the story is taken from my real heart. I have experienced every emotion that I put onto these pages.
As you traveled and promoted the book, you were approached by many readers who themselves were "silver sparrows." Did you expect that? Was it primarily a female phenomenon, or did you encounter male silver sparrows, too?
The first person to use the term was a man. He sent me an e-mail that said, "I guess I am a Silver Sparrow. I just never had a name for it." Secret children are much more prevalent than we know. When I was on NPR, I was stunned at how many callers from all over the country had silver sparrow stories to tell. I wrote Silver Sparrow because I was working out my feelings about my own little family, but, as often is the case with stories—my story wasn't my story alone. It belongs to everyone.
---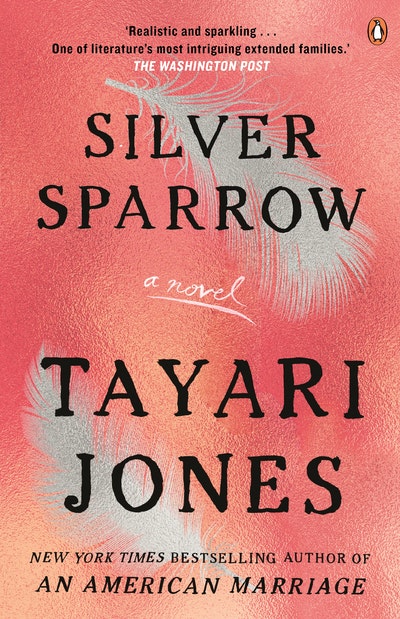 My favourite of all the books I have written. Tayari Jones From the winner of The Women's Prize winner and New York Times Bestseller An American Marriage.
Buy now
Buy now
---