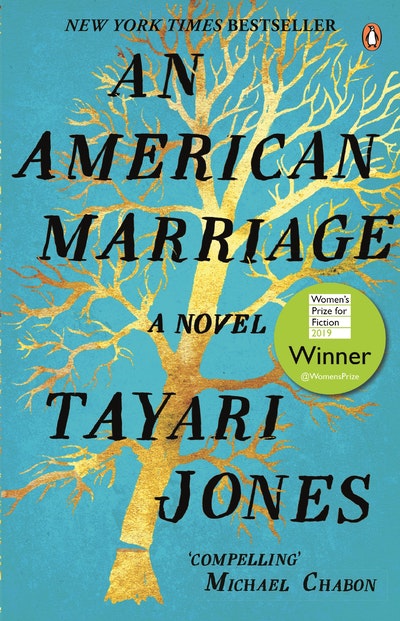 Published:

24 June 2019

ISBN:

9781760894313

Imprint:

Penguin

Format:

Paperback

Pages:

320

RRP:

$22.99
An American Marriage
---
---
---
WINNER OF THE 2019 WOMEN'S PRIZE FOR FICTION.
THE INSTANT NEW YORK TIMES BESTSELLER! OPRAH'S BOOK CLUB 2018 SELECTION
'Haunting . . . Beautifully written' The New York Times Book Review
'Compelling' The Washington Post
'Epic . . . Transcendent . . . Triumphant' Elle
An explosive love story about a marriage interrupted.
Could you put your life on hold for twelve years? A stunning love story about family, injustice and marriage, and three people at once bound and separated by forces beyond their control.
Newlyweds, Celestial and Roy, are the embodiment of both the American Dream and the New South. He is a young executive and she is an artist on the brink of an exciting career. They are settling into the routine of their life together, when they are ripped apart by circumstances neither could have imagined. Roy is arrested and sentenced to twelve years for a crime Celestial knows he didn't commit.
Though fiercely independent, Celestial finds herself bereft and unmoored, taking comfort in Andre, her childhood friend, and best man at their wedding. As Roy's time in prison passes, she is unable to hold on to the love that has been her center. After five years, Roy's conviction is suddenly overturned, and he returns to Atlanta ready to resume their life together.
An American Marriage is a masterpiece of storytelling, an intimate look into the souls of people who must reckon with the past while moving forward – with hope and pain – into the future.
'Tayari Jones is blessed with vision to see through to the surprising and devastating truths at the heart of ordinary lives, strength to wrest those truths free, and a gift of language to lay it all out, compelling and clear.'
– Michael Chabon, author of The Amazing Adventures of Kavalier and Clay
'A stunning, epic love story filled with breathtaking twists and turns, while bursting with realized and unrealized dreams.'
– Edwidge Danticat, author of Breath, Eyes, Memory
'A heartbreaking and genuinely suspenseful love story in which nobody's wrong and everybody's wounded.'
– Tom Perrotta, author of Little Children
Published:

24 June 2019

ISBN:

9781760894313

Imprint:

Penguin

Format:

Paperback

Pages:

320

RRP:

$22.99
Praise for An American Marriage
A raw, realistic character study of two newlyweds dealing with a total fate shitpie, and the emotional damage it wreaks on their life, and of course, love. Beautiful prose smattered with wisdom.

Zoe Foster Blake
Brilliant ... Tackling the big issues – prejudice, injustice, loyalty, love, loss – this is a haunting and compelling book.

Sydney Morning Herald
among the first great literary works to arise from the Black Lives Matter movement.

Tin House
Powerful . . . both sweeping and intimate - at once an unsparing exploration of what it means to be black in America and a remarkably lifelike portrait of a marriage.

The New Yorker
Compelling

Washington Post
This novel redefines the traditional American love story.

Oprah
a whirlpool of race, resilience, and rich writing

Vanity Fair
Subtle, well-crafted, and powerful.

Huffpost
one of 2018's best novels

Elle
Exquisite

Bustle
Tayari Jones understands love and loss and writes with passion and precision about the forces that move us all from one to another.

Amy Bloom
a compelling exploration of the thorny conflicts that drive us apart and bind us, the distorting weight of racism, and how commitment looks across time – and generations.

BBC Culture
Jones writes brilliantly about expectations and loss and racial injustice, and how love must evolve when our best laid plans go awry.

Esquire
Jones crafts an affecting tale that explores marriage, family, regret, and other feelings made all the more resonant by her well-drawn characters and their intricate conflicts of heart and mind.

Booklist
I love An American Marriage, and I'm so excited for this book to be in the world. Tayari's novel is timely, thoughtful, and beautifully written. Reading it, I found myself angry as hell, laughing out loud, choking up and cheering. A gem of a book.

Jacqueline Woodson
Jones uses her love triangle to explore simmering class tensions and reverberating racial injustice in the contemporary South, while also delivering a satisfying romantic drama.

Publishers' Weekly
Jones is a master with words and An American Marriage is the wordsmith at the top of her game.

Bitch Media
Tayari Jones provides an essential contemporary portrait of a marriage in this searing novel. An American Marriage gorgeously evokes the New South as it explores mass incarceration on a personal level.

EW
a challenging, important and fascinating read

AM New York
An American Marriage is Tayari Jones's extraordinary fourth novel, a page-turning love story with a powerful political undercurrent. It's as much a novel about family and race, expectation and desire, loneliness and loyalty as it is a story about how readily the American Dream can be derailed on the basis of skin color.

Barnes and Noble
thoroughly engrossing and impressive novel

Alex Clark, The Guardian
American Marriage by Tayari Jones is an exploration of race-based injustices within the American judicial system, but, as the title suggests, it is also a book about marriage. Mature, elegantly told, and deeply affecting. I learned what it was to be accused of something I did not do, and to suffer the consequences. I was outraged. Then to make meaning from these consequences, to forge a life. I enjoyed this book immensely, and felt it taking me to a place I hadn't known before, in the way the best fiction can. It was so impressive.

Sofie Laguna, Australian Financial Review
National Book Award for Fiction (USA)
Longlisted • 2018 • Fiction