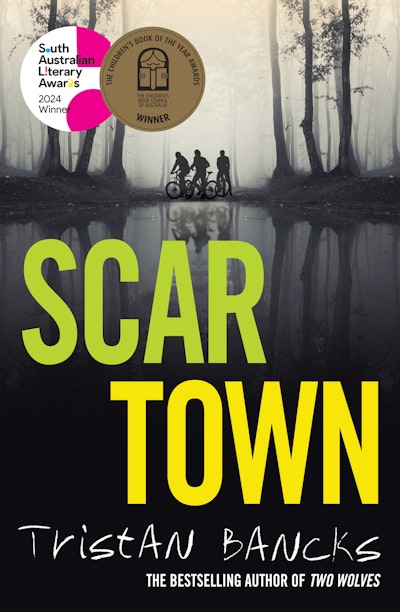 Published:

1 August 2023

ISBN:

9780143791829

Imprint:

Random House Australia

Format:

EBook

Pages:

256
Scar Town
---
---
---
A missing father. A drowned town. A buried secret. Three friends on a dangerous mission to uncover the truth.
Twelve-year-old Will Haddon and his twin friends, Dar and Juno, find a safe full of money and human bones in an old house that's sticking out of a rapidly receding lake amid the worst drought in history. Their mission to identify the body reveals secrets that will rewrite the history of their town and the story of their lives.
When Will was five, his dad, a young cop, went missing just days before Old Scarborough was drowned beneath a man-made lake for a hydroelectric scheme. Old Scarborough's residents were promised new houses, jobs, tourist dollars and a fresh start, but hardly any of it materialised. Neither did Will's dad. And he's not the only person to go missing from this bad-luck town.
Will, Dar and Juno are forced on a dangerous journey to discover the truth in a town that wants the past to stay buried.
Published:

1 August 2023

ISBN:

9780143791829

Imprint:

Random House Australia

Format:

EBook

Pages:

256
A taut and fraught fast-paced rollercoaster of hidden dangerous secrets, family betrayals, misplaced trust and the bonds of friendship that can sustain in the most terrible of circumstances ... It's a fabulous and thrilling journey this one, and readers will eat it up, just as I did over just one night's binge-read ... Highly recommended for readers from upper primary upwards.

Sue Warren, Just So Stories
Article
Article
Teachers' notes