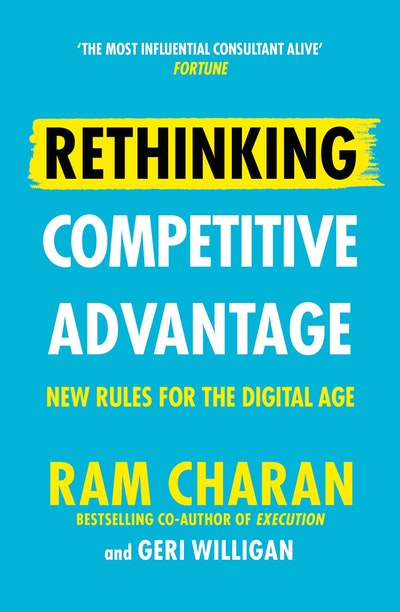 Published:

12 January 2021

ISBN:

9781847943477

Imprint:

Random House Business

Format:

Trade Paperback

Pages:

224

RRP:

$35.00
Rethinking Competitive Advantage
New Rules for the Digital Age
---
---
A revelatory guide to getting ahead in the age of big tech, from the bestselling author of Execution
*From the million-copy-bestselling author of Execution*'The most influential consultant alive.' Fortune
Welcome to the age of big tech. The old rules no longer apply.
How do companies get ahead in the digital age? In this lively, accessible guide, Ram Charan - bestselling author and advisor to some of the world's top CEOs - reveals that the tech giants have radically rewritten the rules of business. If you want to be competitive, you need to learn to play a new game.
Drawing on behind-the-scenes stories from the likes of Netflix, Amazon and Alibaba, Charan sketches out a map of today's business landscape. He shows that the biggest companies succeed because they adhere to a simple rule: pick a single customer experience, then build a platform that transforms it from start to finish. It's a principle that has already revolutionised how the world watches movies (Netflix), goes shopping (Amazon) and browses the internet (Google).
But this approach needn't be the preserve of Silicon Valley. By studying the tech giants' methods, Charan has uncovered the eight principles that any company can use to tap into their ecosystems: from homing in obsessively on individual customers' experiences, to using big data to inform every decision, to forging an ambitious culture among employees. And he offers a practical toolbox for implementing these lessons in your business, starting today.
Whether you're a C-suite executive or a fledgling entrepreneur, your company can beat the competition in the era of big tech. This book will show you how.
Published:

12 January 2021

ISBN:

9781847943477

Imprint:

Random House Business

Format:

Trade Paperback

Pages:

224

RRP:

$35.00