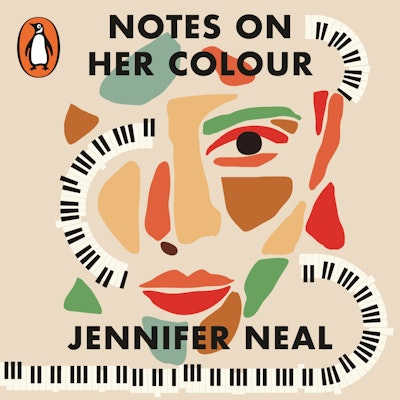 Published:

30 January 2024

ISBN:

9781761341311

Imprint:

Penguin Random House Australia Audio

Format:

Audio Download

Narrator:

Angela Sullen

RRP:

$32.99
Notes on Her Colour
---
---
---
A coming-of-age story from an American-Australian, with a speculative premise, but very much grounded in the reality of being a person of colour living in North America.
'It wasn't long before my wet and sticky fascination with life beyond the walls of our home could be read all over my face like soot'
Gabrielle has inherited the ability to change the colour of her skin from her mother, Tallulah. They guard their power carefully within the walls of a home that's been bleached completely white. This is the doing of Gabrielle's father, Robert. After battling his executive-level colleagues all day at the office as a man of colour, he needs everything in his house to be white – including his wife and daughter.
This is a house with secrets. Robert does not know that Talullah keeps a rainbow of spices stored in baggies and sewn into the lining of her handbag. Nor does he know that when he's away, Gabrielle and Tallulah let their skin pass through a spectrum of bright, dark, rebellious colours. But when Gabrielle discovers a love for the piano, she also finds she can change her skin, and find joy and acceptance, without her mother nearby. Gabrielle is learning of a world beyond her family's carefully-coded existence, and her mother is watching.
Notes on Her Colour is a novel where the strange and surreal meets the kitsch of Florida as it explores the dynamic of a family traumatised by racial violence in North America. It's a glittering, corrosive, witty tale about race, privilege, music and queerness.
At its heart, it's a story about a mother, told by her daughter.
Published:

30 January 2024

ISBN:

9781761341311

Imprint:

Penguin Random House Australia Audio

Format:

Audio Download

Narrator:

Angela Sullen

RRP:

$32.99
Praise for Notes on Her Colour
This is a story about the realities of seeing people for who they are, a haunting melody with language that made me shiver with its fable-like qualities. Notes on Her Colour is Jennifer Neai's debut novel and i was enthralled within the first 20 pages. I can't wait to see what Neal does next.

Clare Millar, The Big Issue
A beautiful novel about race, privilege and music.

Sunday Life
Chopin's second piano scherzo was described by Schumann as 'overflowing with tenderness, boldness, love and contempt'. Jennifer Neal's dazzling debut novel Notes On Her Colour may be its equivalent in literary form.

Anne Green, Good Reading
Gosh, what a wonder this book is. It's about race, yes of course. But it's about so much more as well. It's a tale of mothers and daughters, of Florida hurricanes and the madness of music. It's about code switching in ways that you've never considered, and about what it means to be of a place and of a people. Jennifer Neal has written a book drenched in hurt and magic, love and grief. Read it twice, because a book like this comes along rarely.

Sami Shah
Jennifer Neal's Notes on Her Colour deploys magical realism to delve into the absurdities and contradictions of contemporary racial politics in the US. The questions the novel raises are sophisticated and complex, even if the "liberated by love" angle seems a little too rose-tinted.

Cameron Woodhead, The Age
For all the magical, surreal elements that enchant Notes on Her Colour, it's a novel about very real things—surviving as a Black Indigenous person in a white supremacist world, withstanding the careless cruelty of teenagers and high school, finding oneself through music and love. It's suffused with a richness of detail and feeling—Gabrielle perceives the world through the undulations and timbres of people's voices, and the imperceptible changes in their hues that only she is privy to. The Florida that American-Australian author Jennifer Neal brings to life in her book, thick with humidity and vulnerable to catastrophic weather events—where 'survival is a season'—is the evocative backdrop to this story of trauma, grief, queer love and transcendent joy.

Sonia Nair, Books + Publishing
This is a coming of age story with a difference. With a generous helping of magical realism and the assured tenderness of a born storyteller, Jennifer Neal lays bare the brutality of how intergenerational trauma and racism conspire to teach us to hate ourselves.

Ruby Hamad
An ode to the artistic and individual truth and an unflinching examination of soft-spoken suburban bigotry; it's a crescendo of Florida hurricanes, first love, and the undeniability of becoming yourself. The remarkable protagonist of Notes on Her Colour practices Chopin's second piano scherzo, a piece described by Schumann as "so overflowing with tenderness, boldness, love, and contempt." The same is all true of Jennifer Neal's lyrical and urgent debut."

Rebecca Rukeyser, author of The Seaplane on Final Approach
Spellbinding and original, Notes on Her Colour marks the arrival of a significant new voice in contemporary literature. Through the story of Gabrielle, a young woman seeking to transcend the "orchestral catastrophe" of her home life, Jennifer Neal has crafted a vivid and powerful meditation on mothers and daughters, houses haunted by the living, and the redemptive power of love and music.

Tom Drury
Remember how the half-hidden rides at amusement parks seemed riskier than the out-in-the-open, sky-high roller coasters? Because you'd hear a scream get swallowed up behind the façade of a mountain range and not know what was going to come next. Reading Jennifer Neal's impressive debut, Notes on Her Colour, a magical journey about music and race and queerness and passing and mothers and daughters, reminds me of those mysterious, thrill rides. While the twists and turns hide around the bend, you are also keenly aware that you're being navigated safely, regardless of the illusion of danger. Then when you get dumped into the daylight, hair all mussed from the swerves, the first thing you want to do is to turn to your fellow passengers and recap every moment. Read this book. Come find me and we can bond over our shared joy. Weep over what we thought we feared.

Gene Kwak, author of Go Home, Ricky!
This novel sparkles with rich, lyrical, sensuous prose. It portrays dysfunctional family relationships, cleverly revealing their complexity and contradictions as the story unfolds. It is moving and desperately sad at times, yet not without hope. An original novel that will stay with me long after reading.

Jacqueline Roy
At its core, this is a story of expectations, relationships and love.

Karla Strand, Ms., A Most Anticipated Title of the Year
One of Electric Literature's Books by Women of Color to Read This Year Debutiful, A Most Anticipated Book of the Year Goodreads, A Buzziest Debut Novel of the Year

Catapult
In this coming-of-age debut, exceptional storyteller Neal paints a picture of racism and patriarchy in suburban Florida and one young woman's journey to break free from it all.

Emily Park, starred review, Booklist
A haunting coming-of-age story, a melodic love letter to the language of music and a fierce, dark, rage-filled upbraiding of patriarchal violence. . . . A fascinating commentary on race, power, invisibility and desire.

Laura Sackton, BookPage
Generational trauma and a fractured family struggling to overcome it are at the centre of this new, beautifully profound novel from one of the world's most exciting up-and-coming authors, Jennifer Neal.

Wade Sellers, Woman's Day
Notes On Her Colour is not only a debut novel by Jennifer Neal, but also a musical composition. Each word is a note carefully considered before being etched onto the page with the hope of bringing art to life and feelings to the surface.

Aaron Coats, Chicago Review of Books
This is a moving coming-of-age story which celebrates the healing and transcendent power of friendship and love.

Mary Martin Books
Article
Article