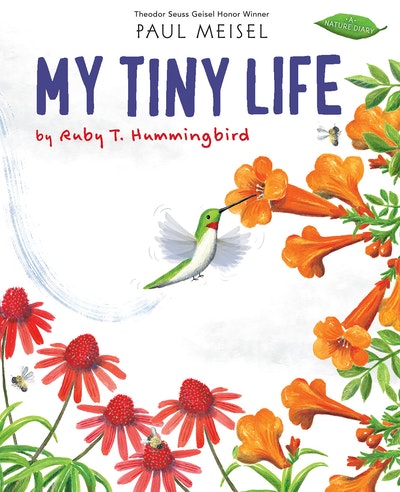 Published:

2 July 2021

ISBN:

9780823443222

Imprint:

Holiday House

Format:

Hardback

Pages:

40

RRP:

$29.99
My Tiny Life by Ruby T. Hummingbird
---
---
Tiny but mighty! The ruby throated hummingbird leads a fascinating life. This is the fourth book in the critically acclaimed Nature Diary science series.
May 15: Today I poked my way out of this tiny egg.
With Mom feeding him insects and nectar, Ruby T. Hummingbird is soon able to beat his wings and fly--up, down, backward, and forward--and forage for himself. But don't be fooled! This elegant creature can turn into a fierce fighter if another hummingbird tries to feed on his flower--or his hummingbird feeder.
June 21: This flower is MINE! No you don't.
A second test of his strength comes when he migrates to a warmer climate in the fall and a cooler climate in the spring.
March 1, 5 a.m.: I'm off! Wish me luck.
2 p.m.: Still flying. A short rainstorm, but there's nowhere to stop.
9 p.m.: I'm getting closer. I have to keep flying because I'm still over water.
11:30 p.m.: I made it!
Children will love poring over the bright, highly detailed illustrations and pondering ideas about nature.
The book includes a glossary and further information in the back of the book. Both art and text have been vetted for accuracy by an expert.
Don't miss the other books in The Nature Diary Series!
Each one explores the life cycle of an animal in dated journal entries, showing young readers how they grow and change through the seasons-- and offering a few laughs, too! Brightly illustrated and vetted by experts, Paul Meisel's books are a perfect introduction to your backyard neighbors.
My Awesome Summer by P. Mantis: CCBC Best-of-the-Year List, AAAS /Subaru Finalist, Leaping Lizards Top 10 Read-alouds, SCIENCE Best Books for Curious Kids, Virginia Readers' Choices
My Happy Year by E. Bluebird: A Junior Library Guild Selection
My Stinky Summer by S. Bug: A Junior Library Guild Selection
Published:

2 July 2021

ISBN:

9780823443222

Imprint:

Holiday House

Format:

Hardback

Pages:

40

RRP:

$29.99