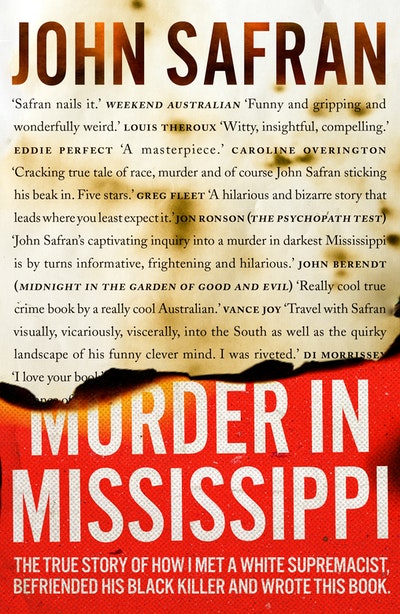 Published:

24 September 2014

ISBN:

9780143572084

Imprint:

Penguin

Format:

Paperback

Pages:

368

RRP:

$22.99
Murder in Mississippi
winner of the Ned Kelly Award for best true crime
---
---
---
The internationally acclaimed true-crime story you have to read to believe.
WINNER OF THE NED KELLY AWARD FOR BEST TRUE CRIME
'Say, John Safran,' he says. 'Yes?' I say. 'I can get you killed from right behind this door, man. Real talk.'
'You can get me killed from behind your door?'
'Real talk,' he says. 'I can get your ass killed from behind this door, if you playin'.
Taking us places only John Safran can, Murder in Mississippi paints an engrossing, revealing portrait of a dead man, his murderer, the place they lived and the process of trying to find out the truth about anything.
When filming his TV series Race Relations, John Safran spent an uneasy couple of days with one of Mississippi's most notorious white supremacists. A year later, he heard that the man had been murdered – and what was more, the killer was black.
At first the murder seemed a twist on the old Deep South race crimes. But then more news rolled in. Maybe it was a dispute over money, or most intriguingly, over sex. Could the infamous racist actually have been secretly gay, with a thing for black men? Did Safran have the last footage of him alive? Could this be the story of a lifetime? Seizing his Truman Capote moment, he jumped on a plane to cover the trial.
Over six months, Safran got deeper and deeper into the South, becoming entwined in the lives of those connected with the murder – white separatists, black campaigners, lawyers, investigators, neighbours, even the killer himself. And the more he talked with them, the less simple the crime, and the world, seemed. . .
___________________________________________________
PRAISE FOR MURDER IN MISSISSIPPI
'The elegance of this book is that its axis is a resounding 'perhaps' . . . It is this moral ambivalence that draws readers to the true crime genre, and Safran nails it.' Weekend Australian
'Mississippi is like a trampoline for [Safran's] eccentricities. But the form and content of the story bring out an unfamiliar side of him.' Sydney Morning Herald
'A winning combination of memoir, true crime and gonzo journalism . . . a compulsive summer read.' Sunday Mail
'Funny and gripping and wonderfully weird . . . It's a tremendous book. I can't praise it too highly.' Louis Theroux
'Witty, insightful, compelling – In Cold Blood for our generation.' Eddie Perfect
'[Safran] has written a marvellous book which I cannot put down.' Melbourne Observer
'Now I know what to recommend people who liked Them.' Jon Ronson (The Men Who Stare at Goats and The Psychopath Test)
'Stunning.' Men's Style
'John Safran's captivating inquiry into a murder in darkest Mississippi is by turns informative, frightening and hilarious. It is enlivened by a swarm of creepy locals and a torrent of astonishing details--such as hedge clippers put to surgical use in the performance of an official autopsy.' John Berendt, Pulitzer Prize-winning author of Midnight in the Garden of Good and Evil

Published:

24 September 2014

ISBN:

9780143572084

Imprint:

Penguin

Format:

Paperback

Pages:

368

RRP:

$22.99
Ned Kelly Awards
Winner • 2014 • Best True Crime
Australian Book Industry Awards
Shortlisted • 2014 • General Non-Fiction Book of the Year
Indie Award
Shortlisted • 2014 • Non-Fiction
Melbourne Prize for Literature
Shortlisted • 2015 • Best Writing Award