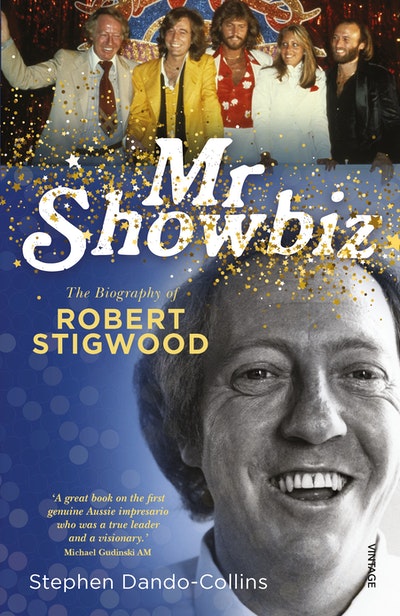 Published:

2 October 2017

ISBN:

9781925324747

Imprint:

Vintage Australia

Format:

Trade Paperback

Pages:

432

RRP:

$35.00
Mr Showbiz
The Biography of Robert Stigwood
---
---
---
Australian entrepreneur, Robert Stigwood was the first media mogul in Britain to be dubbed 'Mr Showbiz". After an extraordinarily large life he died 4 January 2016. This is his story – warts and all.
Born in Port Pirie, South Australia and moving to the UK in the 1950s where he soon established a theatrical agency, at the height of his success, in the 1970s, Robert Stigwood 'Stiggy' was the entertainment industry's most powerful tycoon. He came to renown managing the careers of the Bee Gees, Cream and Eric Clapton. He produced films including Gallipoli, Saturday Night Fever, Tommy and Grease. He was behind West End and Broadway musicals that were huge hits. Stigwood owned the record label that issued his artists' albums and film soundtracks, and he also controlled publishing rights.
In addition to the many periods of success, there were also great crashes including an infamous Chuck Berry tour that failed to attract audiences and forced Stiggy to declare bankruptcy.
In early 1966, Stigwood became the booking agent for the Who and also began managing the fledgling British group Cream, signing them to his record label Reaction, and their album was immediately successful.
Stigwood's ability to pick and promote talent was astounding and he was also known for his many fallings-out.
In 1967 the Australian group the Bee Gees arrived in the UK and Stigwood claimed that they were going to be as big as the Beatles. By April, the Bee Gees had their first top 20 hit, and by September their first UK no 1.
Stigwood moved into theatre production and took Hair to London. After hearing a demo of Andrew Lloyd Webber and Tim Rice's musical Jesus Christ Superstar, Stigwood invested in the project. He oversaw the New York stage production and in 1973 produced the film adaptation. Stigwood continued to work with Lloyd Webber right up to the 1996 film of Evita.
Stiggy got involved in making British television sitcoms and adapting them for US audiences. After watching John Travolta in Welcome Back Kotter, Stigwood signed him to a three-picture deal. After reading an article by British journalist Nik Cohn Stigwood developed it into the feature film Saturday Night Fever and asked the Bee Gees to write its music. The album soundtrack remains the biggest seller of its kind while the film proved a huge hit and helped make disco music an international phenomenon. Stigwood then produced the film of the musical Grease.
Stigwood lived it up with private planes, yachts, a Central Park West penthouse
and staff. The failure of the big-budget musical film of the Beatles' album Sgt Pepper's Lonely Hearts Club Band got to him and he sold his record label. Though his ability to create success had not left him entirely with musical productions and films benefitting from his involvement into the 1990s.
For many years he lived a mostly reclusive life in an estate on the Isle of Wight though remained a part of the lives of the Gibb family.
Published:

2 October 2017

ISBN:

9781925324747

Imprint:

Vintage Australia

Format:

Trade Paperback

Pages:

432

RRP:

$35.00
A great book on the first genuine Aussie impresario who was a true leader and a visionary ahead of his time.

Michael Gudinski AM
A brilliantly detailed insight into the intriguing life of an entertainment pioneer, a gutsy impresario and a showbiz icon.

Richard Wilkins, Nine Network Entertainment Editor
Farewell beloved Robert, the great showman who taught me so much. With love Andrew Lloyd Webber.

Andrew Lloyd Webber, twitter
Robert changed the world and only for the better and he was certainly important to my career. His legacy lives on and he will forever be remembered.

John Travolta, People magazine
Extraordinary, innovative, generous, [He was] a vital part of my life.

Sir Tim Rice
I love it!

Stephen Komlosy, Robert Stigwood's first UK business partner
One of the most entertaining books I have ever read.

Laurie Atlas, Radio 4RO Rockhampton
I love this book!

Jeremy Cordeaux, Radio 5AA Adelaide
Article