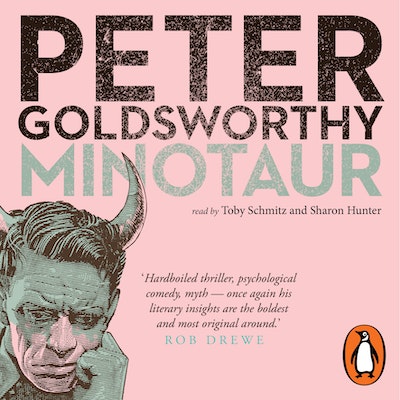 Published:

16 July 2019

ISBN:

9781760891367

Imprint:

Penguin Random House Australia Audio

Format:

Audio Download

Length:

9 hr 2 min

Narrator:

Toby Schmitz, Sharon Hunter

RRP:

$26.99
Minotaur
---
---
---
A gritty and clever thriller from long-time Penguin author Peter Goldsworthy.
Detective Sergeant Rick Zadow is angry, unmotivated, unwashed, unkempt, and almost entirely reliant on his guide dog, Scout, and voice-controlled personal assistant Siri to make it through each day: one a voice without a body, the other a body without a voice.
Left blind after a bullet wound to the head two years before, he is caught up in a workers' compensation battle between two psychiatrists – one acting for him, and one appointed by WorkCover – over how much compo he should be awarded.
Reminders of his former life keep on tripping Rick up. His wife has moved out, and another former passion of his life – a legendary Ducati motorbike he was halfway through restoring – sits abandoned in the back shed.
All of which is the background to the central story: the breakout from jail of the man who shot him, and who is seeking to finish the job . . .
Part laugh-out-loud comedy, part deadly serious study of revenge, part love story, this unique novel from one of our finest writers is also a slow, crabwise journey of self-discovery. As Rick navigates his sense-world (smell, sound, touch, taste . . . and finally, sight), there is a sixth sense he must also learn to trust – his gut instinct – which might just turn out to be his best.
Published:

16 July 2019

ISBN:

9781760891367

Imprint:

Penguin Random House Australia Audio

Format:

Audio Download

Length:

9 hr 2 min

Narrator:

Toby Schmitz, Sharon Hunter

RRP:

$26.99
'Unputdownable. Hardboiled thriller, psychological comedy, myth — once again his literary insights are the boldest and most original around.' Robert Drewe

Robert Drewe
'I read the book in one afternoon, enthralled and excited, eager to know more with each turn of the page. Captures with dizzying intensity the most compelling aspects of literary fiction and detective noir with wit, originality, and sensuality.'

Susanna Moore, author of In The Cut
'[An] elegant master of language [and] cool magician of plot… [A] gritty, lyrical tale of life on the edges of darkness.'

Carmel Bird, The Australian
A complex study of character and the urge for revenge. Goldsworthy has written a smartly plotted and highly entertaining novel, replete with nimble dialogue and the kinds of deft touches that are the hallmarks of his writing.

James Ley, Sydney Morning Herald